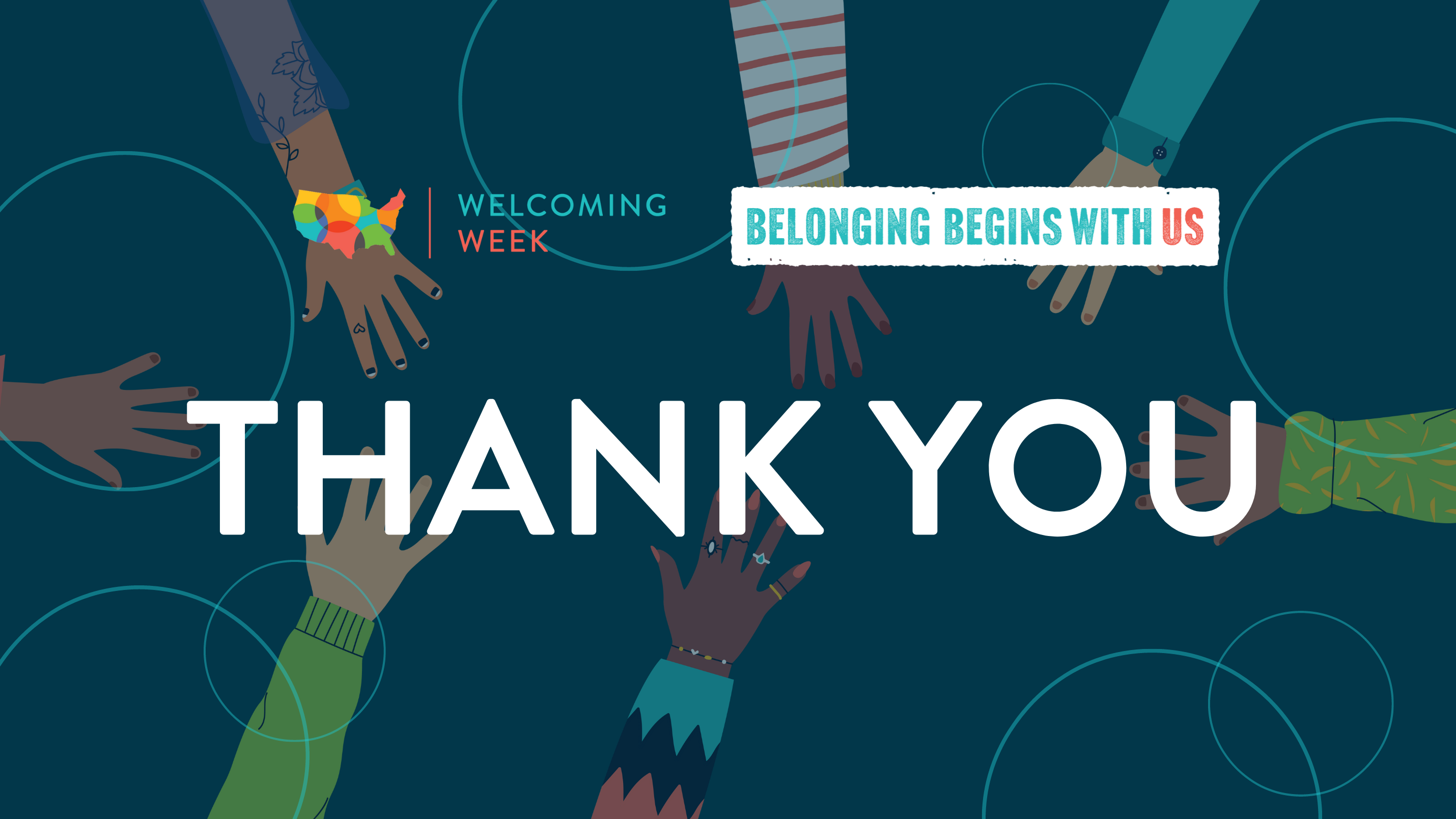 #BelongingBeginsWithUs: A look back at Welcoming Week 2021
This year, as many of us continued to socially distance ourselves, Welcoming Week still served as a time of celebration and reflection. Under the theme of "Belonging Begins With Us", Welcoming Week inspired communities to consider what belonging for all looks like, especially for those from other countries, but also for those experiencing a changing community. From virtual events to socially distanced gatherings, immigrants, refugees, long-time residents, and community members of all backgrounds fostered a sense of belonging by playing their part in #WelcomingWeek2021.
A Note from our Executive Director
Nearly a decade ago, the local welcoming organizers who set Welcoming Week in motion could only have dreamed of the magnitude of people and places who participated in Welcoming Week events this last week.
From small-town Minnesota to Dallas, Texas, to communities across Canada, to nearly 850 YMCA branches across 574 locations, a chorus of voices proclaimed: Belonging begins with us.
With the arrival of Afghan refugees, this welcoming spirit was even more timely, reinforcing the long history and success in incorporating new neighbors, as well as the deep experience of collaborative environments and infrastructure to make this welcome a lasting one.
Places like Pittsburgh — which became the 12th to become Certified Welcoming this past Friday — demonstrate the power of bringing residents and institutions together so that everyone can play a role in building equitable and inclusive places for all.
I'll be honest: there were many moments, especially over the last year, when I wondered if these values — if our democracy — could prevail. But this Welcoming Week, just like each one before it, is a reminder of the people with goodwill and of good faith whose numbers are far larger, and whose efforts are far more powerful when we zoom out to see these stars as the bright constellation they are.
It's days like today that make me believe, more than ever, that a just, peaceful society in which each of us belongs is possible.
It's days like today that make me believe, more than ever, that a just, peaceful society in which each of us belongs is possible.
I'm deeply grateful to all of the partners, sponsors, members, and our wonderful Welcoming America team for making this an exceptional and history-making Welcoming Week. Below are some of the highlights from this year's Welcoming Week, including our livestream kickoff event, an overview of the 350+ events that took place, and many more.
I hope you'll join us in celebrating and sharing what made this Welcoming Week special for you. It's not too late to share your stories on social media through the hashtags #WelcomingWeek2021 and #BelongingBeginsWithUs. You can continue supporting welcoming communities with a donation or by visiting our online store for welcoming swag.
In welcoming,
Rachel Perić
Highlights
Our livestream kickoff event

On September 9, Welcoming America hosted a livestream event to officially kick off Welcoming Week with our partners, supporters, and guest appearances. Read more about the special guest appearances, including actor/comedian Peter Banifaz and drag performer Jackie Cox, and many more.
Events
Around 385 events hosted by our members, partners, sponsors, and more took place during Welcoming Week. They happened virtually and in-person across 35 states and two countries (the U.S. and Canada) through picnics, virtual panels, films, and more — 99 of the events were categorized as "discussion/community forum", many of them addressing topics like education, immigration, race, and identity through the lens of welcoming and belonging.
In the news
Welcoming Week made the news in outlets across the U.S. and Canada. Check out some of the highlights:
Midwest
South
Northeast
West
Canada
Welcoming Week proclamations
During Welcoming Week, cities, counties, and states issued welcoming proclamations, resolutions, or messages to declare their welcoming values. Here's just a sample:
States
Counties
Cities
On social media
Final day of #WelcomingWeek2021, we're hosting a special discussion on importance of belonging in the #YMCA & how #BelongingBeginsWithUs. Thanks to panelists & special kudos to @ForBelonging Mohammed Naseem for your insights & experiences! #WelcomingWeek #YforAll #ForABetterUs pic.twitter.com/UzH4BaUzKL

— Advancing Equity at the Y (@GlobalYMCA) September 20, 2021
As another amazing #WelcomingWeek2021 ends #snapchat declares #belongingbeginswithus pic.twitter.com/Qzo4eHq1DE

— Wendy Feliz (@WendyisFeliz) September 18, 2021
On Friday, September 17th, the City of San Antonio was honored to celebrate #CitizenshipDay by hosting the ceremony where 44 #NewUSCitizens from 20 countries took the oath of citizenship in City Council Chambers. #WelcomingWeek2021 pic.twitter.com/mQwfCp96Bc

— City of San Antonio 💪+💉= 💯 (@COSAGOV) September 20, 2021
Thank you for a truly incredible #WelcomingWeek2021! We couldn't have done this without our sponsors, staff, panelists, partners, and board members! Now that #WelcomingWeek is over, let's make sure that Cleveland is a welcoming city every week of the year! #BelongingBeginsWithUS pic.twitter.com/88uNhiBDWh

— Global Cleveland (@GlobalCleveland) September 18, 2021
Notes of Gratitude
We extend our deepest gratitude to our sponsors — Decatur Tourism Board, REACH Healthcare Foundation, Human Resource Dimensions — for their financial support of Welcoming Week.
Welcoming Week also would not have been possible without our 25 national partners from the nonprofit world, private sector, universities, and education centers — thank you for your continued support!
Here are some of ways our sponsors and partners activated their networks during Welcoming Week 2021:
Stay connected
Welcoming Week is an annual event. Stay in touch! Sign up for our email list to receive updates about Welcoming Week 2022.