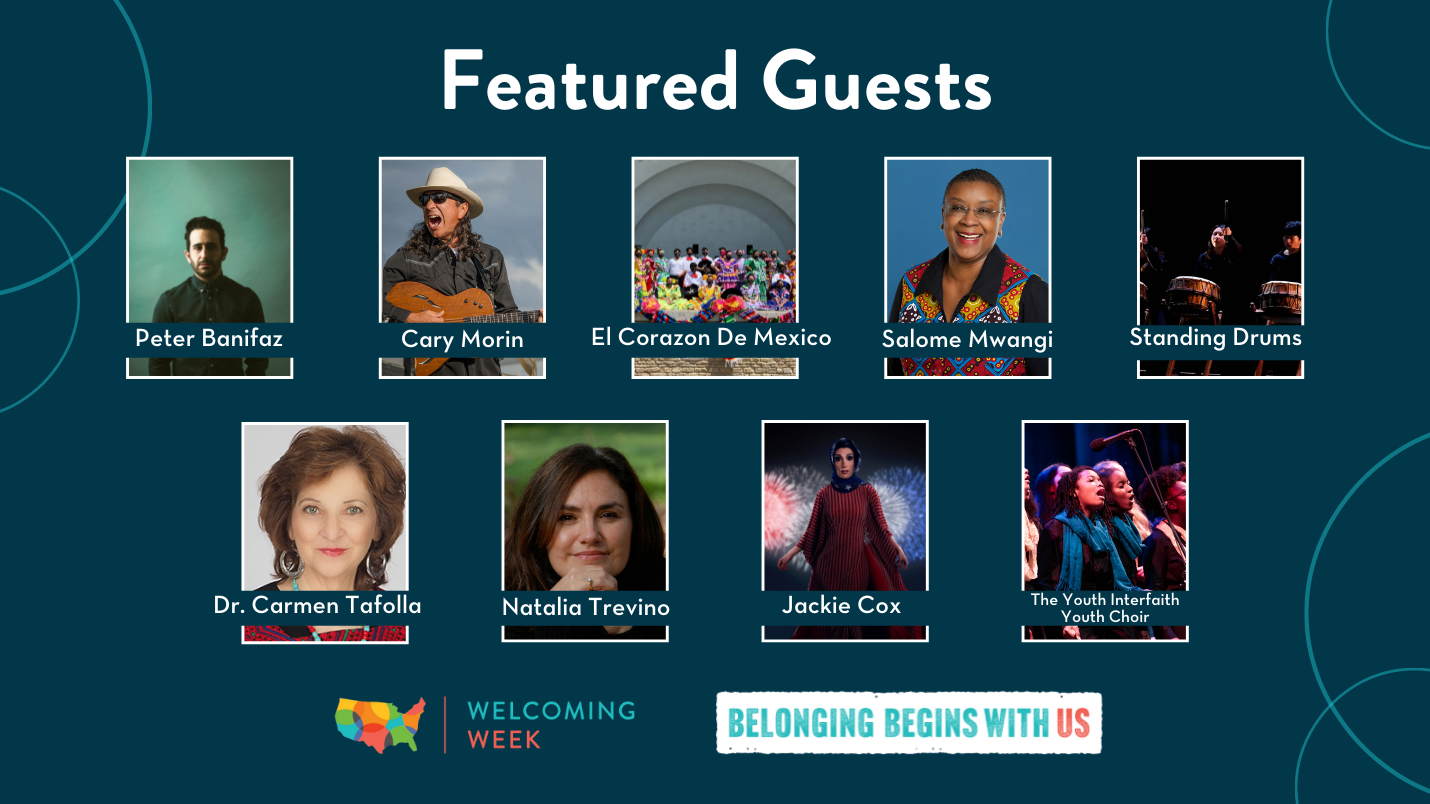 Media advisory: Drag performer Jackie Cox, comedian Peter Banifaz, and more to virtually kick off Welcoming Week
Atlanta, GA — On Thursday, September 9, national nonprofit Welcoming America hosts the livestream event "#BelongingBeginsWithUs: A Welcoming Week Experience" on Facebook Live and YouTube to kick off Welcoming Week, which begins September 10.
What: #BelongingBeginsWithUs: A Welcoming Week Experience
When: Thursday, September 9, 2021 at 6 p.m. Eastern Time
Where: Livestreamed on Facebook Live and YouTube
Who: Hosted by Iranian-born American actor and comedian Peter Banifaz, with special remarks and performance by Jackie Cox of RuPaul's Drag Race (Season 12). Additional performances by musician Cary Morin, dance group El Corazon de Mexico Ballet Folklorico, the Standing Drums student performing group from Washington University in St. Louis, and the Oakland Interfaith Youth Choir. Stories of immigration, belonging, and welcoming will be delivered by Welcoming America and members of the Welcoming Network.
Why: The virtual event officially kicks off Welcoming Week, an annual campaign and celebration going on its ninth year in showcasing the movement of communities striving to be more welcoming places for all, including immigrants. Currently, there are more than 200 virtual and in-person events slated to take place across the nation.
Bios of performers and storytellers (in order of appearance)
Peter Banifaz is an Iranian-born American actor, comedian, and writer based in Los Angeles. In addition to his recurring role on the Emmy-nominated show on Showtime, Shameless, Banifaz's acting credits include Veep, Brooklyn Nine-Nine, Criminal Minds, and more. He has been performing improvised and sketch comedy for over a decade, and regularly posts skits on social media.
Cary Morin is an award-winning musician recognized for a style that combines acoustic Native Americana, blues, bluegrass, jazz, jam, reggae, and dance. A member of the Crow tribe and son of an Air Force officer, Morin achieved wide acclaim through bands such as The Atoll and The Pura Fé Trio, and as a solo artist, playing in venues across North America, Europe, and Asia. His album Cradle to the Grave was awarded the 2018 Independent Music Awards and 2017 Indigenous Music Awards for Best Blues album, which are just a few of his many recognitions.
El Corazon de Mexico Ballet Folklorico is an Ohio-based dance group seeking to display the history and culture of Mexico through folkloric dance. Composed of over 60 dancers ages 6 to 41, the group performs at festivals, weddings, and cultural events, with past performances at Walt Disney World and California State University.
Salome Mwangi is a native of Kenya who moved to the U.S. in 2004 as a refugee. Currently, Salome lives in Boise, Idaho where she serves as the Refugee Speakers Bureau & Social Integration Coordinator with the Idaho Office for Refugees, a Welcoming Network member organization. Salome is also a Kiswahili interpreter in various fields, including medical, mental health, and law enforcement.
The Standing Drums Student Performance Group of Washington University in St. Louis blends fluid, synchronized motion, powerful dramatic beats, and the traditional Korean color spectrum (obangsaek) in its performances of traditional Korean percussion and contemporary rhythm.
Dr. Carmen Tafolla is a poet, storyteller, performance artist, motivational speaker, and university professor who is currently President of the Texas Institute of Letters. Tafolla served from 2012-2014 as the first City Poet Laureate of San Antonio, and has received numerous awards, including the prestigious Americas Award, five International Latino Book Awards, and recognized by the National Association of Chicana and Chicano Studies for work which "gives voice to the peoples and cultures of this land."
Natalia Trevino is an accomplished poet, writer, and educator whose work aims to capture the voices and lives of women who emerge despite everything that works tirelessly against them. She received several awards for her poetry and fiction work, including the 2004 Alfredo Cisneros del Moral Award. A member of the Macondo Writers' Workshop, Natalia has been working to increase young adult literacy since 1992. She is currently an assistant professor of English at Northwest Vista College in San Antonio, Texas.
Jackie Cox (also known as Darius Rose) is a New York City-based drag performer of Iranian and Canadian descent. She gained recognition as a contestant on Season 12 of the popular TV show RuPaul's Drag Race where she finished in fifth place. Jackie is notable for being the first queen of Iranian descent on the show, as well as the first to appear wearing a hijab. She has been a feature of the theatrical cabaret scene in New York, earning the title "Best Cabaret Show" at the Glam Awards in 2018 for her set I Dream of Jackie, which she has performed across the United States.
The Oakland Interfaith Youth Choir is composed of two dozen members ages 12 to 17 from diverse backgrounds. Voted the Best Youth Gospel Choir in 2007 by the Northern California Gospel Academy Awards, the choir has performed at several sporting events, local musical productions, and performance halls across North America. In addition to providing musical education and training, the choir mentors local youth for academic success and admission to college.