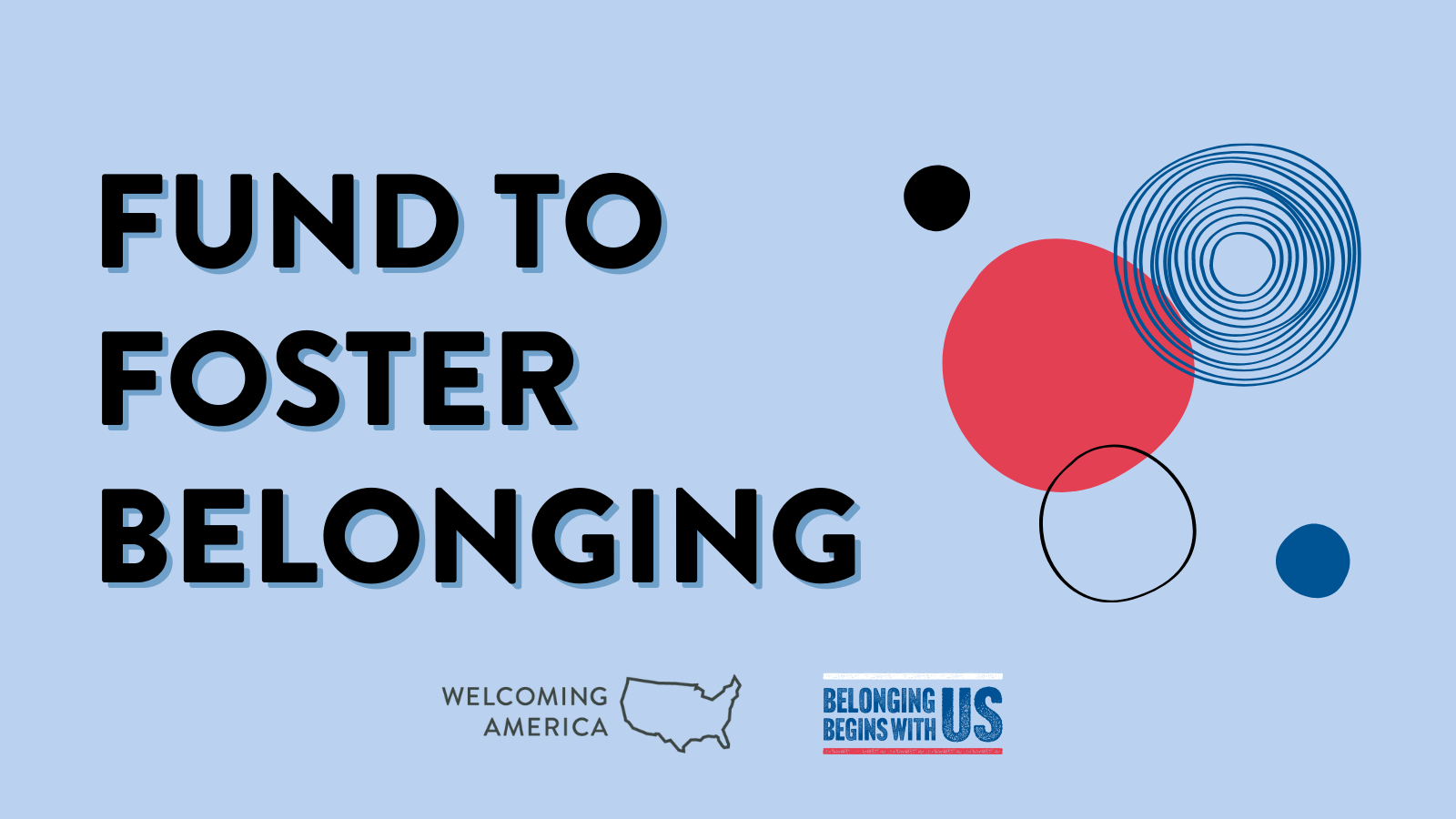 Twelve nonprofits, local governments receive funding for projects to foster, deepen belonging in local communities
Welcoming America is pleased to announce the 12 nonprofit and local government recipients of the second round of funding from the Fund to Foster Belonging, which will continue supporting and expanding the work of local leaders and projects that build meaningful connections between immigrants and non-immigrants:
Level 1 recipients:
Centro Multicultural (Pontiac, MI)
City of Aurora (CO)
Eastside for All (East King County, WA)
Home is Here NOLA (New Orleans, LA)
Salt Lake County (UT)
WavePool (Cincinnati, OH)
Level 2 recipients:
Echo Collective (Lincoln, NE)
Humans United for Equality (Crawfordsville, IN)
Let's Talk Philly (Philadelphia, PA)
One World One Love (Summit, NJ)
Rural Women's Health Project (Gainesville, FL)
West Central Initiative (Fergus Falls, MN)
Funding amounts for each organization were issued based on project scope and needs, as well as existing capacity. For Level 1 recipients, funds were granted in amounts between $30,000-$40,000. For Level 2 recipients, funds were grants in amounts between $4,000-$7,000. Regardless of level, all recipients also receive new or continued membership in the Welcoming Network, training or coaching, and travel to attend the Welcoming Interactive annual conference this April in San José, California.
Among the projects funded include community gatherings with people in detention centers; creating a Welcoming Handbook to guide community building dinners; painting a mural co-designed by community youth; and co-creating art along a multi-use trail. Each project's goal is to bring together immigrant and non-immigrant communities — and diverse cross-sections within each group — to work on a shared initiative that helps foster a stronger sense of belonging for everyone as well as help reduce bias.
Rachel Perić, executive director of Welcoming America, said: "We are thrilled to support this latest round of community-driven projects through the Fund to Foster Belonging. By bringing neighbors of different backgrounds together with a shared purpose, these projects underscore the continued need for communities to work better for everyone and for strong, multiracial democracies to thrive."
The Fund to Foster Belonging is part of Belonging Begins With Us, a multi-year campaign to foster a more welcoming nation where everyone — regardless of their background – belongs, with generous support from the Walmart Foundation and others.
The next steps for participants include introductory virtual meetings, followed by project plans to begin implementation of proposed projects over the next year.
For media inquiries, contact Lola Pak, [email protected]rica.org.