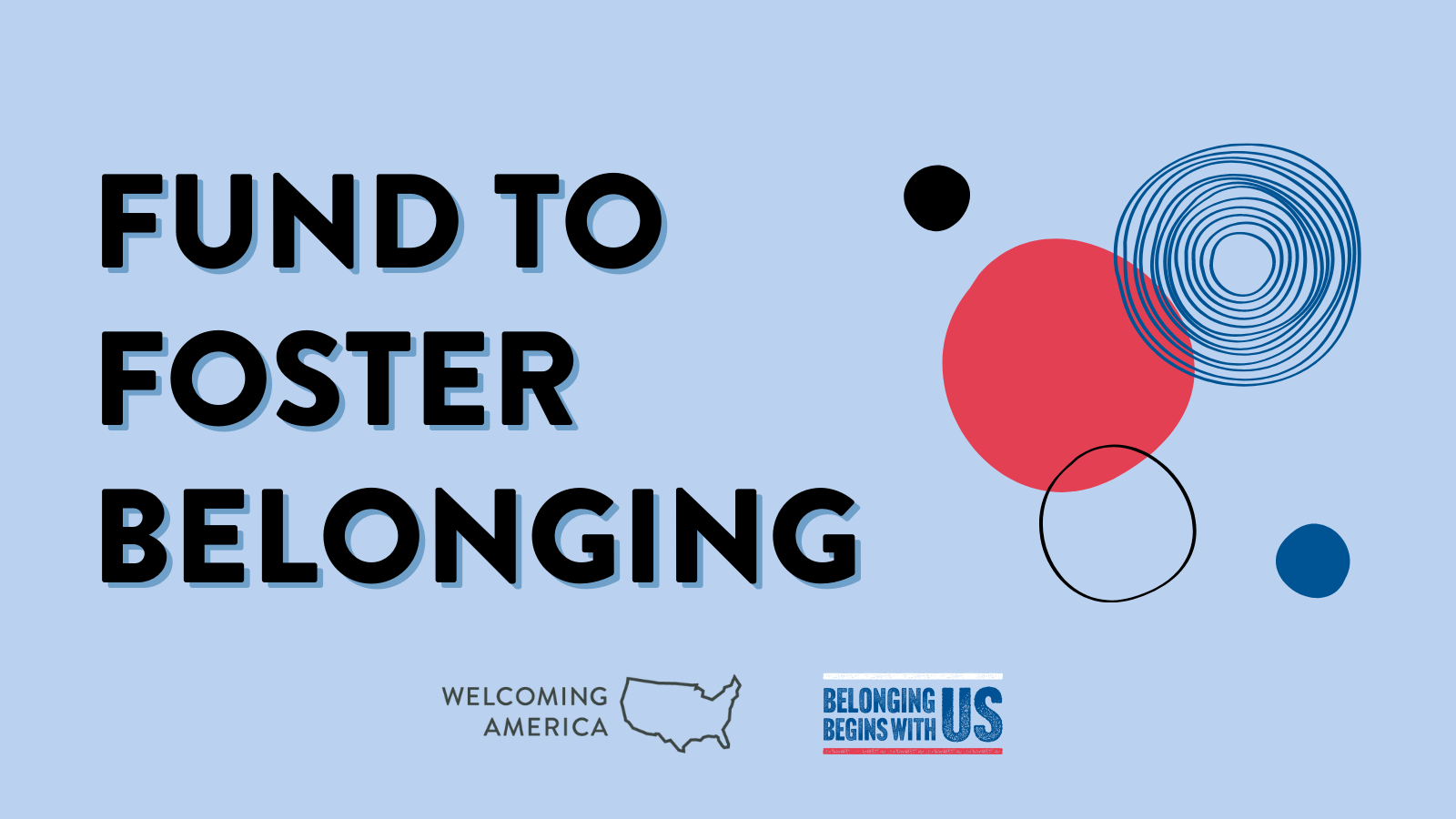 Request for Proposals: Fund to Foster Belonging
Updated on October 22, 2021
Welcoming America is pleased to announce the launch of the Fund to Foster Belonging to support and expand the work of local leaders building bridges and belonging in their communities. Proposals are due November 29 (previously October 18) through an online application.
Background
We've all had moments where we felt like we didn't belong. But for some, this experience can last more than a moment. Each of us wants to feel safe and welcome our communities, but today, too many of our neighbors experience exclusion, isolation, harassment, and even violence on the basis of their identity.
As part of our work to foster a more welcoming nation where everyone – regardless of their background – belongs, Welcoming America has partnered with the Ad Council, the Center for Inclusion and Belonging at the American Immigration Council, and others to launch the Belonging Begins With Us campaign.
The campaign is dedicated to supporting individuals and organizations across the U.S. to foster a spirit of belonging in their communities. Because we all know how it feels to be excluded, we also know how to help others belong and welcome them in our communities.
Fund to Foster Belonging
To amplify the Belonging Begins with Us campaign, Welcoming America is launching the Fund to Foster Belonging, with the goal of supporting and expanding the work of local leaders building bridges and belonging in their communities.
The Fund builds on two years of exploratory grants, funded by the Walmart Foundation, that invested in Do-It-Together projects in eight communities across the U.S. Learn more about these projects
The initial round of grants from the Fund will support local projects that build connections between residents with immigrant and non-immigrant backgrounds in Georgia and North Carolina. Grantees will receive $40,000 along with targeted coaching and leadership development training over an 18-month period.
What are Do-It-Together projects?
Do-It-Together projects bring together residents with immigrant and non-immigrant backgrounds to work on a shared activity or goal in ways that foster a stronger sense of belonging for all.
Welcoming America's understanding of Do-It-Together projects is based on intergroup contact theory, a body of research that suggests that by having a certain set of conditions in place, activities can reduce prejudice between different groups. These required conditions are:
Activities should engage different groups in working on a common goal they both want to achieve.
Activities should ensure members of different groups are working together cooperatively on the goal rather than competing against one another.
During the activity, members of the different groups must have equal status. This means one group cannot be treated as less skilled or less valuable to achieving the goal. An instructor and student relationship would be an example of unequal status.
There must be institutional support for the activity or goal. This often comes in the form of leaders or authority figures for both groups participating in the activity.
The Fund to Foster Belonging will support projects that meet the above criteria. While other bridge building activities such as dialogue and cultural festivals are important, the Fund can not currently support these types of activities.
For more on intergroup contact theory and Do-It-Together projects, see our Taste of Belonging cookbook and the International Organization for Migration's The Power of Contact.
Opportunity & Support Offered
This grant opportunity consists of two phases: The first phase (six months) provides funding and support to sites to plan their activities, build relationships, pursue match funding, and receive training. The second phase (12 months) provides additional funding and support for implementation of activities. In total, grantees will receive up to $40,000 in funding for an 18-month period beginning in December 2021.
Grants: Grantees will receive $10,000 of funding for a six-month planning period. During this time, sites will be expected to attend regular training sessions, develop or deepen relationships with local project partners, create a project plan, and pursue match funding with the aim of raising an additional $15,000. Grantees are eligible to receive an additional $30,000 in funding for project implementation. These funds are dependent on satisfactory completion of the phase above (project planning and training participation) and will be made available in May 2022. During this phase, sites will implement their projects and participate in the community of practice (see below).
Membership in Welcoming America's Welcoming Network: The organization (or lead institution if there are partners) will be eligible for Premium level membership in the Welcoming Network (valued at $2,500). Membership benefits include access to training, technical assistance, and peer exchange opportunities. Learn more about the Premium level membership
Leadership training: During the first four months of the grant (December 2021-March 2022) participants will build their bridge-building skills through 5-10 hours of training as they craft their project plans. Training will bring in national experts and cover topics relevant to diversity, equity, inclusion, and belonging.
Community of Practice participation: Grantees will participate in a community of practice focused on Do-It-Together projects. The community of practice will provide a virtual space for grantees and other local leaders hosting Do-It-Together projects to share their successes and troubleshoot challenges that occur when working to bridge differences.
Travel opportunity: Two representatives from each site will receive a stipend and complimentary registration to attend Welcoming America's annual conference, the Welcoming Interactive, in Charlotte, NC, from May 18-20, 2022.
National recognition: Welcoming America will work with each site to lift up their participation in the program and showcase them as leaders in the field of inclusion. Sites will be given priority consideration for leadership opportunities within the Welcoming Network.
Grantee Commitments
Grantees must commit to the following:
Participate in leadership training (virtual) (December 2021-March 2022)
Attend monthly Community of Practice meetings (virtual) (March-December 2022)
Submit a brief project plan upon completion of the planning phase. This project plan will update the initial project details submitted in this grant proposal taking into account new relationships, funding, and skills developed during the planning phase.
Conduct Do-It-Together activities throughout a 12-month period (May 2022-May 2023)
Attend the Welcoming Interactive in Charlotte, NC (May 18-20, 2022)
At the conclusion of the grant, produce a written or interactive piece of content in coordination with the Welcoming America communications team.
Project Requirements
In order to be eligible for funding, projects proposed for support must:
Be designed to meet the conditions of a Do-It-Together project.
Bring together residents with immigrant and non-immigrant backgrounds. Applicants will need to have the ability to bring together the rich diversity of a community and to engage immigrants and non-immigrant residents in activity planning and participation.
Activities should seek to heal divides AND build relationships by working on projects where the goal is shared.
An innovation in approach or audience. Preference will be given to proposals that support creative approaches to contact building activities and/or the involvement of groups traditionally not jointly engaged in community building work.
Eligibility & Review Criteria
Program activities must occur in either North Carolina or Georgia. Organizations based outside of North Carolina and Georgia must have a track record of work and relationships in those states in order to be eligible to apply.
Single organizational applicants as well as joint applications between two or more organizations will be considered.
Proposals must reflect the project criteria outlined above.
Priority will be given to proposals that include the following:
At least one of the organizational applicants has a track record of working to advance equity and inclusion in the community.
Proposed activities that show promise to bring in people who would not typically be involved in this type of work but could be mobilized with the right opportunity.
Evidence that the applicant(s) is able to engage a diverse set of residents.
Projects that include activities in smaller towns and suburbs.
Submission Process & Timeline
Applications are due by the end of the day on November 29. Submit all information through the online application form. Questions can be sent to [email protected].
Applicants must include the following:
Completed application form
A proposed budget for both the planning and implementation grants, uploaded to the application form. We recognize that the implementation budget will change, but this will give us a sense of how you are thinking about the project.
Up to three letters of support from local partners relevant to the project, uploaded to the application form.
Review Timeline
Applications due: November 29
Proposal follow up calls (if additional information needed): November 29-December 10
Grantees notified: By December 16
Orientation call and first training: January 13 from 11 a.m.-12:30 p.m. ET
About Welcoming America
Welcoming America is a nonprofit, nonpartisan organization that leads a movement of inclusive communities becoming more prosperous by ensuring everyone belongs. We believe that all people, including immigrants, are valued contributors and vital to the success of our communities and shared future. Through the Welcoming Network, we work to help communities develop the roadmap they need to create welcoming policies and share new approaches to inclusion to create an environment where everyone can truly thrive.
About the Belonging Begins with Us Campaign
Belonging Begins With Us is a new campaign dedicated to fostering a more welcoming nation where everyone – regardless of their background–can feel they belong. The campaign was developed by the Ad Council and supported by a broad coalition of organizations, including Welcoming America and the Center for Inclusion and Belonging at the American Immigration Council, all working to foster a spirit of belonging across the U.S. More about the Belonging Begins with Us campaign can be found at belongingbeginswithus.org.