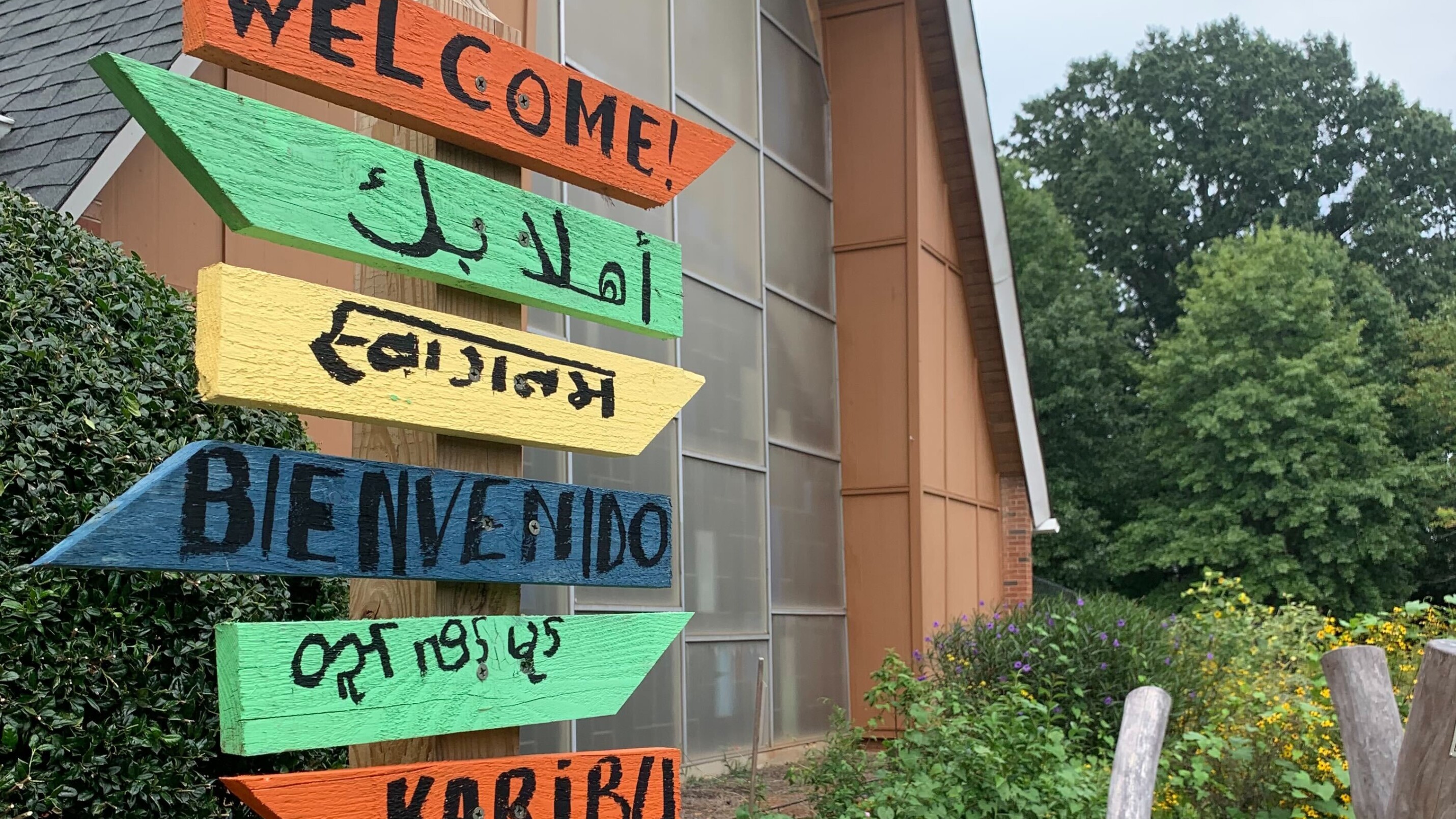 Lessons and opportunities to build belonging: A look at our 2022 Fund to Foster Belonging grantees
Connection is the antidote to social division. Communities that intentionally bring people from all walks of life together reap the benefits of being a more welcoming place for all.
Intergroup bridging is one way to foster connections among groups from different migration backgrounds. Bridging activities bring people together, and research shows that building bridges between different social groups can reduce bias and increase social cohesion.
At Welcoming America, our Fund to Foster Belonging grantees bring immigrants and long-time residents in their communities together to ensure that everyone belongs.
In 2022, we announced six new grantees through the ongoing program, which is supported by the Walmart Foundation and other funders:
Each project aimed to bridge immigrant, refugee, and non-immigrant communities to work on a shared initiative. Grantees used art classes, gardening, support circles, and other unique approaches to connect groups.
To support their projects and the broader welcoming work in their communities, Fund to Foster Belonging participants become members of the Welcoming Network, share learnings with each other, attend the Welcoming Interactive, and grow their knowledge of intergroup bridging to understand how it could be used to increase belonging.
To inspire others to pursue bridge-building projects, the grantees shared the successes and learnings of their innovative projects. In this blog, we highlight the lessons and good practices for intergroup bridging they offered.
Why bridge-building matters
A common refrain we hear from Fund to Foster Belonging grantees and Welcoming Network members is that immigrant and non-immigrant groups — and the diverse cross-sections within these communities — do not have enough opportunities to interact and build relationships.
Division is a deep-rooted problem. Many immigrant and refugee communities face multiple systems of oppression — notably, racism, xenophobia, and classism. Building connections among different groups is a start to fostering belonging and can reduce the isolation that many people experience.
"The City of Durham, like many places in the south, has a history of division within the community. This issue is racially linked…and continues to be a topic ofdiscussion as the city continues to be gentrified." — City of Durham's Neighborhood Improvement Services Department, Community Engagement Division
"Buford Highway [in metro Atlanta] is a haven for many immigrants, but not everyone feels included. The end goal cannot be achieved if people of different communities are not talking to one another… The underlying reason for communities to remain siloed is white supremacy. The system of oppression remains relevant and powerful when communities, such as those that live in Buford Highway – poor, immigrant, people of color – are at odds with each other." — Latino LinQ
This is the first time that several of the Fund to Foster Belonging communities have used intergroup bridging to build belonging. Many organizations who are already doing welcoming work at the structural level — whether implementing welcoming policies in local government or offering direct services to immigrants and refugees — found that bridge-building is a way to further activate individuals to play a role in fostering belonging.
"Many art projects celebrate and preserve the history of the city, but [few] that show the future of the city or the inclusive and belonging community we strive to be. This project allows us to be able to specifically reach out to a population of the community that might not be as present or as loud as other members of our community and allows us to make a safe space for them to meet." — City of Durham's Neighborhood Improvement Services Department, Community Engagement Division
Bridging community through art: The City of Durham's Neighborhood Improvement Services Department hosted art classes to connect immigrant and non-immigrant members of their community. Reflecting on the theme of what home means, adult participants took a multiweek class to learn how to make a quilt, and painting classes were offered for tweens and teenagers. To celebrate the artwork and bridges that were created as a result of the project, the City hosted an art gallery event to feature the quilt and paintings created by the project participants.
"Latino LinQ was inspired to lead this effort because as an LGBTQ+ Latinx-led organization, it has witnessed a lack of bridge-building initiatives by other community stakeholders in the area… Building community and reclaiming our power as a community…is just one example of the ways in which a mural project can have lasting, rippling effects." — Latino LinQ
These projects highlighted how intergroup bridging can build and reinforce the foundation for a more inclusive community.
Engaging community in place-based art: Buford Highway is the diverse, international heart of metro Atlanta. To celebrate and honor the immigrant heritage that makes Buford Highway unique, Latino LinQ made a plan to create a community-responsive mural — in other words, artwork that is inspired by the people and conversations within the community. Three community dialogue sessions supported the creative process for Yehimi Cambrón, the local artist and activist selected to paint the mural. The mural will be revealed in summer 2023. Latino LinQ shares: "Building community and collective power is one way to build a welcoming community. By seeing ourselves on a [mural], we are not only uplifting our community, but also creating a culture that is welcoming to people who may not feel seen."
Lessons for future projects that foster belonging
Center equitable participation throughout the entire process.
Every intergroup bridging project is unique, so understanding your community's needs is key to success in planning. Create a planning team that is representative of the diverse groups or communities your project will bring together and listen to the needs that emerge.
"The Gathering was co-designed by a stakeholder committee representing all of the groups who participated in the Gathering. Make sure that any co-design group has representatives from each and every community you hope to engage and ensure that barriers to participation are addressed and removed." — Every Campus A Refuge
"By bringing residents and institutions together under the banner of genuinely listening to communities' priorities — and dropping all other agendas at the door — relationships of solidarity can begin to take root." — Refugee Community Partnership
Design engaging activities that bring people together around a shared purpose. When everyone has equal roles in working toward a common goal, connection follows.
"[Be] sure your activities are engaging and that you design an event that is a mixture of doing, resting, communicating, meditating, building, thinking, and eating with the potential for sustainable, replicable, and more bite-sized engagement beyond this event that could be modeled on the activities you designed." — Every Campus A Refuge
Gathering supporters to welcome refugees on college campuses: Every Campus A Refuge (ECAR) at Guilford College is modeling what's possible when higher education's influence and resources are used to support incoming refugees. ECAR hosted 200 participants at its first annual ECAR Gathering on Guilford College's campus in September 2022. The gathering focused on "do-it-together" activities — including workshops, a film screening, and activities like calligraphy design, cooking, yoga, a history walk, and more — between refugees and non-refugees. The space offered people a chance to share challenges and experiences related to becoming refugee resettlement campuses. Following the gathering, ECAR is publishing a manual based on what they learned from bringing together higher education, refugee communities, and refugee resettlement organizations together. The manual shares best practices and strategies to establish resettlement campuses: colleges and universities that host refugees on campus grounds and support them in their resettlement while transforming their students' educational experiences.
When designing a project to bridge different communities, think through incentives and barriers to participation. For many of the Fund to Foster Belonging projects, this included offering professional interpretation, free childcare, free transportation, and snacks or meals for longer events, among other things. You could also consider incentives like stipends, letters of support, or certificates of participation to bring more people to the table.
Invest time and resources in planning.
Slowing down and being intentional about building a truly inclusive bridging activity supports the planners and participants by allowing everyone time to process information and emotions that may come up.
When planning bridging activities, factor in additional time in order to bring all of the communities that you want to connect together.
"Planning was our greatest strength in making joint meetings happen. We made a point to communicate ahead of time with the different groups to find out what some of their interests might be. We [tried] to get together groups of traditionally Black quilters but were unable to make this happen. It was not related to disinterest on the part of any group, but simply unable to plan events that would work for everyone. The extra time would [also] help with arranging the events, getting volunteers, and allow plenty of opportunity to make needed phone calls as well as send texts and emails to publicize our events." — Episcopal Farmworker Ministry
"[The program] helped break down stereotypes both groups had toward each other. It allowed the participants… a glimpse at the life and aspirations of the immigrant Latinx community, and a better understanding of each other's cultures was observed." — Episcopal Farmworker Ministry
Sewing, quilting, and youth engagement: The Episcopal Farmworker Ministry in Dunn, North Carolina ran two bridge-building programs simultaneously: sewing and quilting classes for Latina women, and youth gatherings between groups of Latinx youth and traditionally Black or white episcopal youth groups. In the sewing class, participants worked with volunteers to learn how to make aprons. A group of teens in the program visited the North Carolina Museum of Natural Sciences and pointed out where they were born on a globe at one of the exhibits.
Location, frequency, and other logistics are important factors in accessibility when trying to build bridges between several groups.
"[We] shifted our course to accepting more participants than the space could handle knowing that many would not show up. We'd also consider getting a bigger space for the quilting classes or repeating these series more times to be able to include more participants. The same goes for the painting classes; we'd probably run more iterations of it to reach more participants." — City of Durham's Neighborhood Improvement Services Department, Community Engagement Division
"This all took place at a center called Galilee. Galilee gives free space to nonprofits that can help the community of immigrants and Charlotte citizens come together. There's so many refugees and immigrants here in Charlotte and they're going to Loaves and Fishes, which is also located at Galilee, and they're getting canned goods, breads, and things like that." — Ramona Moore Big Eagle
Focus on one or two goals to hone in on the most important problem you want your project to address.
"The Neighborhood Support Circle (NSC) space, out of sheer need, was the only place where families could access in-person support in their native language. As such, NSCs wound up trying to achieve a lot of different goals at the same time. If NSCs were focused exclusively on academic support for kids, and we could do this project again, we would focus on reading and math skills with children." — Refugee Community Partnership
Schedule regular times to check in with your planning team and debrief how the project is going to ensure that everyone is on the same page.
"It would also have been helpful to organize once-a-month parent meetings to discuss outcomes and encourage parent input. It would also be productive to encourage parents to volunteer as chaperones or group leaders." — Episcopal Farmworker Ministry
"[Next time, I would] add more accountability to those I delegate work to. People have the best of intentions, me and everyone else, but if you don't hold people accountable, then the things that you might expect to get done don't get done. Know who you are working with." — Ramona Moore Big Eagle
Bridging communities through food: Through Ramona Moore Big Eagle's work with the Universal Institute for Successful Aging of the Carolinas, Ramona's project - called Universal Sacred Harvest - brought non-immigrant community members together alongside the East Charlotte immigrant and refugee community around agriculture, nutrition, and most importantly conversation. Using tower gardens (see pictured), participants from a local senior care facility came together with immigrants and refugees to seed, water, attend to, and harvest the food they grew.
Bridge-building projects can be very labor-intensive. Dedicate staff time and financial resources to make them a success.
"I would tell others pursuing a similar project to ensure they have done a preliminary analysis of the budget and figure out how the organization is positioned to effectively manage all of the moving parts and costs." — Latino LinQ
Partner within your community.
Invest in relationships with other community organizations. Taking the time to build trust and communicate will enhance the depth of the programs you're trying to build.
"We partnered with the Chapel Hill Public Library which provided Digital Navigators, who came to the NSCs every week, to help parents with anything that requires digital interactions, from learning to navigate web browsers, set up and maintain email accounts, learning to type on English keyboards, paying bills online, accessing employer payroll portals, learning online banking platforms, etc." — Refugee Community Partnership
Working with the local government and local partners to invest in language access is a beneficial strategy for bridge-building between speakers of different languages. It can also set the stage for long-lasting welcoming work beyond the initial program.
"Language workers are crucial both for ensuring access to institutions, and for facilitating communications between local residents and their neighbors. Our partners within local governments express interest in [incorporating community interpreters into their annual budgets], and wanted to learn how community interpreters could also provide much needed interpretation services to government-funded agencies…. We recently reported back to local government about our learnings…which has compelled them to allocate seed funding toward our community coordinators model." — Refugee Community Partnership
Support circles for refugee neighbors: When refugees navigate a new community without being able to find belonging, it can contribute to what researchers refer to as "post-resettlement trauma." Refugee Community Partnership (RCP) in Carrboro, North Carolina responded to this problem by creating intimate circles of belonging for their refugee members and long-time residents in the community. Their project, called Neighborhood Support Circles (NSCs), built mutual relationships between refugees and committed volunteers to learn how community members could better access services and resources. Responding to the needs of their refugee members, centering relationships, and co-creating NSCs that benefited everyone were the drivers behind the project. Refugee children worked one-on-one with tutors for homework help, exam prep, and reading practice. Their parents worked with community interpreters and volunteers to communicate with their children's teachers and solve issues affecting their families like housing, employment, medical care, and more.
Build trust and sustain long-term relationships.
Coming together over several weeks helped people actively collaborate and engage with one another. Bridge-building activities can be the start of welcoming and belonging in a community, but deep transformation requires many years of sustained engagement and trust.
"Though this project has contributed to a greater sense of a welcoming community, more work needs to be done to ensure that everyone that was missing from the community dialogues [feels] seen and welcomed." — Latino LinQ
As much as possible, bring the same people to the table so they can build lasting relationships. Continued effort is needed to maintain intercultural connections.
"One piece of advice we would give is to ensure the group of volunteers is the same slate of people, consistently, to establish familiarity with children and their families, and to cultivate that sense of trust and a deep personal relationship. Relationships of trust and reliability are the secret sauce - it makes everything else possible." — Refugee Community Partnership
How to build bridges in your community
To foster belonging in your community, here are some ideas to get started: