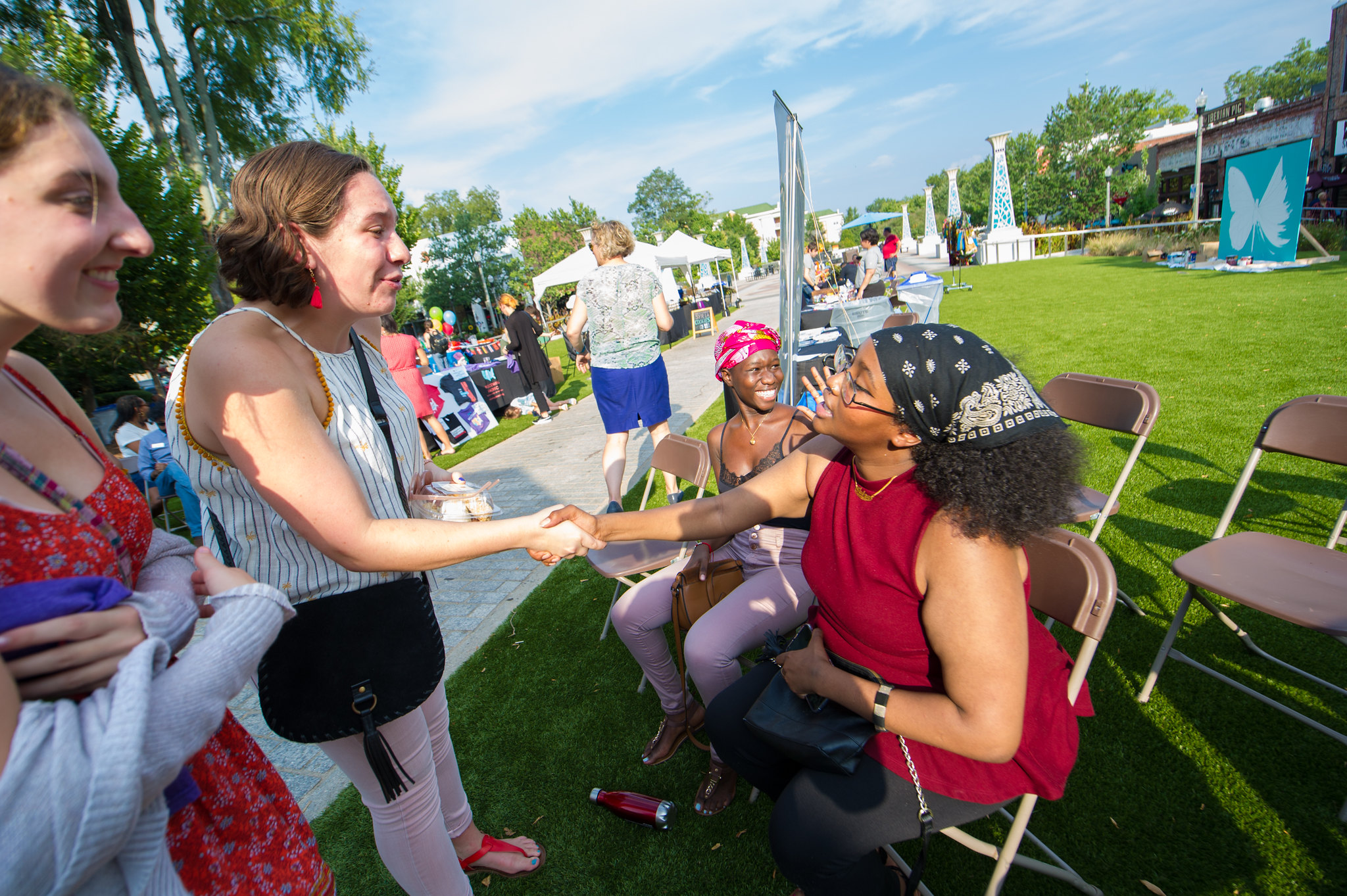 How to get started with Welcoming Week 
Welcoming Week is an opportunity for communities to come together and celebrate the values that make places more welcoming and inclusive for all who live there.
In the months leading up to Welcoming Week, it's time to start brainstorming ways to get involved. Whether you plan a local event or share your thoughts on social media, anyone who engages with Welcoming Week is taking a bold step in fostering belonging for all, including immigrants and refugees.
Want to participate in Welcoming Week, but not sure where to start? Read on for ideas and resources so you can be prepared this September.
What is Welcoming Week?
For over 10 years, Welcoming Week has served as an annual campaign and celebration to showcase the growing movement of communities striving to be more welcoming places. By fostering mutual respect and cooperation between residents of all backgrounds, Welcoming Week events bring people together to build greater prosperity for all.
Anyone can participate in Welcoming Week, whether you're a partner, Welcoming Network member, organization, or individual! All you need is the spirit of welcoming — the idea that each and every one of us has the power to help others, regardless of their background, to be seen, embraced, welcomed, and included in our communities.
In 2023, Welcoming Week is September 8-17. Across 10 days, communities can celebrate themes connected to the Welcoming Standard, community sponsorship of refugees, and citizenship.
Host an event
Welcoming Week events unite new and long-time residents, facilitate dialogue, and build community connections.
Before planning an event, ask yourself: What needs exist in my community? By asking this question, you center your community and ensure that your event is relevant to their priorities. For example, if there is food insecurity and few family-friendly activities in your area, consider hosting an event to plant a seasonal crop in a community garden, which is something families with children can do together.
Get inspired with ideas from these successful events:
For more information on hosting an event, check out our toolkit for communication resources and tips on developing an event.
Lastly, to help people in your area find and attend your event, don't forget to add it on welcomingweek.org so it appears on our global map of Welcoming Week events.
Issue a welcoming proclamation or resolution
Whether or not you host an event, consider working with your local government to issue a welcoming proclamation or resolution. These statements can formalize your community's welcoming values and strengthen belonging among residents and newcomers.
Example proclamations and a sample resolution that you can adapt are available in our toolkit.
Though these resolutions are most common among local and state governments, other types of organizations can issue them too! Whether you're a member of a nonprofit organization, corporation, or community group, issuing a proclamation or resolution acknowledges the critical role newcomers play in helping our communities thrive and honors the spirit of unity.
Connect on social media
Social media is an important space to share your message about welcoming and can be just as effective as in-person gatherings. Use the hashtag #WelcomingWeek2023 in your posts to amplify the international discussion on welcoming.
You can also download our "I'm a welcomer" signs and snap a picture of community members holding them to share on social media. Accompany them with inspiring stories from your community where people are creating spaces of belonging.
For more inspiration and resources, use our toolkit for social media post templates and timeline suggestions.
Partner with us
Welcoming Week wouldn't be possible without partners. Partners are organizations that operate on a national or international level and ideally have their own networks of members or constituents to activate around Welcoming Week.
Partners promote Welcoming Week through external or internal platforms, share their logo on the Welcoming Week website, and commit to one of the following:
Issue a Welcoming Week proclamation or statement
Develop and share a piece of content on how their members or constituents can support welcoming efforts
Share the Welcoming Week planning webinars and/or toolkit
Host a Welcoming Week event and submit events on the Welcoming Week website
Interested in becoming a partner? Contact our chief external affairs officer Daniel Valdez at [email protected].
Become a national member or international partner
Welcoming Week is just the beginning. If you are part of a U.S.-based nonprofit or local government office committed to fostering welcoming and belonging for all residents, consider becoming a member of the Welcoming Network to ensure your welcoming work continues year-round.
If you are based outside of the U.S., learn more about our Welcoming International initiative and how you can bring welcoming work to more places worldwide.
For more ideas on how to get involved, visit welcomingweek.org or sign up for our multilingual newsletter so you don't miss any of our updates. Email [email protected] with any questions.
This post is adapted from a blog originally authored and published by Carolyne Im in July 2021.