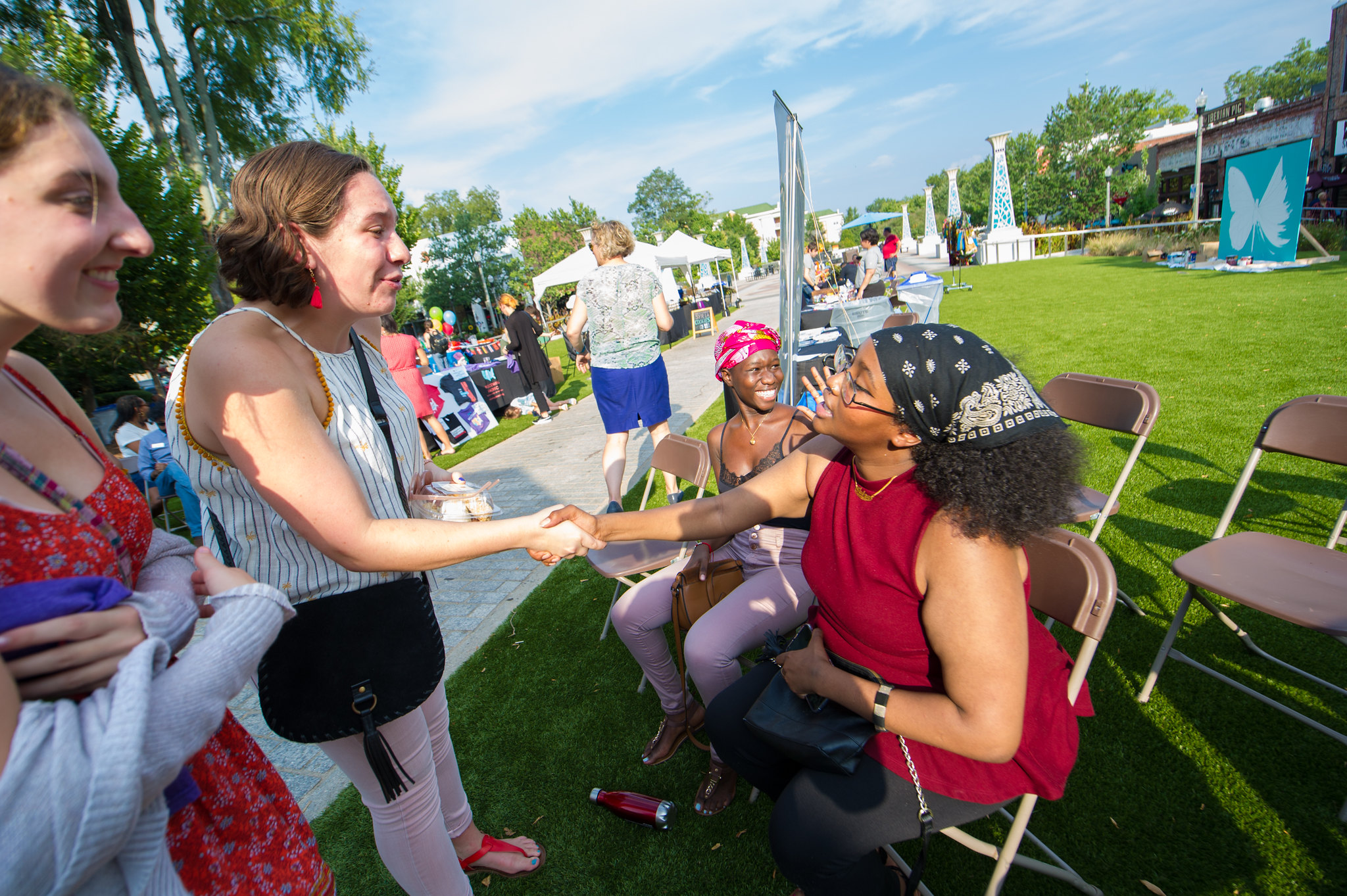 How to get started with Welcoming Week 
Welcoming Week is just two months away! Whether it's your first time participating or you're a seasoned veteran, it's time to start brainstorming ways to engage. Whether you plan a community event or share your thoughts on social media, anyone who engages with Welcoming Week is taking a bold step in fostering welcoming communities for all residents, including immigrants.
Want to engage with Welcoming Week, but not sure where to start? Read on for tips and resources so you can hit the ground running this September.
What is Welcoming Week?
Since 2012, Welcoming Week has served as an annual campaign and celebration to showcase the growing movement of communities striving to be more welcoming places for all, including immigrants. By fostering mutual respect and cooperation between residents of all backgrounds, Welcoming Week aims to bring together people across lines of difference toward greater prosperity for all.
This year's Welcoming Week is from September 10-19 and the theme is Belonging Begins with US, which is an existing national campaign that aims to foster a more welcoming nation (and world!) where everyone can belong. Welcoming Week 2021 seeks to amplify this campaign by activating local communities to make welcoming and belonging more than just a feeling, but an action we can all take.
Anyone can participate in Welcoming Week, whether you're a partner, member, organization, or individual! All you need is the spirit of welcoming and the declaration that Belonging Begins With US—that each and every one of us has the power to help others, regardless of their background, to be seen, embraced, welcomed, and included in our communities.
Host an event
Host an event to bring together new and long-time residents, facilitate dialogue, and build new connections! Before planning an event, ask yourself: What needs exist in my community? By asking this question, you center your community and ensure that your event is relevant to their priorities.
For example, if kids and parents express fear about going back to school because of the pandemic, consider building an outdoor classroom for students or finding a place on campus to paint a community mural about their hopes for the school year. If food insecurity or a lack of family-friendly activities is brought to light, consider planting a fall crop in a community garden or hosting a food drive.
Successful event examples include:
Host a cooking demonstration with a local immigrant chef
Host a naturalization ceremony; in the U.S., Citizenship Day is September 17
Work with a local museum or art gallery to spotlight immigrant and refugee artists
Host a film screening or virtual watch party
Host a Civic Dinner on belonging
For more information on hosting an event, check out our toolkit for notes on COVID-19 considerations, tips on developing an event, and a planning checklist.
If you do host an event, don't forget to add your event so that it appears on our global map of Welcoming Week events and list of events, so people in your area can find it and attend.
Issue a welcoming proclamation or resolution
If you're unable to host an event, consider issuing a welcoming proclamation or resolution through your organization or company. These statements can formalize your community's welcoming values and strengthen belonging among residents and newcomers.
Though these resolutions are most common among local and state governments, other types of organizations can issue them too! Whether you're a member of a nonprofit organization, corporation, or community group, issuing a proclamation or resolution acknowledges the critical role newcomers play in helping our communities thrive and honors the spirit of unity.
Want to issue a statement but not sure where to start? Check out our toolkit for a sample template and examples of past proclamations and resolutions.
Share on social media
Social media is an important space to share your message on belonging, and can be just as effective as in-person gatherings. Use the hashtags #WelcomingWeek2021 and #BelongingBeginsWithUS in your posts to amplify the national discussion on belonging during Welcoming Week. Prefer visuals? Update your Facebook profile picture by adding one of our custom  Facebook filters by searching "Welcoming America." On Instagram, add our custom Welcoming Week stickers to your Stories by searching "Welcoming Week."
You can also download our  "I'm a welcomer" signs and snap a picture to share on social media. Accompany them with  inspiring stories from your community where you and other welcomers are creating spaces of belonging.
For more inspiration, check out our toolkit for social media post templates and timeline suggestions.
Become a member
Welcoming Week is just the beginning–if you are part of a nonprofit or local government office committed to fostering welcoming and belonging for all residents, consider  becoming a member of the Welcoming Network to ensure your work goes beyond Welcoming Week. Through coaching and technical assistance, our team helps organizations of all sizes scale and deepen inclusion work in their community.
There are many ways to get involved with Welcoming Week. For more ideas, visit www.welcomingweek.org or sign up for our newsletter so you don't miss any of our updates. Email [email protected] with any questions.