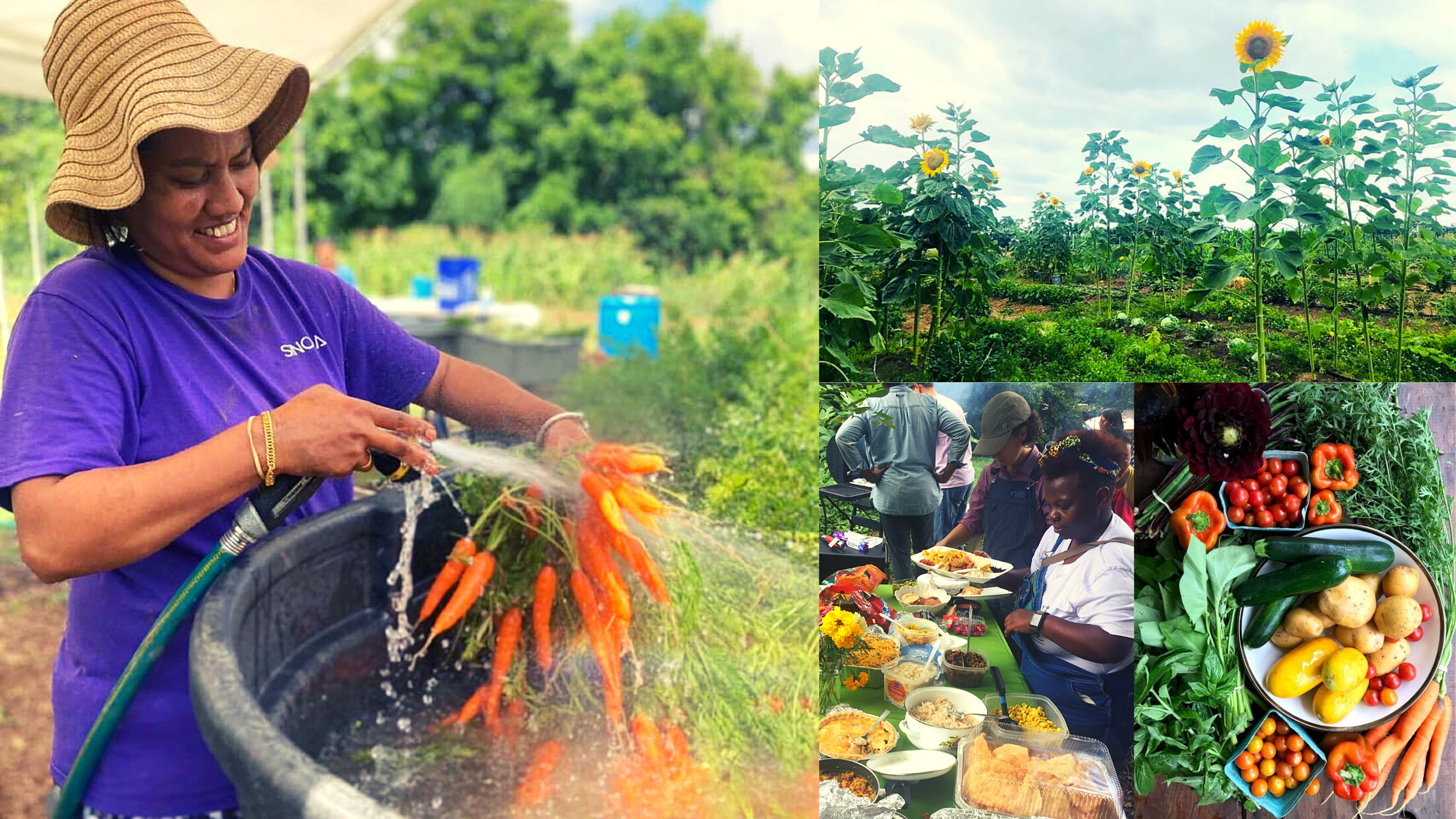 Creating the table: Using food to foster belonging during Welcoming Week
The Nashville Food Project, a Welcoming Network member, works to bring people together to grow, cook, and share nourishing food. Check out how they plan on celebrating #WelcomingWeek2021 using the recently published Taste of Belonging cookbook. 
As we continue to emerge from the pandemic, we must consider how to heal and connect with one another through this experience. How can we reflect on what we have all been through, and fully understand what has happened? How do we come together to honor what has passed and all that has been brought into view?
For us, one answer is Welcoming Week. As a Welcoming Network member, we get the opportunity to host an event this year that will foster a space for this collective reflection.
For our event, we will be hosting a community potluck and storyteller event inspired by an example in Welcoming America's Taste of Belonging cookbook. The theme of our gathering is centered on remembering, uplifting, and celebrating the universal experience of food—the act of growing, cooking, and eating food.
Since the pandemic began, there have been few opportunities to gather. We have 50 individual plots and a communal plot but because of of the pandemic, few gardeners have been able to meet. This event will be an opportunity for them to share space, stories, and food—a first for many in a long time.
Our goals
Our goal is to create an opportunity for our diverse community of gardeners, neighbors, and supporters to celebrate each others' food and make time to hear and connect with each other's stories. By pausing and taking time to remember, share a meal, and something of ourselves, we are continuing the vital work of understanding who we are in relationship to each other and building a place of belonging for everyone.
One of the things that I love the most about the Taste of Belonging cookbook is the way that it uplifts the everyday act of eating together as a way to build relationships, in a way that equalizes power. In my work at The Nashville Food Project, I've experienced hospitality from folks who have taken the time to share meals and stories. Each encounter has carried a context and power to shape and reshape how I understand the world.
And that is what we hope for in our upcoming Welcoming Week event—a place for folks to connect and learn from each other's food and stories in a way that helps us all understand each other a little better.
Step by step
Here is what we are planning and the steps we will be taking in the coming weeks to prepare:
Who is invited? The event is open to all. Guests are invited to bring a homemade dish that have a powerful memory, and share this with others in a communal meal. To get the word out, we are working within our network of gardeners and key community members. Online RSVPs will help us further gauge interest.
Where is the event hosted? We are planning for an outdoor event at our Community Farm, taking precautions to prevent the spread of COVID-19 by following our local health department's recommendations.
Which elements are still in the works? We are working with our partners and gardeners to identify four key storytellers to share some of their most formative food memories around cooking, eating, or growing food. Since we work with people who speak several different languages, each storyteller will present in their chosen language and consecutive interpretation will be provided.
Whether you're in the Nashville area or based elsewhere, you can foster belonging in your community through Welcoming Week. Find more resources to help you get started!
Lauren Bailey is Director of Garden Programs at The Nashville Food Project. 
All image credits: The Nashville Food Project