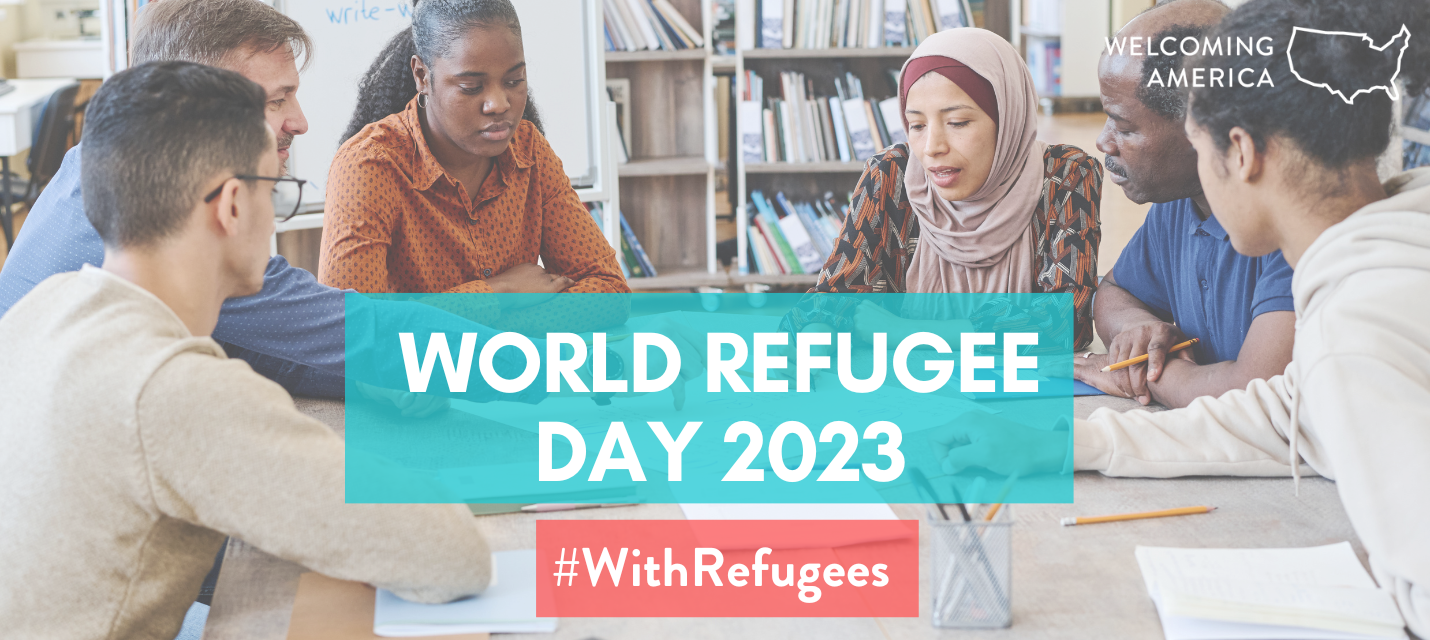 World Refugee Day: Building communities where refugees belong
Each June, we recognize the importance of welcoming refugees into our communities.
June 20 is internationally designated by the United Nations as World Refugee Day. The day celebrates the strength and courage of people who have been forced to flee their home country to find safety and belonging in a new place.
This year, World Refugee Day focuses on the theme "Hope Away from Home." In advance of the UNHCR's Global Refugee Forum in December 2023, people commemorating this day are highlighting the power of inclusion as local communities across the world work to support refugees.
This World Refugee Day, learn more about the pathways for individuals, groups, and organizations to welcome asylum seekers into their homes and communities across the globe.
How community members sponsor refugees worldwide
Community sponsorship is an avenue for individuals and groups to participate in refugee resettlement.
In a recent webinar hosted by Welcoming America and the Welcoming International Alliance, we heard how community sponsorship of refugees currently works in the United Kingdom and United States.
Community-led refugee resettlement in the U.K.
In the U.K., there are several routes to safety for refugees. Community sponsorship is one of these opportunities.
Community sponsorship involves many steps and can take a year or more before the refugee family arrives in the community. Once the family arrives, the sponsor group continues to accompany them as they build their life in the U.K.
During the webinar, the strategy director at Reset, Emma Harrison, shared: "We love community sponsorship [because] it is really community-based. People form a group together and they really work on how they can bring this family to the U.K. We are absolutely proud of how many people have done it because it is a lot of work."
Peter Barnett, head of libraries and migration at the City of Coventry, U.K., shared an example of how the city has supported community sponsorship of refugees.
Beginning in March 2022, the U.K. launched the Homes for Ukraine scheme to allow individuals, groups, and other organizations to welcome Ukrainian refugees into local communities.
"There's a connection made between a Ukrainian national…and a sponsor in the U.K. who wants to provide a place for people to stay," Peter explained. "We used a local charity that is focused on refugee and migrants' rights to act as a broker to facilitate as many opportunities for matches as possible."
To date, 330 Ukrainian refugees have arrived in Coventry through the Homes for Ukraine scheme. The city has been focused on providing direct services and community resources to support refugee inclusion in jobs, education, and civil society. One campaign, MyCoventry, has rallied local support for refugees and provided resources for newcomers in the city.
For more examples of welcoming refugees and community sponsorship in the U.K., explore the following resources:
Refugee sponsorship in the U.S.
Recently, more opportunities for welcoming refugees through community sponsorship have become available in the United States. Resettlement agency-led co-sponsorship, Sponsor Circles, and Welcome Corps are a few examples of community routes to welcome refugees.
"Community sponsorship has benefits for all those involved," explained Beth Frank, the Welcome Corps program director at the Community Sponsorship Hub. "It increases refugee access to social capital and supports refugee integration. It brings communities together in shared acts of service and it can foster more welcoming attitudes toward refugees, asylum seekers, and other forcibly displaced populations."
Community sponsorship in the U.S. also has the potential to amplify the important message of welcoming and belonging.
Beth shared an example of a sponsor group that the Community Sponsorship Hub recently worked with. The group reflected on the outpour of support they received from their community. Coming together across political lines, community members were inspired to welcome several more refugee families over the course of a few months. The news of their welcoming efforts reached their state governor, who offered support to the community through his charity.
As communities consider ways to welcome refugees, sponsor groups show the importance of working together to build belonging for all.
Learn more about community sponsorship and welcoming in the U.S.:
Ways local governments can support refugees
Local and regional governments have essential roles to play in welcoming refugees. Governments have the power to build infrastructure needed to support and engage refugees in the long term.
This World Refugee Day, local leaders should consider being part of the Mayors Mechanism Call to Local Action, run by the Global Forum on Migration and Development.
Local governments can sign a declaration to endorse the Global Compact on Refugees, submit a local action, and learn from others doing similar work around the world. By participating, your government can get recognition for your efforts, gain knowledge from peers, increase your visibility, and influence others to create a more welcoming world.
To learn more about the impact of the Call to Local Action, read the 2022 report. An updated version of this report will be released this December at the UNHCR's Global Refugee Forum.
Want to learn more about welcoming refugees?
Check out our Welcoming Refugees resource page to learn more about how to support refugees, their contributions, and what meaningful inclusion of refugees looks like.
To stay up-to-date on work happening globally to welcome refugees and migrants, register for the Welcoming International newsletter.