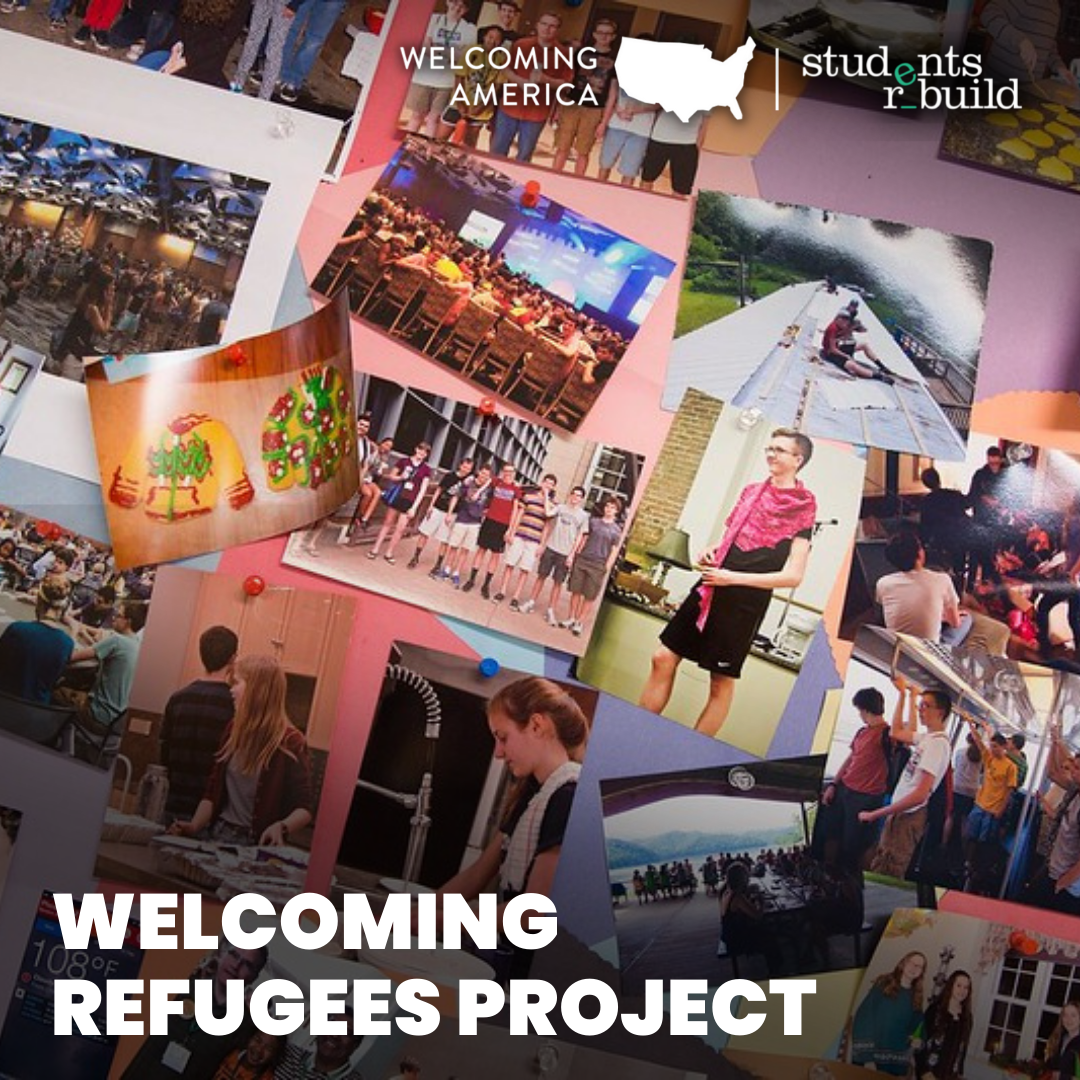 Welcoming America joins Bezos Family Foundation to launch student art initiative to support refugee children
Welcoming America is partnering with the BFF program Students Rebuild on their new annual challenge to help change the lives of displaced families from Ukraine, Ethiopia, Turkey, and more.
The Bezos Family Foundation's program Students Rebuild today launched their new annual challenge, The Welcoming Refugees Project, to support organizations working with displaced families including Welcoming America.
Today, more than 400 million young people live in areas of the world experiencing conflict. The Welcoming Refugees Project invites students from around the world to join together in learning about those displaced by war and other crises that cause families to flee their homes and the local actions they can take to make our communities more welcoming and inclusive through art.
K-12 students will create a work of art welcoming refugees that reflects culture, community and connection. Students Rebuild will donate $5 for every piece of art submitted through the Welcoming Refugees Project to Welcoming America's efforts to serve immigrants and refugee communities, alongside other organizations including:
Choose Love's work providing vital emergency support to refugees along migration routes globally.
Unicef's unprecedented global support system for the world's children.
World Savvy's work with educators to make classrooms more inclusive, relevant, and engaging.
Students will also be inspired by the journey of education partner Little Amal—a moving, public, interactive arts exhibition that helps to raise awareness around the conditions of refugee youth around the world by building partnerships with local communities.
Welcoming America will receive funding through the Challenge to support the Welcoming Network and initiatives such as Certified Welcoming and Welcoming Week, which kicked off its 10th anniversary this week.
"We're thrilled to partner with Students Rebuild and the Bezos Family Foundation to ensure that young people can be part of envisioning a world in which all of us — including displaced families — can belong and thrive," said Rachel Perić, executive director of Welcoming America. "The Welcoming Refugees project brings together an exciting constellation of partners and the power of arts, culture and connection to move us closer to the welcoming society that Welcoming America and our global partners are working to build."
"This year's challenge will have immediate and direct benefits on families around the world. We're honored to support the work that Welcoming America is doing to make our global communities a more welcoming and inclusive place for young people displaced by war and other crises that cause families to flee their homes," said Alexandra Manuel, managing consultant for Students Rebuild.
To learn more about Students Rebuild, the Welcoming Refugees Project and the projects partner organizations please visit studentsrebuild.org/refugee.
About Students Rebuild
Students Rebuild is a collaborative program of the Bezos Family Foundation. Created in January 2010 in response to the devastating Haiti earthquake, Students Rebuild has mobilized more than one million participants in 83 countries and all 50 states and raised more than $11 million in matching funds for projects like rebuilding schools in Haiti, aiding disaster recovery efforts in Asia, supporting livelihoods in Africa, helping Syrian youth from conflict areas recover from crisis, and supporting empowerment opportunities for youth affected by poverty. Find more at studentsrebuild.org and @StudentsRebuild.