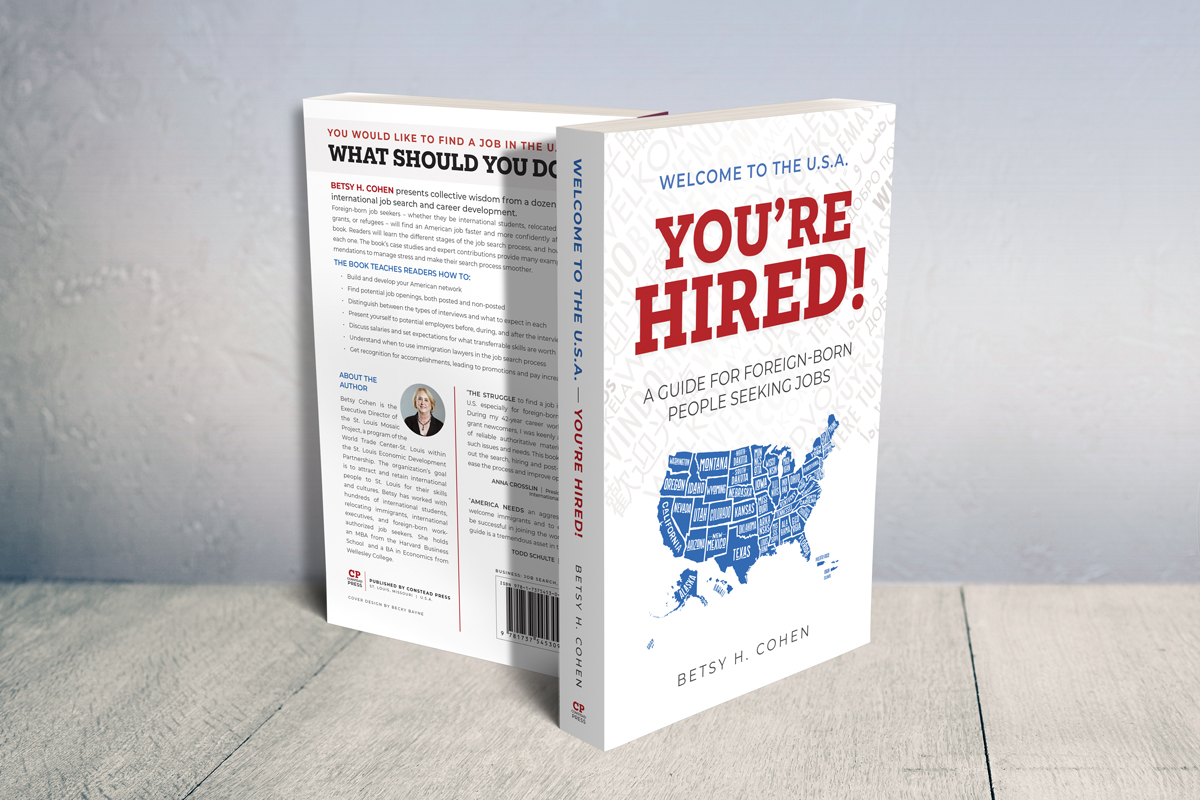 "Welcome to the U.S.A. – You're Hired!": A Foreword
Editor's note: This foreword was republished with permission from Betsy Cohen, author of the book "Welcome to the U.S.A. You're Hired: A Guide for Foreign-born People Seeking Jobs" which released in September 2021. Elizabeth "Betsy" Cohen is the Executive Director of the St. Louis Mosaic Project of the World Trade Center-St. Louis, a Welcoming Network member organization, and a member of Welcoming America's Network Leadership Committee. 
I first met Betsy Cohen when I was introduced to her and her work through the St. Louis Mosaic Project, an initiative focused on weaving immigrant Americans into the rich tapestry of St. Louis and growing the region's population to address many years of exodus. The work was ambitious, visionary, and audacious — just like Betsy Cohen.
As I got to know Betsy through her work in St. Louis, and later as a board member for my organization, Welcoming America, I came to know her as a determined leader with a generous spirit, always eager to use her network expansively to connect people to opportunity, and to use her position and power to expand the potential of others to do great things. While many people willingly extend this kind of support to those similar to them, Betsy deliberately focuses on people born outside the U.S., whose networks — and therefore opportunities — are often more limited.
At a time when too many leaders profit from seeing the world in zero-sum terms, Betsy's instinct to champion those with boundless talent but limited opportunity offers a powerful alternative — an abundant vision in which we rise together.
Finding a job in America — and navigating the unwritten norms and culture of the marketplace of work — is a daunting task for any jobseeker, and certainly for those who are the first generation to arrive here. More daunting yet are the unnecessary barriers that stand in the way of success, from bias and systemic racism to an outmoded approach to credentialing, to the challenges of transportation, childcare, and other issues faced by millions of American workers, new and longtime alike. The particular challenges of language, customs, of translating expertise and experience, and building networks that extend beyond our own peer group, are ones that many immigrant Americans must navigate, often with little support or even empathy.
As the executive director of an organization that works with communities to bring down these barriers and create an environment in which each of us — including immigrants — can thrive, belong, and prosper, I know just what this book can offer. It can unlock the hidden talent and contributions of Americans born outside the U.S. It can also point to remedying the barriers and biases that hinder the potential of every American. While diversity may be a fact of the American workforce, its ability to be fully unleashed in the service of our creativity, innovation, and ability to solve problems together is far from our current reality. But we have the power to change that, and I imagine many readers of this book could be among those who do.
If you're an immigrant American reading this book, I want you to know that there are many of us rooting for you to succeed, despite the politics and narratives that suggest otherwise. Your success is our shared success as a nation that can see the potential of every person determined by what we do, not where we come from, what we look like, how we pray, or who we love. There are millions of Americans who not only believe in these ideals but want to see them lived out in the workplace, in neighborhoods, and in our democracy. This work — the work of building a welcoming community — often begins with the simple actions that each of us can take to lift up ourselves and others toward shared success.
Nowhere is that more important and urgent than when it comes to the dignity of a job for every American, whether we've been here for generations or have arrived more recently. Readers of this book will find practical advice, tools, ideas, and support to succeed as individuals. They'll find evidence of the abundance of champions who, like Betsy, are eager to see us build a culture in which our shared humanity and unique talents are put to good use, creating communities where all of us rise together.
Rachel Perić is executive director of Welcoming America. Purchase the book, now available on Amazon. Welcoming America does not receive a commission for any purchases made using this link.