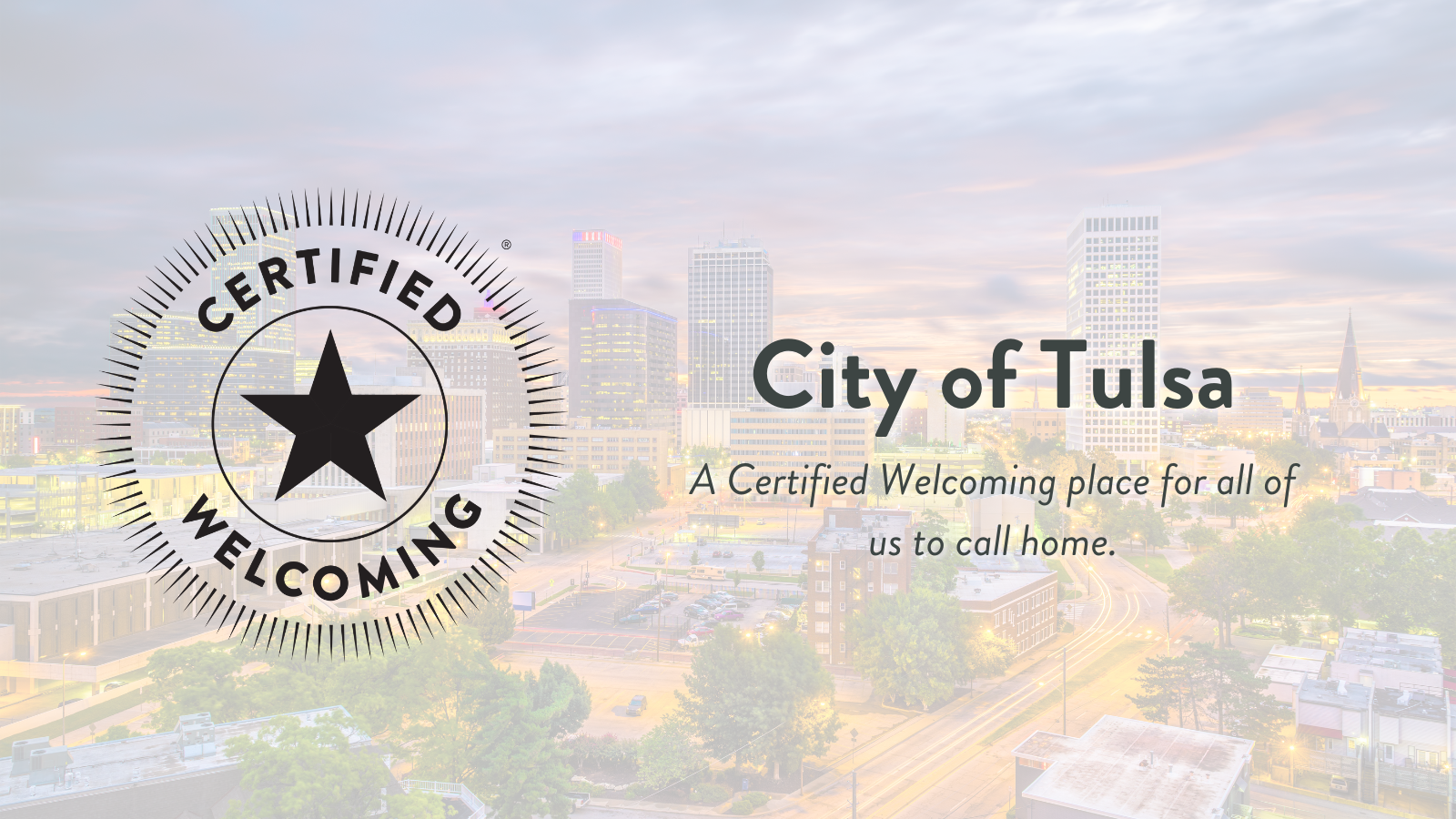 Tulsa becomes first Certified Welcoming city in Oklahoma
Welcoming America, a national nonprofit organization, announces the City of Tulsa as a Certified Welcoming place, the first in Oklahoma to achieve the designation.
Rachel Perić, executive director of Welcoming America, said: "We are thrilled to recognize Tulsa in becoming a Certified Welcoming place, affirming its leadership in building policies and partnerships that enable all those making the city home — including people with immigrant and refugee backgrounds — to thrive and belong. As the first city in Oklahoma to receive the designation, and the 20th in the nation, we look forward to celebrating and supporting Tulsans in the community's ongoing efforts to make the city a welcoming place for all."
Tulsa Mayor G.T. Bynum said: "I am pleased that our community partners came together to showcase our citywide commitment to include immigrants in everything that we do. I want to thank Welcoming America for Tulsa's designation as Certified Welcoming, and I look forward to living up to this high standard as we continue this important work."
Mayor Bynum announced Tulsa's designation today at his 2023 State of the City address. The formal Certified Welcoming certificate will be presented to the Tulsa community on December 6 along with a public discussion on the findings in the certification report.
Tulsa is one of 20 cities and counties in the U.S. with the designation. In Welcoming America's audit, the Tulsa Educare program was highlighted for its bilingual support to caregivers with childrens' learning and play activities. The city's economic development efforts were also a strength, as evidenced by programs like Flourish Tulsa which address challenges faced by immigrants educated or trained outside of the U.S.
Nem Lun, Immigrant and Refugee Affairs Manager of the City of Tulsa, said: "We are thrilled to receive this recognition as a welcoming city from national partner Welcoming America. It marks a significant milestone in our city's history and is a testament to the extraordinary efforts and leadership of our dedicated community partners. This recognition solidifies our firm commitment to implement the goals of our New Tulsans Initiative and to continue working tirelessly to elevate Tulsa as a globally competitive and world-class city that is welcoming to all."
Certified Welcoming is a formal designation by Welcoming America for cities and counties that have created policies and programs reflecting their commitment to immigrant inclusion. Since 2017, Certified Welcoming and its operating framework, the Welcoming Standard, have served as a roadmap for local governments seeking to build truly welcoming communities.
In addition to being the first city in Oklahoma to achieve the Certified Welcoming designation, Tulsa is just the second to achieve it under the new star system implemented by Welcoming America earlier this year, making it the first 3-star Certified Welcoming city. Tulsa as one of three places to participate in the star system's pilot program. Far from being a "rating system", the new Certified Welcoming star system creates a roadmap for communities to advance welcoming work with transparency and accountability.
###
About Welcoming America
Welcoming America is a nonprofit, nonpartisan organization that leads a movement of inclusive communities becoming more prosperous by ensuring everyone belongs. We believe that all people, including immigrants, are valued contributors and vital to the success of our communities and shared future. Learn more
About Certified Welcoming
Certified Welcoming is a formal designation for local governments that have created policies and programs reflecting their values and commitment to immigrant inclusion. This innovative program assesses local governments on their efforts to include and welcome immigrants in all areas of civic, social, and economic life in their communities. With a Certified Welcoming designation, communities distinguish their local efforts, build a competitive advantage, and gain access to opportunities to share their welcoming practices on a regional, national, and global stage. Learn more