Blog Post
Stories of Impact
Southern Missourians of all backgrounds find common purpose during pandemic
In 2020, Welcoming America and its members worked in eight cities to bridge diverse communities and foster a deeper sense of belonging for local residents, including immigrants. This story is part of the Belonging Begins With Us campaign, which was funded in part by the Walmart Foundation. 
At 59, Maria de Lordes looks back at 37 years living in America with gratitude and satisfaction. She and her husband owned a successful convenience store for 23 years before selling it, and their three grown daughters have started their own careers.
At first, Maria said moving to the United States from Chihuahua, Mexico wasn't that challenging, given how much work was available for anyone willing to do it. She quickly became a caregiver for an elderly man. But upon reflection, she opened up about the struggle.
"You asked if it was something really hard, living in the USA, and I said no. Well, I lied. I was illegal for a few years, and living in the shadows was really hard," she said. "Also on big events, like my wedding or my daughters' quinceañeras, not having a mom or sister to go with you to buy our dresses, it's been hard."
Still, Maria has no regrets about moving to the United States at 22. And she is paying forward her good fortune in Noel, Missouri, volunteering with Refugee and Immigrant Services & Education (RAISE), a nonprofit that provides refugee, education, health, and community development services.
She is one of many who forged deeper ties among immigrants and non-immigrant residents through events and projects with RAISE, Welcoming America, churches, educators, and government officials.
Growing community together
In September 2020, Maria was one of three volunteers who led cooking demonstrations at an outdoor picnic with produce that RAISE volunteers and staff grew and harvested. She prepared okra from the community garden with meats and Mexican spices, including a homemade hot sauce from grilled peppers.Hassan Hashim, another Noel resident who emigrated from Sudan, made a Sudanese dish with okra with help from a couple from El Salavador, sharing stories as he cooked.
They are all part of a growing immigrant population in southern Missouri, where RAISE estimates 2,000 immigrants live, including people from Somalia, Sudan, Mexico, Guatemala, Myanmar, and the Marshall Islands.
Maria is Christian, but has made friends through RAISE with people who are Muslim. Anti-immigrant sentiment and overt racism have created some challenges, but the path to acceptance, she said, is love.
"We are daughters from the same god who created us. Love is the key to accepting each other the way we are," she said. "If you have hate in your heart, you're going to hate no matter what. The key to accepting each other is to love yourself first."
RAISE elevates community cohesion
Patching so many cultures together during a pandemic has been a challenge. But RAISE and its partners have met it with a variety of initiatives:
The Community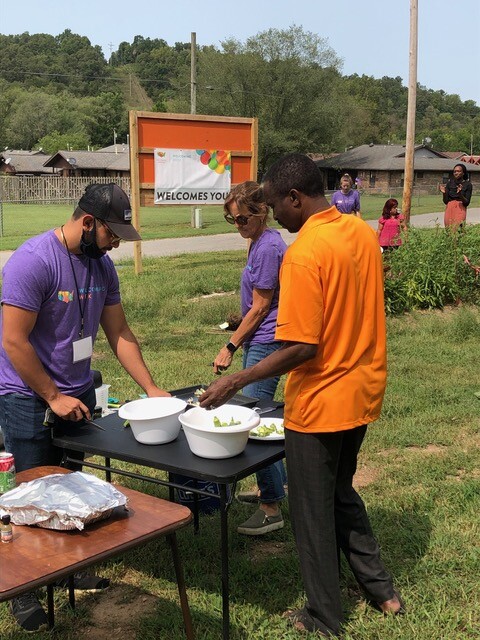 Garden: Immigrant and non-immigrant residents, including people with disabilities, prepared the land, planted, weeded, watered, and harvested vegetables and fruit. The collaboration included University of Missouri Extension, Noel Housing Authority, Walmart, a local artist, and many others who donated plants, supplies, and time. The harvest was shared with a local church food bank. The work was celebrated and enjoyed with the September 2020 harvest and okra dish celebration.
Food Distribution: During Welcoming Week, RAISE hosted a drive-by food giveaway, distributing 275 boxes to motorists and another 25 boxes to homebound seniors the next day. Immigrant and non-immigrant people volunteered. The Noel Housing Authority hosted the event in its parking lot, and Keypoint Church in nearby Bentonville arranged for the distribution. Volunteers were able to talk to people in every car to hear about where they lived and their lives.
The help came at a critical time for residents, 35 percent of whom live below the poverty line. Many were out of work due to the pandemic-related shutdown of meat and chicken processing plants. "The biggest highlight was being able to see the expression on people's faces as they were able to get free food," RAISE Executive Director Michael Newman said.
Planting an Orchard: During Welcoming Week, RAISE ho
sted an event for immigrant and non-immigrant gardeners to plant apple, peach, and cherry trees in the community garden. Twenty-five people with roots in Mexico, Guatemala, El Salvador, Honduras, Sudan, and the U.S. participated. The Noel Housing Authority donated more than an acre of land for the orchard and First Christian Church of Woodriver helped prepare the land and create two soccer goals for RAISE's use. The event was capped off with Dr. Steven Brown, a doctor based in Noel and a volunteer, making apple butter for the group to share.
A House to Share: The Noel Housing Authority leased a home to RAISE to house classes on English as a Second Language (ESL) and Adult Education and Literacy and to use for various refugee and immigrant programs. The five-year lease has no monthly rent — in exchange, RAISE completes repairs to the house, including painting.
Over six days in September 2020, 42 volunteers representing five nations, two churches, and Missouri State University painted the house. The group held an outdoor meal with the volunteer and played Story Stitch, a storytelling game. Volunteers got the house in shape and began holding classes immediately following Welcoming Week.
"These classes have been our primary vehicle to reach the different communities in Noel and determine what other needs they may have," Newman said.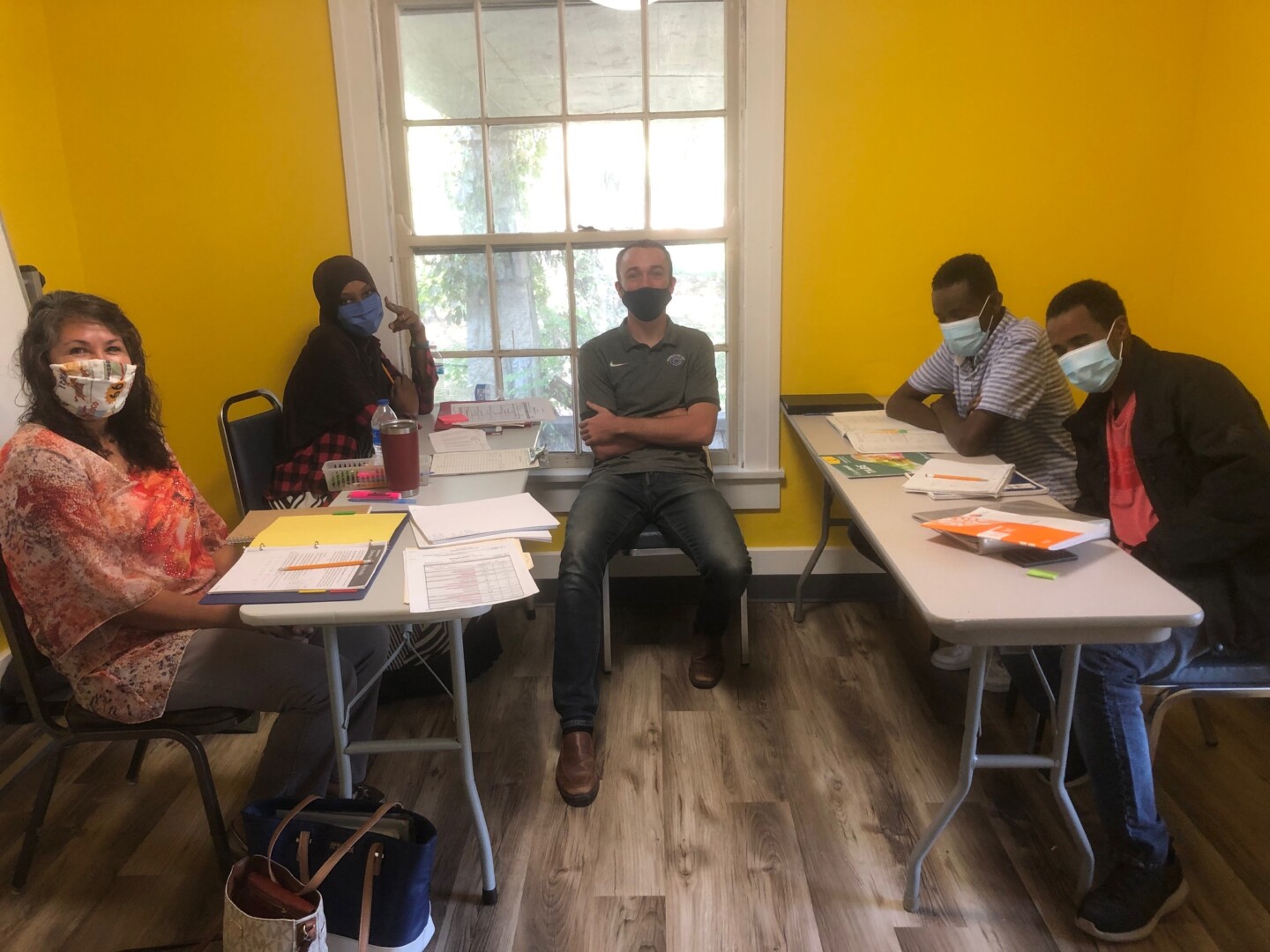 Maria plans to keep volunteering with RAISE, including gardening and help with ESL classes. Her example will guide others.
"I go back to where I was born, and I see the people living the same, and I feel so grateful that I had the courage to make a better living for myself and my family," Newman said.