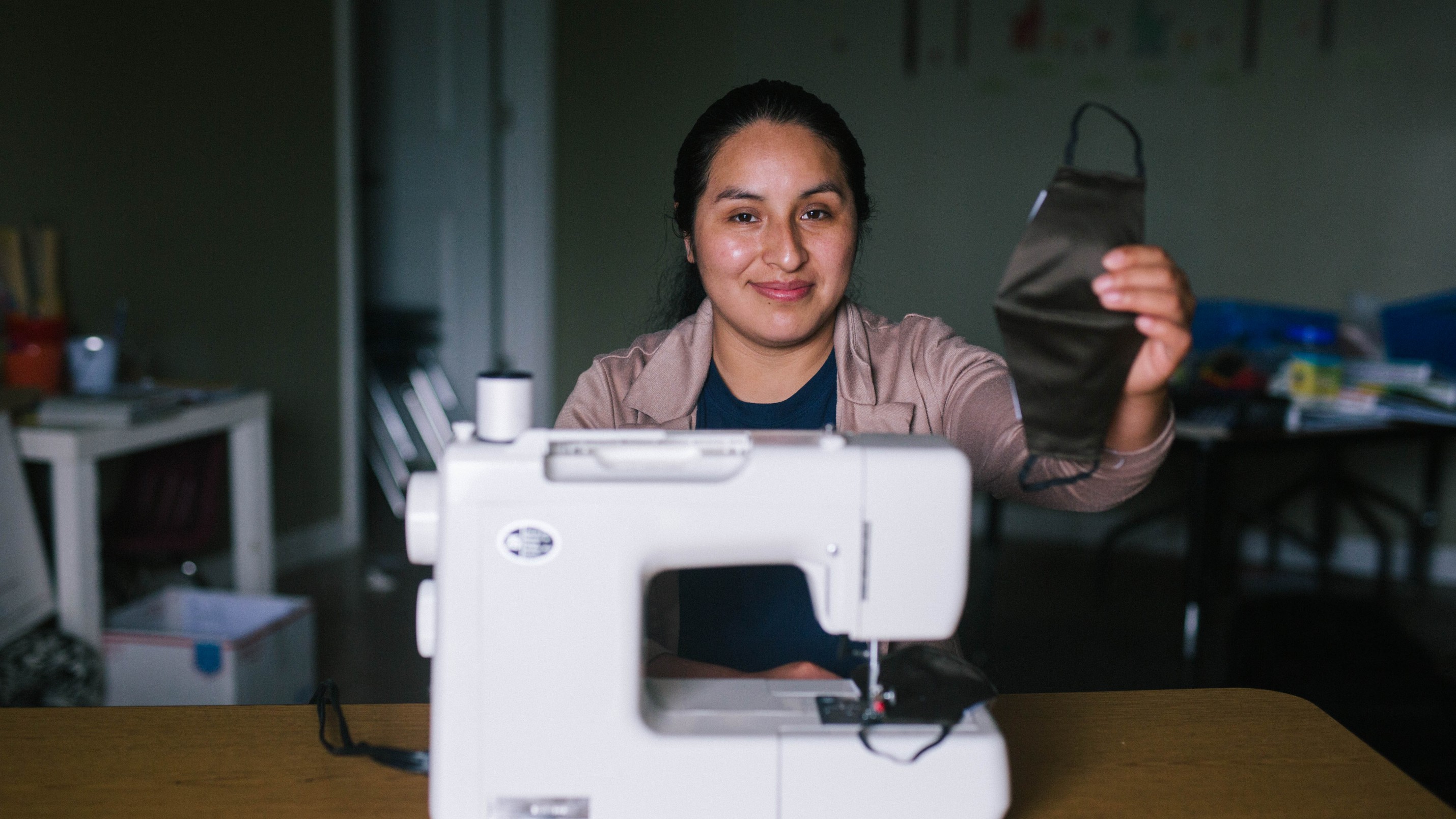 Blog Post
Stories of Impact
Resilient Responders
Mobilizing immigrant mothers in Georgia to sew masks, spread facts
As the pandemic began escalating in early 2020, the Welcoming Network mobilized in communities from Vermont to Texas to meet the pressing and often overlooked needs of immigrant and refugee communities. Through our Resilient Rapid Response Initiative, see how our members rose to the occasion and responded to community needs in this "Resilient Responders" blog series.
Submitted by: Amy Campbell, Development Director, Corners Outreach (Georgia)
In 2020, you received a grant as part of the Resilient Rapid Response Initiative, which was aimed at boosting inclusive emergency response to the COVID-19 pandemic in welcoming communities. Could you share briefly how your organization used the funds?
The Resilient Rapid Response Fund came at just the right time to bolster our launch of the More than a Mask Project. We hired and trained mothers in our community to sew masks and paid them $4 per mask. They were able to sew three to four masks each hour so were able to make $12-$16 per hour. In total, we sold more than 5,000 masks and donated 1,000 masks to immigrant workers across the state.
Our partner, the Latino Community Fund, helped us disperse these masks and you can see a video of that here. Coalition of Latino Leaders a support for Latinos in the Northwest corridor of Georgia. They showcased the gift on their Facebook page, which you can see here. Our story also got picked up by a few news organizations, the most notable being a feature on the WSB-TV evening news, which you can see here.
We combined this with our Corners Virtual Health Series to create videos of Spanish-speaking medical professionals offering advice on managing COVID-19.
What were some of the early results or notable impacts? Are there any specific stories that come to mind?
The most notable impacts were on the moms who were hired to sew masks. Here are a few of these mom's words on why this was so meaningful to them:
●      "I like to sew, and I'm grateful that I don't have to pay a babysitter while I work."
●      "I get to be with my children and teach them about my traditions."
●      "This is what I studied in Guatemala. I really like sewing and with this project I'm putting to practice what I learned in school."
●      "I like sewing. I'm not so good at it but every day I learn something new."
●      "I like what we're doing. In the beginning it was a bit hard for me, but every day I learn more and I'm advancing. I like that I can be with my children. I try to help with her reading, although she sits and reads for hours!"
●      "I don't have a job, I'm pregnant, and sometimes I don't sew as fast but this is really helping me."
As the pandemic continues with no end in sight, have the needs of immigrants and refugees in your community changed? What are the challenges that remain with making your local emergency response more inclusive?
The employment needs of immigrants has changed. Many of the parents in our community lost jobs in March and April 2020, but have since found ways to replace that income. Although demand and sales of masks have slowed, we were able to do some special projects, such as making masks for nearby private schools.
There has been a challenge in engaging our parents in our Health Series and getting them accurate information. In May, a mother thought she had COVID-19, but refused to get tested because she believed her kids would be taken from her because of her undocumented status. Despite setting her up with trusted contacts for the test, she would not go. In the end, believing that this would not be safe and that she should risk her health and the health of her family.