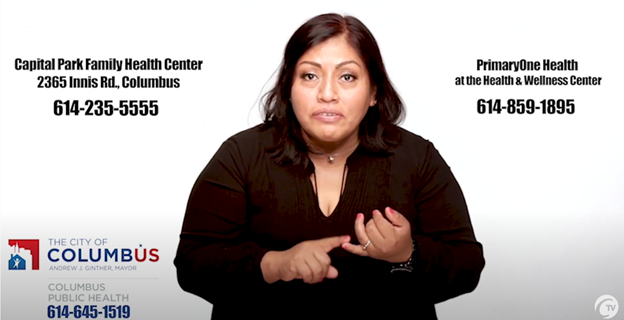 Blog Post
Stories of Impact
Resilient Responders: Engaging immigrant leaders, sharing facts through videos in Ohio
As the pandemic began escalating in early 2020, the Welcoming Network mobilized in communities from Vermont to Texas to meet the pressing and often overlooked needs of immigrant and refugee communities. Through our Resilient Rapid Response Initiative, see how our members rose to the occasion and responded to community needs in this "Resilient Responders" blog series.
Submitted by: Lucy J. Frank, CTA, Legislative Assistant, Office of Emmanuel V. Remy (Councilmember)
You received a grant as part of the Resilient Rapid Response Initiative, which was aimed at boosting inclusive emergency response to the COVID-19 pandemic in welcoming communities. Could you share briefly how your organization used the funds?
The City of Columbus used the grant to create a series of COVID-19 informational videos in various languages and with cultural sensitivity. We created seven videos in different languages (Spanish, French, Somali, Nepali, Russian, Fulani and Arabic) covering COVID-19, the importance of masks and washing hands, how to get a flu shot, and resources for additional questions around these issues.
By November, the videos were completed and shared widely to the communities that need them. Watch them below:
COVID-19 Safety & Resources: Spanish
COVID-19 Safety & Resources: Fulani
COVID-19 Safety & Resources: Arabic
COVID-19 Safety & Resources: Nepali
COVID-19 Safety & Resources: Somali
COVID-19 Safety & Resources: Russian
COVID-19 Safety & Resources: French
Tariq Tarey, the photographer and producer we contracted with to create these videos, did a fantastic job at finding speakers, working with Columbus Public Health for the video scripts, and professionally shooting the videos.
What were some of the early results or notable impacts? Are there any specific stories that come to mind?
We decided to create videos due to the language barriers that exist in Columbus. City councilmember Emmanuel Remy [helped us] bring together leaders of immigrant communities to participate in a virtual roundtable and discuss why the videos were critical to have, as well as hear from the leaders on the struggles their organizations and communities have faced during the pandemic. Watch the roundtable discussion
One thing we learned from this process is that timing and speed are important. A major setback was underestimating the time it took to coordinate with other city departments in order to determine the languages to cover in the videos. While the coordination ultimately produced a positive outcome, it did cause us to extend our timelines for the videos to be released.
As the pandemic continues with no end in sight, have the needs of immigrants and refugees in your community changed? What are the challenges that remain with making your local emergency response more inclusive?
As the vaccine becomes available, misinformation continues to spread. Trust in the vaccine needs to improve. One thing we have learned from this process and grant opportunity is that the City of Columbus lacks a comprehensive process to translate English materials (documents, videos, audio, etc.) into other widely-spoken languages among Columbus residents. In the future, the city will need to put a protocol in place for every department to have access to a quick and simple translation process. We will also need to improve our dissemination tactics across the city.