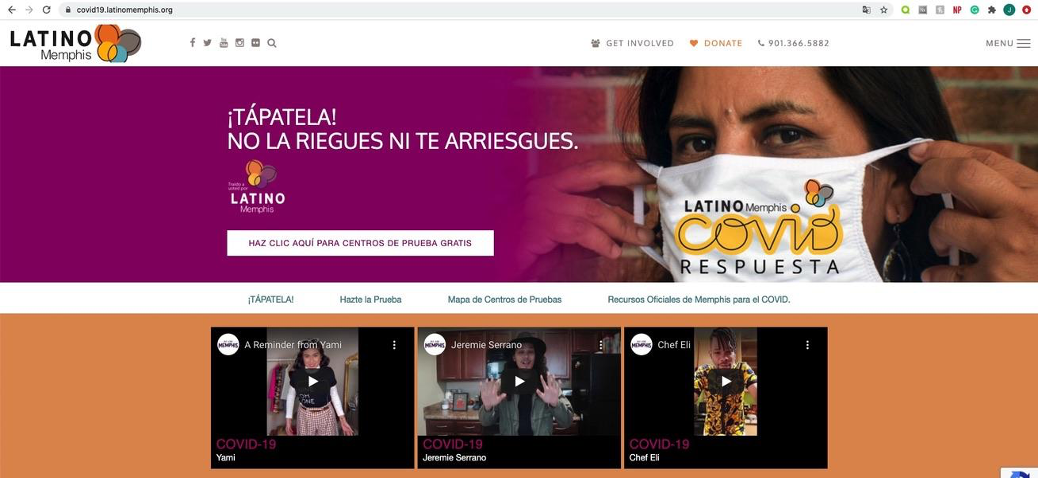 Blog Post
Stories of Impact
Resilient Responders: Changing the language access game in Tennessee
As the pandemic began escalating in early 2020, the Welcoming Network mobilized in communities from Vermont to Texas to meet the pressing and often overlooked needs of immigrant and refugee communities. Through our Resilient Rapid Response Initiative, see how our members rose to the occasion and responded to community needs in this "Resilient Responders" blog series.
Submitted by: Cynthia Magallon Puljic, CFO, Latino Memphis, Inc.
In 2020, you received a grant as part of the Resilient Rapid Response Initiative, which was aimed at boosting inclusive emergency response to the COVID-19 pandemic in welcoming communities. Could you share briefly how your organization used the funds?
We used the Resilient Rapid Response Fund to improve and enhance our ability to share information and resources with the Memphis area immigrant community, particularly the Latinx population.
Our primary vehicle for engagement and dissemination is social media. To that end, we retained a social media professional on staff and created bilingual materials on COVID-19 on our website.
We also retained the services of the Memphis Brand Initiative to assist us in messaging to a broader audience. We purchased a texting app called Hustle and used the services of media company Memphis Noticias to create videos to share on the platform. We also offer frequent Facebook live events to share timely and accurate information and answer community questions. 
Additionally, we have continued strengthening our involvement in voter registration, census participation, financial literacy, and connecting clients to direct aid and other resources. 
What were some of the early results or notable impacts? Are there any specific stories that come to mind?
The most notable impact at the onset of this project was the overwhelming lack of resources for Latinx and lack of knowledge within local government and other organizations when serving newcomer communities. We partnered with these organizations, such as the Shelby County government, to help them connect with and serve the Latinx population, primarily those who are undocumented or living in mixed-status households.
We also realized that some of our partners often required U.S. government-issued identification and/or documentation, such as utility bills, which many in our community do not have. We spoke to local partners and assisted them in finding other resources so that funding and/or food assistance could be provided without having a government ID.
Throughout these partnerships and events, Latino Memphis has been a pivotal partner in assisting local stakeholders in finding the best methodology to serve the Latinx community, now and going forward.
As the pandemic continues with no end in sight, have the needs of immigrants and refugees in your community changed? What are the challenges that remain with making your local emergency response more inclusive?
Immigrant communities continue to be left out of the process when new information on COVID-19 becomes available, particularly when it's only published in English. This is a gap we are working to fill by educating the people who are creating the information and assisting them in using best practices for alternative modes of communication. 
The second item that weighs heavily on us as an organization is that most of our community is not eligible for the assistance offered, so we continue to work to find alternatives.