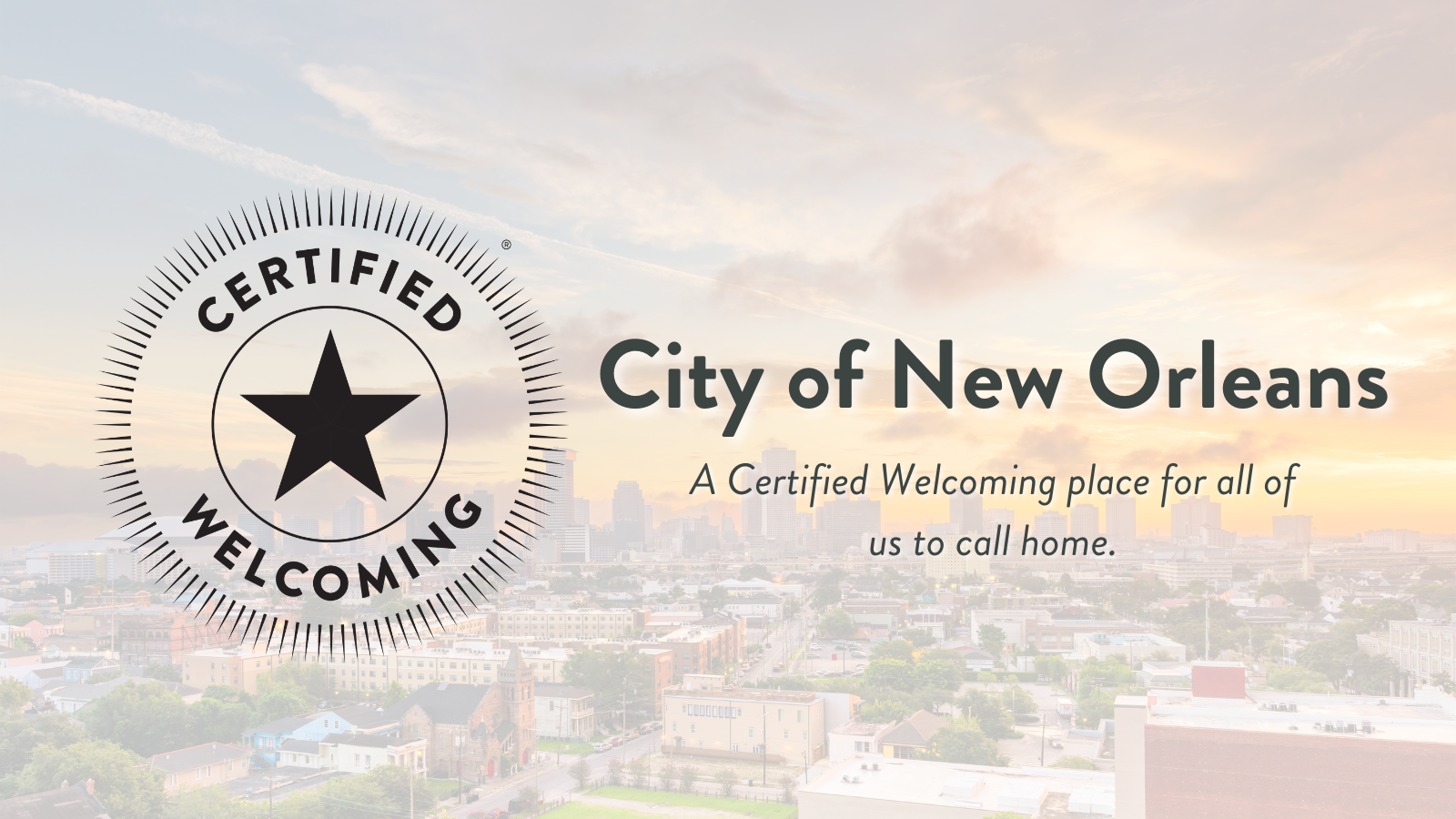 New Orleans becomes first Certified Welcoming city in Louisiana
Welcoming America, a national nonprofit organization, announces the City of New Orleans as a Certified Welcoming place, the first in Louisiana to achieve the designation.
Rachel Perić, executive director of Welcoming America, said: "We are thrilled to recognize New Orleans in becoming a Certified Welcoming place, affirming its leadership in building policies and partnerships that enable all those making the city home — including people with immigrant and refugee backgrounds — to thrive and belong. As the first city in Louisiana to receive the designation, and the 19th in the nation, we look forward to celebrating and supporting the people of New Orleans and its leadership in continuing to build on ongoing efforts to make the city a welcoming place for all."
Mayor LaToya Cantrell said: "New Orleans has historically been a welcoming hub for various visitors and a home to a diverse immigrant population. The work to become 'Certified Welcoming' builds upon the resolution I passed as a City Councilmember in 2015 to make New Orleans a Welcoming City. Openly celebrating and embracing diversity has been a part of my mission not only because everyone matters, but also because that is what makes up the beautiful fabric of our city. With the certification from Welcoming America, we are continuing the path to becoming a more inclusive city for immigrants and refugees, and we will further strengthen our goals of becoming a safe, equitable and welcoming community for all."
Remarks by the mayor on the designation and a presentation of a framed certificate will be delivered tomorrow October 14 at the Little Amal event held at Lafitte Greenway Plaza and scheduled for 10:30 a.m. Central Time.
New Orleans is one of 19 cities and counties in the U.S. with the designation. In Welcoming America's audit, the city demonstrated a "clear commitment to building a welcoming infrastructure" and creativity in program development and services. The city also maintains strong community partnerships that support and welcome immigrants and refugees.
Home is Here NOLA Co-Director Julie Yael Ward said: "We are supportive of and encouraged by the city's commitment to this rigorous process to support immigrant community members and equitable community-building for all in New Orleans." Home is Here NOLA is a community-based organization working with immigrants and refugees, and referred the Certified Welcoming program to the city, encouraging it to apply and writing a letter of recommendation.
ElCentroLA Executive Director Lindsey Navarro said: "Becoming a Certified Welcoming city means that New Orleans is where Latino-owned businesses are supported and encouraged to pursue the American dream of financial stability through entrepreneurship regardless of immigration status. As the fastest-growing small business group in the United States, Latinos have the potential to fuel the New Orleans economy through entrepreneurship and job creation. Kudos to the City of New Orleans for leading the charge in Louisiana towards building a welcoming place for all."
Certified Welcoming is a formal designation by Welcoming America for cities and counties that have created policies and programs reflecting their commitment to immigrant inclusion. Since 2017, Certified Welcoming and its operating framework, the Welcoming Standard, have served as a roadmap for local governments seeking to build truly welcoming communities.
In addition to being the first city in Louisiana to achieve the Certified Welcoming designation, New Orleans is also the first to achieve it under the new star system implemented by Welcoming America earlier this year, making it the first 1-star Certified Welcoming city. Far from being a "rating system," the new Certified Welcoming star system creates a roadmap for communities to advance welcoming work with transparency and accountability.
Mayor's Office of Human Rights & Equity Director Kahlida Lloyd, said: "As a daughter of an immigrant mother, I am thrilled to be part of a city striving to be a welcoming city to all. The Office of Human Rights & Equity is proud to be leading the work of welcoming immigrants and refugees to our city alongside outstanding, resourceful and dedicated community partners."
Equity Program Manager of the Mayor's Office of Human Rights & Equity Shakira Cruz Gonzalez said, "When I first moved to America, I didn't know English, I didn't fit into the culture and society, and I personally have always felt like an impostor (neither from here nor there). Knowing that our city is working toward fostering spaces where everyone is welcome and belongs is a reminder that there's a place for all of us here."
###
About Welcoming America
Welcoming America is a nonprofit, nonpartisan organization that leads a movement of inclusive communities becoming more prosperous by ensuring everyone belongs. We believe that all people, including immigrants, are valued contributors and vital to the success of our communities and shared future. Learn more
About Certified Welcoming
Certified Welcoming is a formal designation for local governments that have created policies and programs reflecting their values and commitment to immigrant inclusion. This innovative program assesses local governments on their efforts to include and welcome immigrants in all areas of civic, social, and economic life in their communities. With a Certified Welcoming designation, communities distinguish their local efforts, build a competitive advantage, and gain access to opportunities to share their welcoming practices on a regional, national, and global stage. Learn more
Contacts: Lola Pak, [email protected]; John Lawson, [email protected]