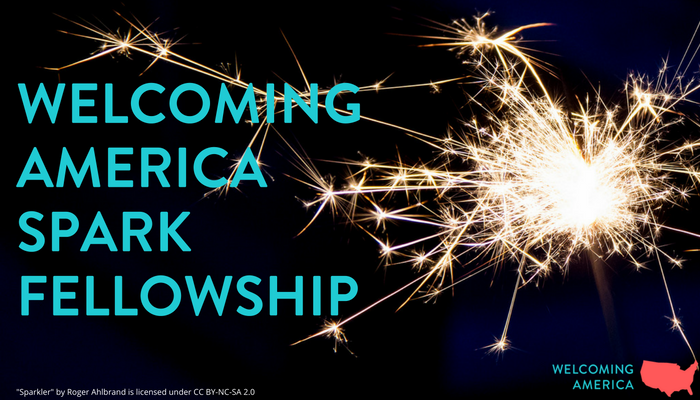 New fellowship to advance racial equity and immigrant inclusion in eight US communities
Contact: Deborah Hakes, [email protected]
ATLANTA – Welcoming America announced today eight recipients of the 2016 SPARK Fellowships to advance racial equity. Selected from a pool of highly competitive applicants of Welcoming America member municipalities and nonprofits, the first class of fellows will participate in a two-year, intensive program on race in their communities to raise awareness of disparities and develop a strategy for change.
"Welcoming America believes that these fellows will make important contributions to closing the gap in racial equity in their communities while also advancing immigrant inclusion," said David Lubell, Welcoming America founder and Executive Director. "Creating a welcoming place for all residents means helping all residents participate fully and belong. Pew research shows that a majority of Americans believe more needs to be done to achieve racial equity, and efforts such as the SPARK Fellowship will work toward that change."  
Racial disparities exist across education, income, and housing, among other indicators. As an example, US Department of Education research found that black students as young as four years old face unequal treatment from school administrators.
The fellowship challenges recipients to delve deeper to learn about racial equity and access to justice in their communities and others as they learn linkages among the shared history of race, attitudes about immigration, and economic trends; and they will receive insights and concrete content to champion issues of racial justice in their daily work.
SPARK fellows will receive funding, resources, and guided toolkits to conduct city-to city visits that focus on exposure and analysis of communities through a critical consciousness of race lens. City visits will focus on learning from each community's low-income housing, incentive programs, immigrant-dense corridors, lowest and/or highest performing schools, and other relevant local options that showcase the local story of access and inclusion over time.
The fellowship is made possible by a two-year grant from the W. K. Kellogg Foundation, and it is part of Welcoming America strategy for leadership development to build a movement of inclusive communities becoming more prosperous by making everyone who lives there know they belong. Welcoming America's commitment to thriving communities and intersection includes focusing on five key areas: economic stability, education, social and community context, health and health care, neighborhood and built environment.
The 2016 recipients of the SPARK Fellowship for achieving racial equity include:
Melissa Bertolo, Welcome Dayton Program Coordinator, City of Dayton Human Relations Council
Amy Coffman, Special Assistant to Mayor Berkowitz, Municipality of Anchorage
Patricia Y. Hernández, Senior Attorney, Advocates for Basic Legal Equality, Inc.  
Jazmin Long, Immigrant Integration Specialist, Global Cleveland
Elisa Neira, Executive Director, Princeton Municipality Department of Human Services
Trang Truong, Technical Advisor for Global Initiatives, YMCA of the USA
Ze Min Xiao, Community Innovation Manager and Refugee Liaison, Salt Lake County, Utah
Emily Yaffe, International Relations Specialist, City of Charlotte, Office of International Relations
####
Welcoming America believes that all people are valued contributors and vital to the success of both our communities and our shared future. Our approach helps strengthen communities as they move beyond divisiveness and fragmentation to a coordinated web of policies and programs that ensure that all residents – including new Americans – can thrive. We partner with more than 100 communities across the United States and are the nonprofit partner to the White House's Building Welcoming Communities Campaign. Learn more about Welcoming America.
The W.K. Kellogg Foundation (WKKF), founded in 1930 as an independent, private foundation by breakfast cereal pioneer, Will Keith Kellogg, is among the largest philanthropic foundations in the United States. Guided by the belief that all children should have an equal opportunity to thrive, WKKF works with communities to create conditions for vulnerable children so they can realize their full potential in school, work and life.
The Kellogg Foundation is based in Battle Creek, Michigan, and works throughout the United States and internationally, as well as with sovereign tribes. Special emphasis is paid to priority places where there are high concentrations of poverty and where children face significant barriers to success. WKKF priority places in the U.S. are in Michigan, Mississippi, New Mexico and New Orleans; and internationally, are in Mexico and Haiti. For more information, visit www.wkkf.org.