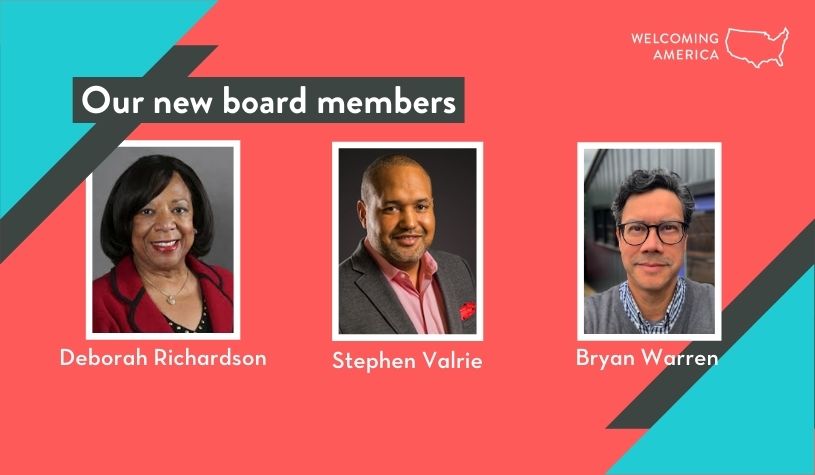 New board of directors are leaders in civil rights, tech consulting, performing arts
Welcoming America is pleased to announce the newest members to its board of directors:
Deborah Richardson is Executive Director of the ACLU of Colorado in Denver, which works to protect, defend and extend the civil rights and civil liberties of all people in Colorado. Previously, Deborah served in leadership roles at the Women's Funding Network, Atlanta Women's Foundation, and other organizations.
Stephen Valrie is a Client Partner at Slalom, a consulting firm focused on strategy, technology, and business transformation where he is responsible for the cultivation and growth of public sector relationships and business. Stephen also serves as a global lead for Slalom's Black employee resource group, REACH and is a champion for inclusion and diversity related initiatives within Slalom and his local Atlanta community.
Bryan Warren is Vice President of Education and Community Arts at Kentucky Performing Arts, which serves as the home to the Louisville Orchestra, Kentucky Opera, and more. Bryan previously served as Director of the Office for Globalization for Louisville Metro Government. 
We also thank departing board members Jane Leu and Jonathan Romero for their service and support to the organization over many years.
"On behalf of the board, I am so happy to welcome three new board members to Welcoming America. We are thrilled to have their expertise and vision as part of our organization," says Mara Kimmel, chair of the board of directors. "We are also so grateful to Jonathan Romero and Jane Leu as they step off of the board and onto other adventures. We will miss their passion and commitment to justice but know that they will continue to support Welcoming America's mission."
"Like the communities we work with, harnessing the talent and perspective of diverse leaders is foundational to the success of any enterprise," says Rachel Peric, Executive Director. "Welcoming America is fortunate to benefit from the many stakeholders who inform our work, guide our mission, and uphold our values."