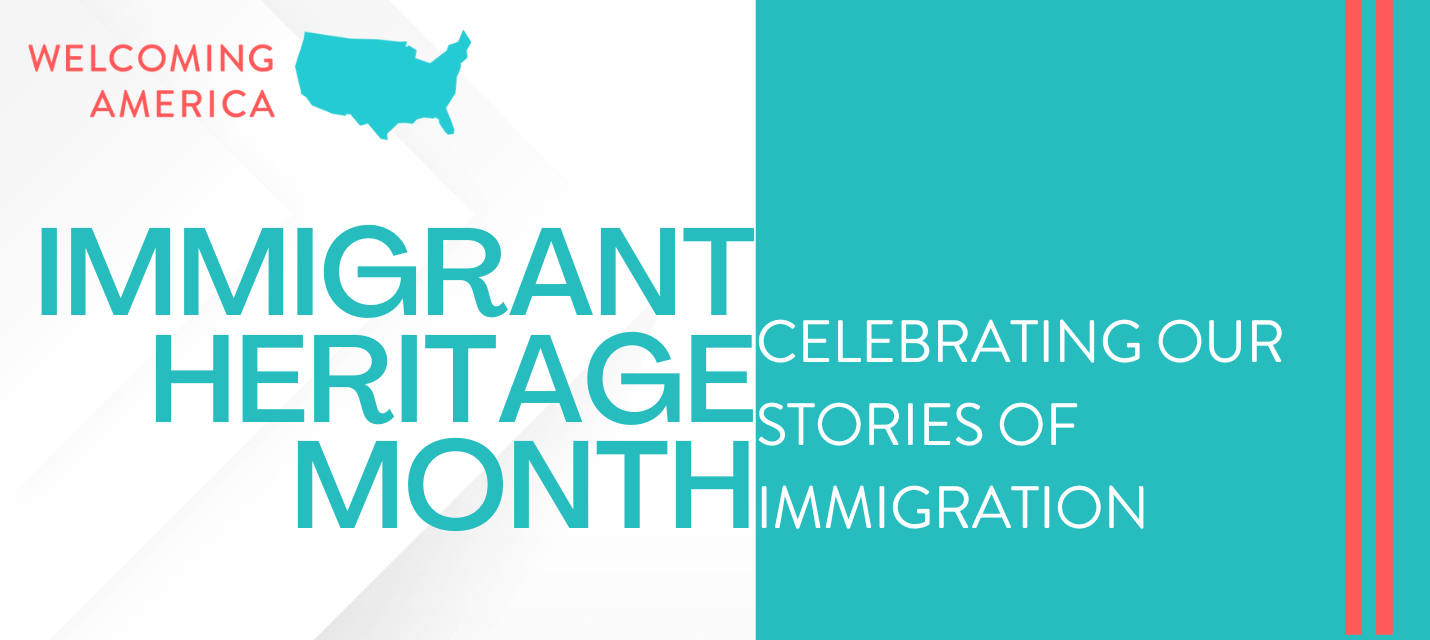 Immigrant Heritage Month: Celebrating our stories of immigration
Each year, Immigrant Heritage Month celebrates the contributions immigrants and their descendants have made to the history and culture of the United States. In this blog, Welcoming America staff share their immigration and/or immigrant heritage experiences. 
What is your experience with immigration?
I am an immigrant myself. My parents moved my siblings and I to Queens, New York from Bangladesh when I was nine years old. From navigating elementary schools to enrolling in public benefits, settling into a new place was daunting. New York City is a welcoming place but this alone was not enough to ensure a smooth ride for our family. We were unaware of [the] resources [available to us]; my parents struggled finding jobs that aligned with their education and experience, and we lived in a very small apartment. As we acclimated more to our new home, we mostly relied on our family, neighbors, friends, and the community of Jackson Heights, a place of refuge for my parents and our relatives. We shopped for South Asian groceries, attended cultural events, and found community amongst people who shared our vulnerabilities and hopes as immigrants. It has been almost 15 years since we immigrated, and my parents still share the hopes and dreams they had when we first moved. — Mahdia C.
I was born in Mexico and came with my family to the United States when I was three years old. When I was 11, we moved to North Carolina and have called the state home since. I come from a mixed-status family and immigration has always been a central story of my life. Immigrant Heritage Month is a time to reflect on all the things that I'm proud of, all of the challenges we face as immigrants — particularly during these times — and take time to learn about our collective history and contributions toward our broader liberation movement. — Daniel V.
My grandfather was born in Germany and moved to Canada with his family at a young age. My dad was born and lived the first few years of his life in Canada before his family came to the United States. When I was very young, I remember learning about my dad having a green card and reflecting on how different his experience was compared to his siblings and children that were born in the U.S. — Lindsay M.
My father is a Mexican immigrant and moved to the United States when he was 14 years old. Growing up, I listened to his stories about life in Meoqui, Chihuahua, his journey moving to the U.S., learning a new language in a new place, and all of the experiences in between. My mother's grandparents (pictured) migrated to the U.S. from Mexico in 1913 and 1920 as small children, met in eastern Colorado, moved to Kansas, and started a family restaurant in 1967. The restaurant is still open to this day and owned by my first cousin! — Sophia H.
My parents immigrated to the U.S. from South Korea in the '80s. My father came first with my aunt to Savannah, Georgia. He went back and forth to Korea and eventually met my mother, got married, and settled in the Atlanta suburbs. Although I was born in the U.S., my parents' experience as immigrants affected my identity and how I see the world. — Lola P.
My children are the daughters, granddaughters and great-granddaughters of refugees. It is this rich, multi-faith, global heritage and the freedom to call this place home, which today defines them as American. — Rachel P.
My paternal grandfather came to the US from Italy in the 1950s. As the child of an immigrant, I think my dad has felt a strong identity and connection to his Italian culture and heritage. He became a dual US-Italian citizen in his 40s and is a leader in the Dayton Italian community. However, I think as a grandchild of an immigrant and with my grandfather not being as influential in my life, I have struggled a bit with what it means to be an Italian-American. Now that I'm an adult and a mother, I've been thinking a lot about what I want to teach my children about their ancestry and how to reconnect with this part of our family history. — Melissa B.
What does the term "immigrant" mean to you?
An immigrant is a person living in a place that they migrated to; a person that should be defined not by their journey, origin, or destination, but by their humanity. — Rachel P.
When I think of "immigrant," I think of my parents. I think of other immigrant parents, who, like mine, work endlessly to support their children and family. They give up their lives back home to create a new one elsewhere for a better future. This new home might not always welcome them or support them. Yet, they persist and find their way. I think of people who give in innumerable ways to the new country they call home. I think of children of immigrants, who pave their own path, while still considering their families in every decision. I think of people whose well-being suffers due to all the realities of being an immigrant. Tireless days and nights, language barriers, feeling othered, and still holding on to every ounce of hope there is. — Mahdia C.
Someone who has had to find a new home, for whatever reason, and is resilient to change and different environments. — Lola P.
When I think about the word immigrant, I think about sacrifice. My grandfather came to the US in the 1950s and didn't return to Italy until the 1990s. He missed the funerals for his parents, weddings of siblings, births of nieces, nephews, and cousins. Although he built a new life in the US, I cannot even imagine the sacrifices of having to leave so much behind to do so. — Melissa B.
Describe a staple dish or food sharing tradition in your community.
The photo included is of me and my dad at the annual Italian Fall Festa. The Fall Festa is a fundraiser and collective effort put on for and by the Sons of Italy/John Pirelli Lodge (our local Italian club). My dad organizes the soup booth, where we sell Italian wedding soup, cavatelli, and pasta fagioli. I look forward to this three-day festival every year! It's filled with live music and dancing, the best Italian food, and all of my family! — Melissa B.
I love that my daughter's elementary school hosts an international night, where families can share their heritage and dishes. More than any one family dish, this exchange of culture and tradition brings out a spirit of belonging and community for everyone. — Rachel P.
Kimbap, or rice rolls, are a staple dish for picnics and outings. It's a simple dish — just rice, seaweed, and any combination of vegetables and meat — but it takes a lot of effort because the rice has to be freshly made, so it can only be made the day of. It's fun to make in groups and is ubiquitous at any type of celebration in the Korean community. Simple but complex, it pretty much sums up Korean food as a whole! — Lola P.
A staple dish in my community is Daal. It's a lentil soupy dish that's common all throughout South Asia. It comes in many variations. But wherever I smell it, it always reminds me of my mom's cooking, of home. — Mahdia C.
My mom and I make enchiladas verdes (green enchiladas). After prepping a green chile with beef, the mixture is placed on a fried corn tortilla and topped with cheese. It's stacked instead of rolled and always a hit when I make it for friends and family. — Sophia H.