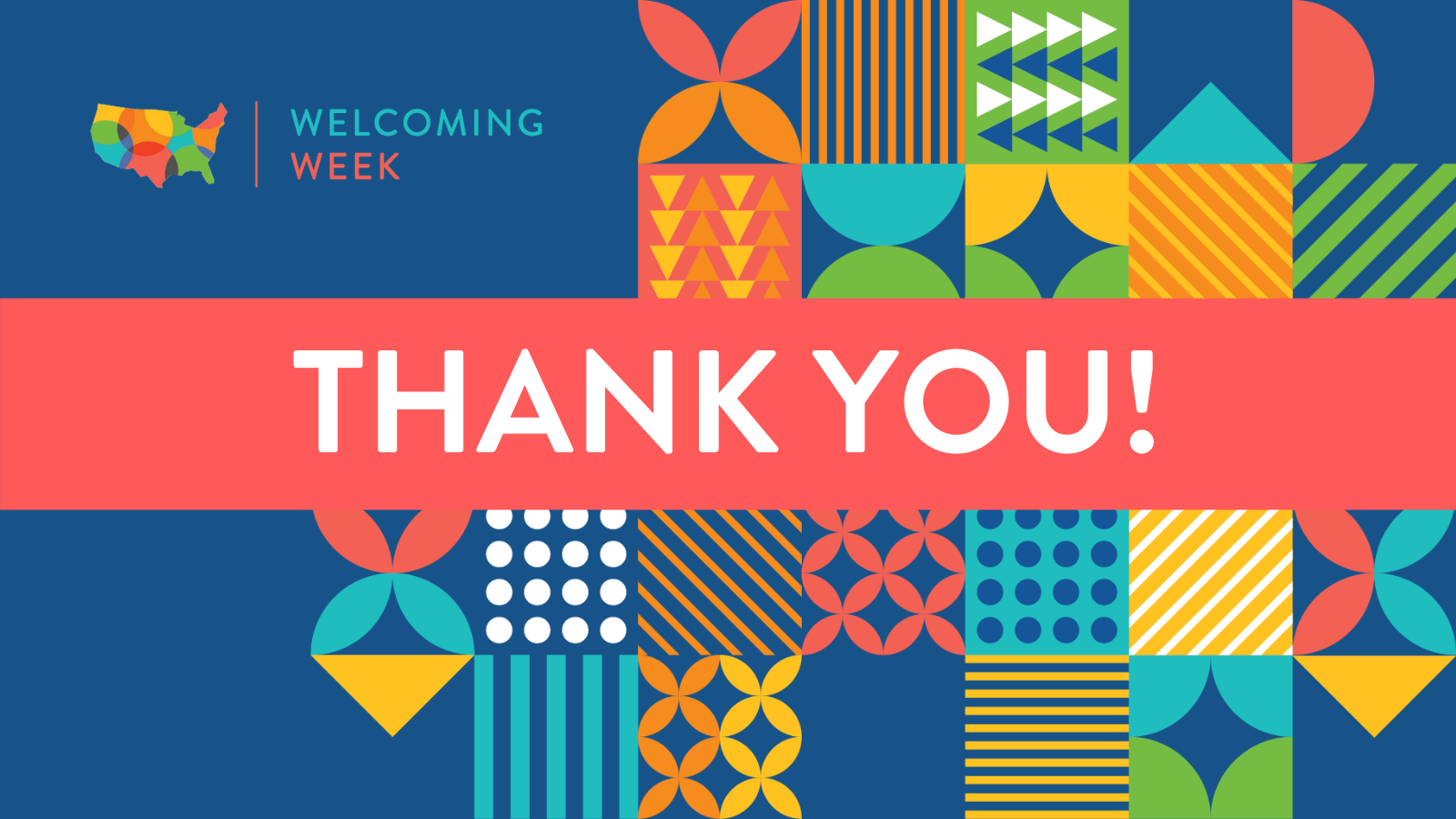 How we created home together for Welcoming Week 2020
This year, as many of us social distanced to protect our communities, Welcoming Week was more important than ever. Under the theme of "Creating Home Together", Welcoming Week inspired communities to consider what makes a home and how, in the context of the coronavirus pandemic, the definition of home has changed for many people.
At a time when political rhetoric has deepened divisions and the COVID-19 pandemic has renewed anti-immigrant sentiment, Welcoming Week helped us find new ways to bring together people across lines of difference to develop greater understanding and mutual support. From virtual dinners and tours, to dance parties and virtual art exhibits, immigrants, refugees, long-time residents and community members of all backgrounds did their part to make the world a more welcoming place.
A Note from our Executive Director
As Welcoming Week 2020 comes to a close, its message continues to reverberate: if you believe in equality and a world in which we all belong, you are part of a movement that only grows stronger.
Take a look at some of the stories and events we catalogue below, and you'll see the diversity of people, places, and partners that are united in a common ambition to create welcoming communities for all, including immigrants. From the halls of government to museums, libraries, YMCA's and dinner tables, we created home together.
We did this. Not any one of us acting alone, but all of us. I hope you feel proud and appreciated by not only Welcoming America, but from your members, partners, and neighbors who participated in person and online. There are more than 100,000 of us who created a home this past week where all belong and feel safe.
I know this work feels like climbing a mountain, now more than ever. From human rights abuses of women being held in detention to continued police violence and efforts by the Administration, to stifle efforts to counter bias and discrimination, it may feel that we are moving further, not closer to a welcoming world.
But as I wrote in USA Today and in The Fulcrum with my colleague Laura Maristany at Democracy Fund, Welcoming Week is a reminder that our aspirations for a truly inclusive democracy are being lived in practice in so many communities, thanks to leaders just like you.
In the words of our unofficial Welcoming Week ambassador, André De Shields, I know, together, we will keep climbing.
This past week, we lost Supreme Court Justice Ruth Bader Ginsburg. No matter our politics, we celebrate her legacy advancing civil rights, and reminding us that equality isn't a zero-sum game.
While mourning her loss, I also know that together we'll carry the torch forward after Welcoming Week, through the 2020 census, U.S. election, and beyond. We march on, united and undaunted in countering the forces of hate and division, and create a world in which each of us can thrive, belong, and prosper.
– Rachel Peric
P.S. If you believe in our mission to unite more community leaders to create welcoming communities, please consider making a donation to support our work or purchase swag.
Welcoming Week Highlights
Catch up on the livestream
On September 12, Welcoming America hosted a livestream event to officially kick off Welcoming Week with our partners, supporters, and guest appearances from award-winning Broadway legend André De Shields and comedian Kristina Wong. Thanks to everyone who tuned in live and watched the recording afterward, we reached over 5,000 views across all platforms.
Watch it again below:
Welcoming Week in the news
Welcoming Week was featured in news outlets across the globe. Check out news articles, op-eds, Welcoming Proclamations, and other press about Welcoming Week 2020 below:
How We Can Work Together to Create a More Welcoming and Inclusive America (USA Today)
Strangers to neighbors: Three steps to an inclusive democracy (The Fulcrum)
Panel discussion will focus on Roanoke's Black history (Roanoke News)
Welcoming Proclamations
During Welcoming Week, cities, counties, and universities issued Welcoming Proclamations to declare their welcoming values. Here's just a sample:
#WelcomingWeek on social media
Welcoming Week 2020 saw a storm of social media engagement across the globe. We've listed some of the posts below but be sure to check out #WelcomingWeek and #CreatingHomeTogether for even more.
Our librarians curated this list of young adult books that tell stories of immigrants and refugees from all across the world seeking a new place to live in the U.S. Stop by your local library and check them out with Library Express! #WelcomingWeek https://t.co/7Ou6zM4Yd8 pic.twitter.com/6l6NykAPiI

— City of Saint Paul (@cityofsaintpaul) September 16, 2020
Thank you to all those who joined us this #WelcomingWeek and those who continue to support the welcoming movement in Westchester County and throughout our nation! #RefugeesWelcome
We accept #bitcoin & #crypto via @TheGivingBlock pic.twitter.com/lXgGIMpxPG

— Hearts and Homes for Refugees (@HHRefugees) September 19, 2020
If you missed this #WelcomingWeek webinar featuring @JackiEsposito, you can watch the full video on how #refugees are giving back to their host communities here:https://t.co/6fKZCykF9L

— World Education Services (@WESPicks) September 22, 2020
Thank you to our partners
We extend our deepest gratitude to our Welcoming Week partners for their support of Welcoming Week 2020. This year we set an impressive record with 47 national partners from the non-profit sector, private sector, universities, and education centers, without whom Welcoming Week 2020 would not have been the same. Some partners co-hosted events like a virtual dance party, civic dinners, virtual conversation experiences, and more.
Support Welcoming America
Donate now to support future Welcoming Week events, as well as our broader mission of making America a more welcoming place for all.