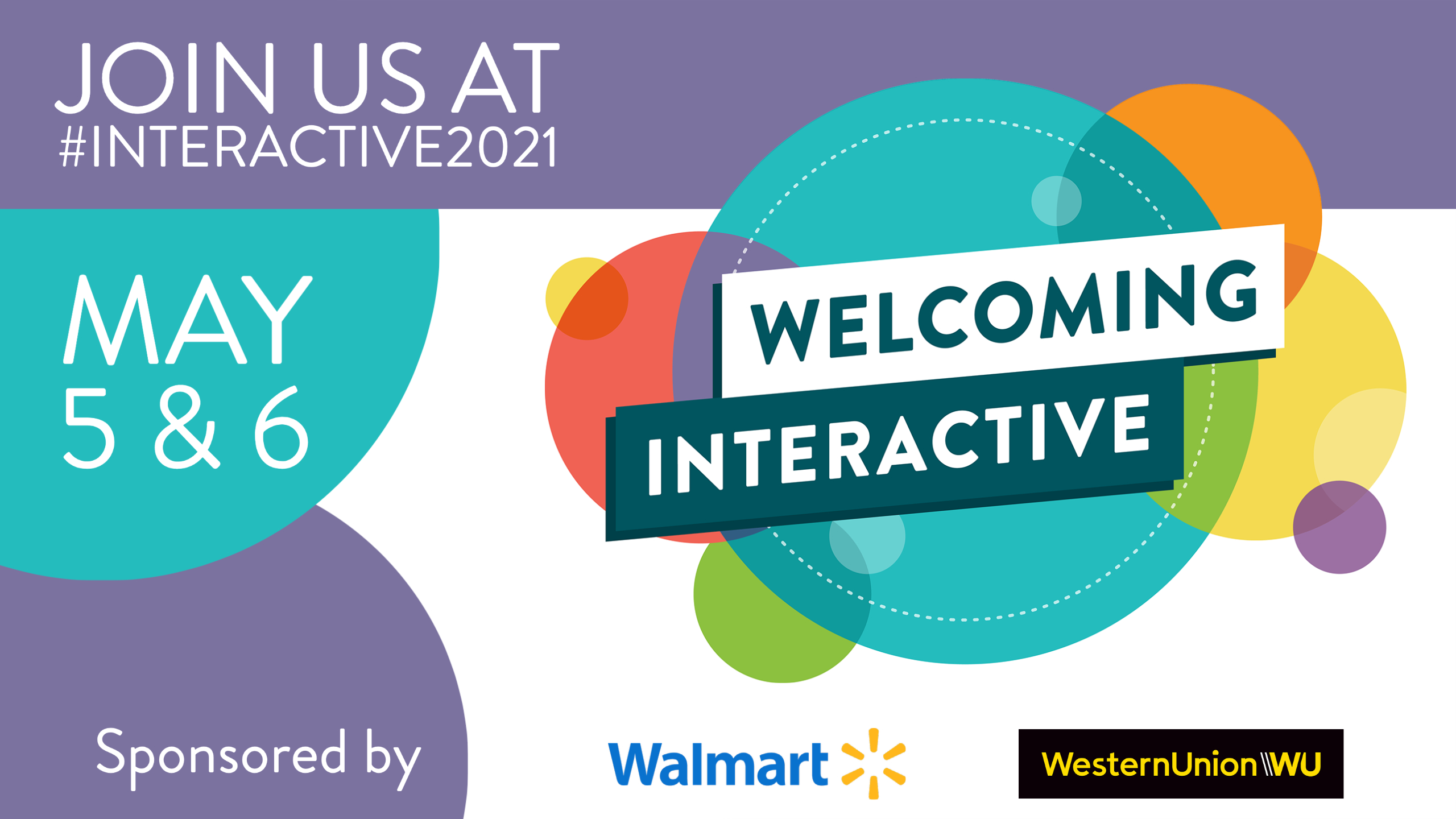 Fostering belonging, immigrant inclusion at the Welcoming Interactive virtual conference
From May 5-6, national nonprofit Welcoming America will host the 2021 Welcoming Interactive virtually. Featuring two plenary sessions and six sessions, the 2021 Welcoming Interactive will focus on inclusion, belonging, and healing from the past year of unprecedented challenges.
All sessions are free and open to the public. Each will be livestreamed on Zoom via the events platform, Sched, with plenary sessions also streaming at facebook.com/WelcomingAmerica.
"In a year of changes, our goal with the Welcoming Interactive remains the same: to bring our communities together, share best practices, and spark motivation and innovation to continue the work of making a more welcoming world for all," says Rachel Perić, executive director of Welcoming America.
Event details:
Dates: May 5-6, 2021
Location: Virtual
Registration: Free and open to public
At a time of urgent challenges in equity, inclusion, and belonging, the Welcoming Interactive opens its virtual doors to anyone seeking inspiration and practical strategies for creating a more welcoming, inclusive society. This includes the event's sponsors, Walmart and Western Union.
"At Western Union, we feel immensely proud of the transformative work that Welcoming America and its allies do every day, with incredible courage and passion to help create welcoming and inclusive communities for immigrants and refugees across the U.S. and internationally," says Mario Hernández, Director of Public Affairs at Western Union and a member of the Welcoming America board of directors.
Plenary Speakers
john a. powell (lowercase intentional) will present the opening plenary on May 5 on "Belonging as the Antidote to Othering." powell is director of the Othering & Belonging Institute at the University of California Berkeley. An internationally recognized expert in civil rights, civil liberties, structural racism, housing, poverty, and democracy, powell currently holds the Robert D. Haas Chancellor's Chair in Equity and Inclusion and is a professor of law, African American studies, and ethnic studies at the University of California Berkeley.
"It gives me great pleasure to participate in this event because Welcoming America is an organization I believe is trying to create a more inclusive We, where we all belong. I look forward to sharing Othering & Belonging concepts with you so together we can work towards creating a bigger circle of human concern," says powell.
Dr. Gail Christopher will present the plenary session on May 6 in a conversation with Rachel Perić, executive director of Welcoming America, on the topics of race, reconciliation, and collective well-being.
Dr. Christopher is widely recognized as an expert in strategic social change and as the former Senior Advisor and Vice President of the W.K. Kellogg Foundation and executive director of the Institute for Government Innovation at the John F. Kennedy School of Government at Harvard University.
"We must all increase our individual and collective capacities for empathy and compassion. A viable democracy rests on these strengths. Racial healing helps communities engage in this important work," says Dr. Christopher
Sessions and speakers
Six sessions over the course of two days will cover:
Improving Immigrant Access to Housing and Small Business Recovery Efforts
Fostering a Sense of Belonging in Your Community
Messaging: What It Is, What It Isn't, and How to do It Effectively
Managing the Emotional Stress of The Past Year: Strategies for Individuals, Organizations and Communities
The Importance of COVID Community Champions
Building and Maintaining Your Local Immigrant Inclusion Infrastructure
Session speakers include representatives from Welcoming America's member organizations, including the Urban Redevelopment Authority of Pittsburgh, the City of Salisbury, Maryland, Idaho Office for Refugees, and more. Additionally, experts in communications, nonprofit programming, and movement building will also deliver sessions.
About the Welcoming Interactive
The Welcoming Interactive is an annual conference of nonprofit organizations, local governments, and community leaders. During the event, sessions equip local communities with the resources, tools, networking, and best practices to positively impact the lives of newcomers in hundreds of communities across the country and around the world. Learn more at welcominginteractive.org.
Media Contact
Lola Pak, [email protected], 470-236-0129