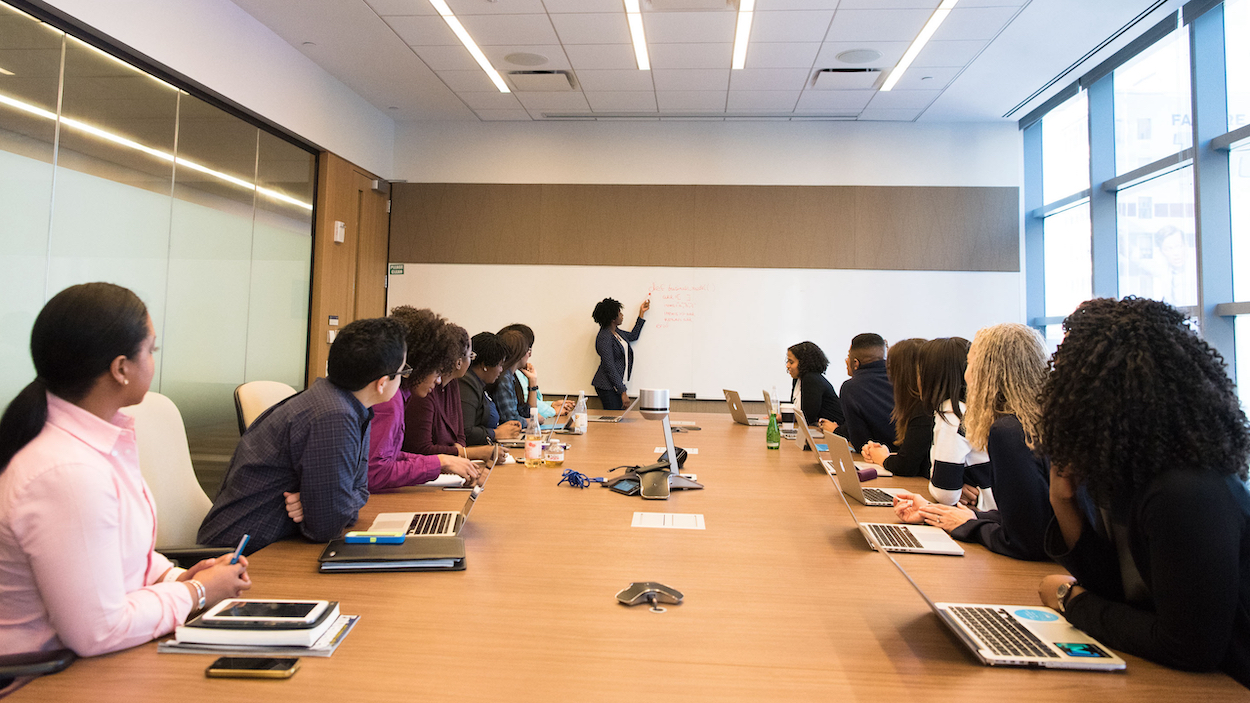 Forty-two nonprofit, local government leaders join community of practice to build more inclusive decision-making spaces
Welcoming America is pleased to announce the 42 participants selected for its Community of Practice (CoP) on inclusive and collaborative decision-making spaces. Representing nonprofit organizations and local governments across 32 states and the District of Columbia, the CoP convenes a diverse network of peers working to create more inclusive committees, boards, advisory councils, and commissions in their respective communities.
The CoP is part of the Belonging Begins With Us campaign, which launched in late 2020 by the Ad Council, American Immigration Council, and Welcoming America to foster a more welcoming nation where everyone, regardless of their background, can belong. By convening a national network of community leaders working to create more inclusive committees, boards, and other decision-making spaces, the CoP puts into action the spirit of Belonging Begins With Us by fostering a deeper sense of belonging on the local level.
"We all strive to feel a sense of belonging in the communities we live and work in, which is why it is critical that our local boards, advisory councils, and other decision-making spaces not only reflect racial and ethnic diversity in their membership, but create spaces that enable each member to be valued and contribute fully," says Rachel Perić, executive director of Welcoming America. "This CoP represents leaders and communities stepping up to bring together the science of intergroup relations with the practice of civic participation to strengthen trust and produce better and more equitable outcomes for all Americans."
Unlike other programs where an expert presents and participants listen, the CoP takes a unique format by prioritizing the shared experiences of group members. This sharing will take place each month through calls and virtual meetings, where participants will network, receive direct feedback from peers on their local initiatives, and help identify opportunities for improvement.
CoP leaders share what they're looking forward to most:
"Building communities where everyone feels like they belong happens in neighborhoods, small towns, and big cities — and we all have a role. Together, as neighbors, community leaders, and elected officials, we can strengthen our commitment to making change to ensure that everyone feels valued and respected. I am excited to learn from each other in this Community of Practice, to be open to challenges and make change together," says Christa Yoakum of Nebraska Appleseed.
"I can't wait to dig into this co-learning community with leaders across the country, who share an equitable and inclusive vision of cultivating meaningful belonging in our communities," says Gloria Yen of the University YMCA in Champaign, IL.
"I am honored and eager to serve in this Community of Practice. In these times where it feels as if violence and hatred have won the day, it is essential that we come together in understanding and compassion to promote the healing that our communities desperately need to feel that we all belong. I am hopeful that this CoP will help each of us to learn and find ways to promote understanding and healing in our home communities," says Edmundo Lijó of the City of Saint Paul, MN.
Below is the list of leaders and participants of the community of practice on inclusive and collaborative committees:
CoP leaders:
Edmundo Lijó, City of Saint Paul (MN)
Gloria Yen, University YMCA (Champaign, IL)
Christa Yoakum, Nebraska Appleseed (Lincoln, NE)
CoP participants (in order of last name):
Diana Anderson, Southwest Initiative Foundation (Hutchinson, MN)
Mely Arribas-Douglas, Toledo Lucas County Public Library (Toledo, OH)
Lauren Bailey, Nashville Food Project (Nashville, TN)
Bev Bishop, Growing Home and City of Westminster (CO)
Turner Bitton, Glendale Community Council (Salt Lake City, UT)
Kristen Miriam Calzadilla, Refugee Assistance Alliance (Coral Gables, FL)
Leticia Calvillo, City of Tulsa, Mayor's Office of Resilience and Equity (Tulsa, OK)
Robin Chalhoub, Salt Lake County (Salt Lake City, UT)
Vivian Chang, Many Languages One Love (Washington, DC)
Nicole TS Cortes, Migrant and Immigrant Community Action Project (St. Louis, MO)
Ashley Dimmer, Connecting Cultures (Yankton, SD)
Maddy Fisher, SE MN Together and Southern MN Initiative Foundation (Owatonna, MN)
Kara Gebre, Refugee and Immigrant Services and Education (Noel, MO)
Alex Gibilisco, City of Spokane (Spokane, WA)
Donna Hamra, West Virginia Interfaith Refugee Ministry (Charleston, WV)
Becca Hanks, New American Welcome Center, the University Y (Champaign, IL)
Alejandra Hernandez, Unity Alliance of Southern Idaho (Twin Falls, Idaho)
Darrel Hess, Municipality of Anchorage (Anchorage, AK)
Herve A Idjidina, Welcome Center, Inc (Austin, MN)
Dianne Jacob, Tampa Museum of Art (Tampa, FL)
Shirin Kambin, Immigrant & Refugee Resource Collaborative (Lansing, MI)
Aishwarya Kumar (Ash), City of Decatur (GA)
Patricia Loehr-Dols, Southwest Initiative Foundation (Hutchinson, MN)
Lynn Maxcy, Miry's List (Los Angeles, CA)
Kirk McSwain, City of Charlotte (NC)
Hannah Mesouani, The Immigration Project (Normal, IL)
Hollis Mickey, Anchorage Museum (Anchorage, AK)
Betty Ann Miskowiec, West Virginia Interfaith Refugee Ministry (Charleston, WV)
Leisa Mulcahy, Northern Kentucky Chamber of Commerce (Ft. Mitchell, KY)
Tricia Puryear, YMCA of Greater Richmond (Richmond, VA)
Jen Rafter, International Rescue Committee (Wichita, KS)
Jennifer Searle, City of Knoxville, Office of Mayor (Knoxville, TN)
Cynthia Shabb, Global Friends Coalition (Grand Forks, ND)
Lindsey Shaffer, Welcoming New Hampshire (Manchester, NH)
Suzanne Sierra, St. Louis Mosaic Project (Stl. Louis, MO)
Liz Trice, Maine Technology Institute (Portland, ME)
Colin Triplett, Catholic Charities of Louisville (Louisville, KY)
Shea Trogdon, Northeast Family YMCA (Philadelphia, PA)
Julie Ward, Home is Here NOLA (New Orleans, LA)