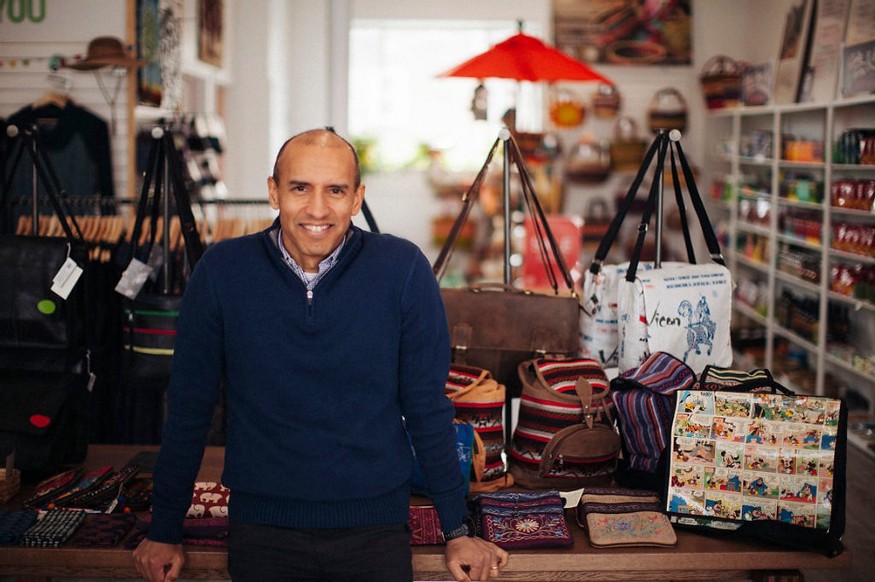 Blog Post
Stories of Impact
Exploring immigrant and grassroots entrepreneurship with GigRoots podcast
Recently, Welcoming America and its members participated in a podcast series with GigRoots. Hosted by Ethan Daly, who by day is the U.S. Regional Director of Partners Worldwide and based in Grand Rapids, MI, the GigRoots podcast is part of an "online marketplace and community bringing together entrepreneurs from all different cultures and backgrounds to sell their products as well as share ideas, collaborate, and discuss issues related to running a microenterprise."
For its third season of episodes which were broadcast during Welcoming Week, Ethan speaks with our members in St. Louis, MO; Twin Falls, ID; Sioux City, IA; and Cleveland, OH to discuss how immigrants helped revitalize economies in places with shrinking populations, the impacts of racism and ethnocentrism on local economies; and the organizations that work to make cities and communities more welcoming places for all Americans.
"It felt very natural to partner with Welcoming America for this podcast series," Ethan said. "I discovered it through an organization that serves immigrants and newcomers here in Grand Rapids. It's just one of hundreds of cities where immigrants and people of color are running small, but inspiring businesses. Thankfully, people are beginning to pay more attention to the fact that so many of the things we enjoy come from the cultural talent embedded within our own communities. And there is lots more yet to be discovered. That's why the stories we've curated in this series are so engaging. The roots of living local economies run much deeper than we know."
The podcast is steadily growing, and aims to transform into a larger movement. "Right now, we're focused on building an online community where emerging entrepreneurs of all backgrounds can connect, share their ideas, and exchange their talents and skills to help uplift one another's businesses," Ethan said. "This kind of robust sharing economy needs to happen in order to foster welcoming and break down cultural barriers. It's this kind of marketplace storytelling that will not only help make our economy more resilient but ultimately enrich us a nation." 
See below for summaries of each podcast episode, including links to listen online or read more on Ethan's blog. You can also download the podcasts onto any device from wherever you get other podcasts.
---
Episode 1: "Welcoming St. Louis" featuring Julio Zegarra-Ballon and Suzanne Sierra
Summary: St. Louis, MO is fervently seeking in order to draw in new residents. At one time, the city boasted a population of nearly one million people. Today, the population is only around 300,000. Many Black people have left the city, while ethnic immigration has slowed due to current federal policy. The city needs to find ways to support entrepreneurship among the foreign-born while also investing in people of color. Suzanne Sierra from the St. Louis Mosaic Project talks about grassroots efforts to spur business growth. Local entrepreneur Julio Zegarra-Ballon is an immigrant from Peru and recalls the past 30 years of ups and downs in American politics and immigrant opportunities.
Listen to the podcast | Read more
Episode 2: "Welcoming Twin Falls" featuring Susie Rios and Alejandra Hernandez
Summary: As towns go, Twin Falls, ID is relatively small, with a population of just over 50,000. But it's responsible for much of the economic output within southern Idaho's increasingly popular Magic Valley. There's also been a huge surge of Hispanic residents, who now comprise roughly 13 percent of the population. Immigrant women struggle to get ahead, especially without the aid of other women who know how to navigate community life. Hear from Susie Rios, Statewide Outreach Director of the Idaho Women's Business Center and Alejandra Hernandez, Executive Director of the Unity Alliance of Southern Idaho on what it takes to integrate into a new community and how immigrants can take on more leadership roles.
Listen to the podcast | Read more
Episode 3: "Welcoming Sioux City" featuring Erica DeLeon and Jose Gonzalez
Summary: As we know, change happens slowly. The nation's growing impatience with the pandemic exacerbates the issue. Minorities and immigrants, wearied from the generations-long battle for racial justice, were pushed to the brink upon seeing the news of George Floyd. Waves of protests and rioting cascaded from one major city to the next. Meanwhile, in small Midwest towns, much of life continued as on it always had. Only now, after many years of keeping the status, quo, there are enough people of different skin tones to stand up and take action. Erica DeLeon is the Director for One Siouxland, where she helps others manage change, one day at a time. Also featured is Jose Gonzalez, owner of Mi Familia Restaurant in Sioux City, IA.
Listen to the podcast | Read more
Episode 4: "Welcoming Cleveland" featuring Joe Cimperman and Esther Ngemba
Summary: In this final episode of the series, we're in Cleveland, OH. It's a swing-state, and a place where the stakes are higher than ever. Does it hold the secret to bringing about both economic and social transformation as a country? In Cleveland, there's a cultural rift between blacks in America and African immigrants that dates back decades. What's the backstory behind the divide between Africans and native-born black Americans? How do we overcome the trauma of slavery alongside the horrific experiences of many refugees? Guests include Joe Cimperman, President of Global Cleveland, and Esther Ngemba, Owner of Furahi Taste of Home