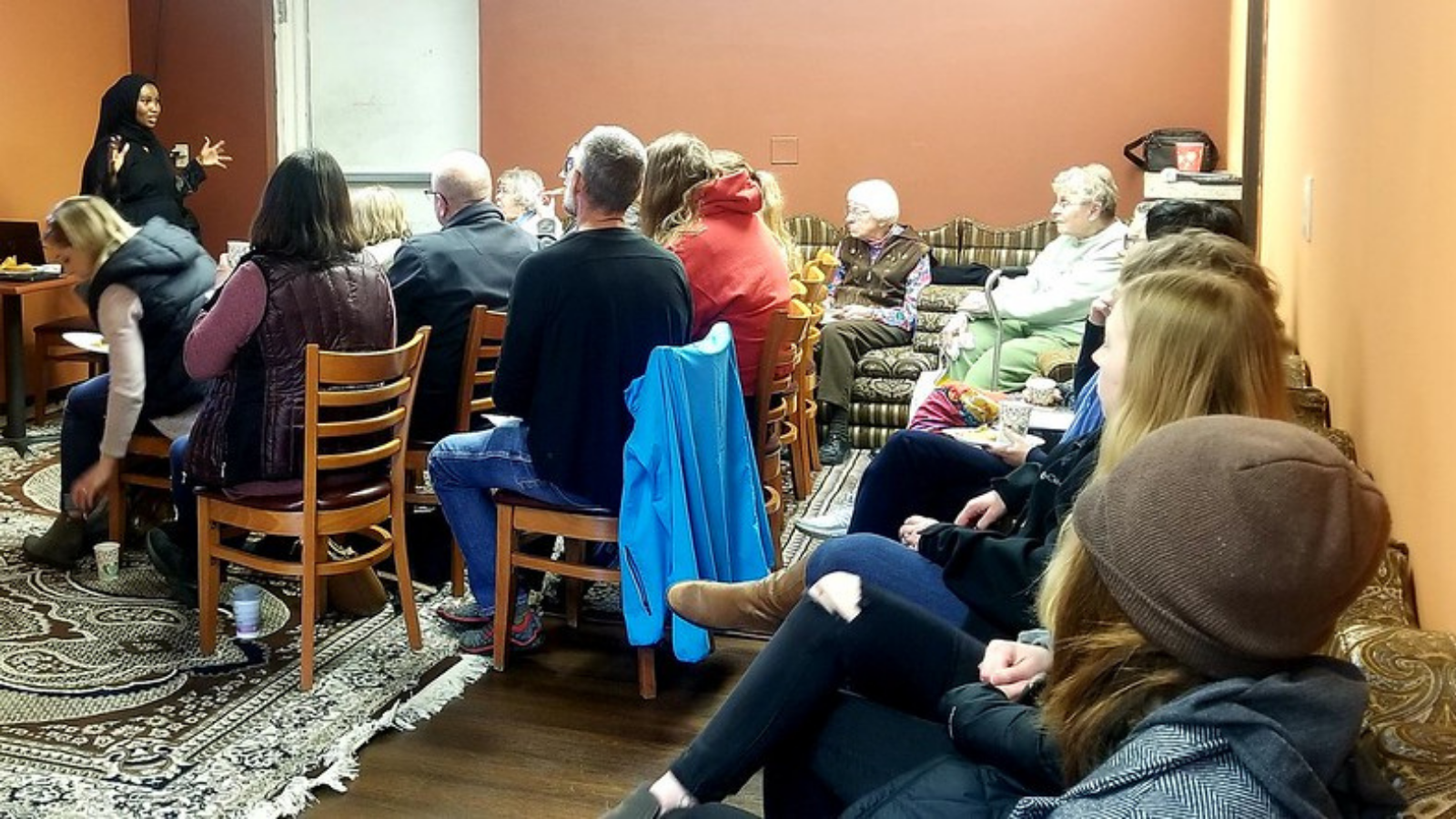 Blog Post
Stories of Impact
Differences give way to friendship over Somalian coffee in St. Cloud, Minnesota
In 2020, Welcoming America and its members worked in eight cities to bridge diverse communities and foster a deeper sense of belonging for local residents, including immigrants. This story is part of the Belonging Begins With Us campaign, which was funded in part by the Walmart Foundation.
The central Minnesota where Natalie Ringsmuth grew up was mostly white, Catholic, and Lutheran. But like in places across the state and the country, diversity has blossomed in the St. Cloud area.
Ringsmuth left the region for school and career but returned to become Executive Director of Unite Cloud, a nonprofit and member of the Welcoming Network working to reduce racial, religious, and cultural tensions in central Minnesota.
"Our community has really changed in the last 15-20 years, and I'm happy to raise my kids in a place that looks more like the world," she said. "I basically started this organization five years ago to try to speak peace into the community."
Tea and Comity
Farhiya Iman moved to St. Cloud with her family from Somalia. She, too, wanted to speak peace into the community, and part of her family's solution was to open a café.
Iman and her family planned a series of in-person meetings in which non-immigrant Minnesotans could learn about Somalia's language and customs.
"The whole point was to create a neutral ground for people to meet Somalis and Muslims. And we also wanted to introduce people to our coffees and teas and pastries," Iman said.
As more Somalis came to central Minnesota to pursue their American dream, tensions rose, she said. "It's not because they want to have these tensions. There were really no avenues where people could ask questions."
And so, the new café held its first in-person seminar – just before COVID-19 shut down the world. They had to close the café after the inaugural meeting.
Undaunted, Iman teamed up with Ringsmuth and moved the program online, with help from a Welcoming America grant. They lost the intimacy of in-person interaction, but they gained access to people throughout Minnesota, eventually bringing in people in Iowa and Wisconsin eager to learn more about their new neighbors.
Iman led each session, even when she moved back to Somalia to take a job with the United Nations, waking up at 1 a.m. to lead sessions in Minnesota time. She said meeting from the comfort of their homes also encouraged defenses to come down.
"We definitely got a bigger audience. We were getting sold out in two to four hours. It just snowballed into something that I definitely didn't anticipate," Iman said.
The coalition has now completed eight cohorts, full of teachers, advocates, and others who were eager to learn and connect.
Each cohort had three sessions, with half of the time devoted to Somali language and the other half to culture. Some cohorts added a fourth session for Somalis to learn English and English-speakers to learn Somali.
With the help from Welcoming America, Unite St. Cloud and Iman were able to translate early success into state and local funding to plan a new round of cohorts this year.
Small stone, big ripples
Central Minnesota has its share of bigotry and misinformation. Ringsmuth said that a false rumor spreads on Facebook and social media around every six months. This came to a head in through a story at the local Wal-Mart (or Scheels sporting goods, depending on the source) about a Somali cashier wearing hijab apparently refusing to serve a white customer because she's wearing a cross.
"We've worked with our newspaper on that and with blogs," she said. "Now we don't see it go around as much."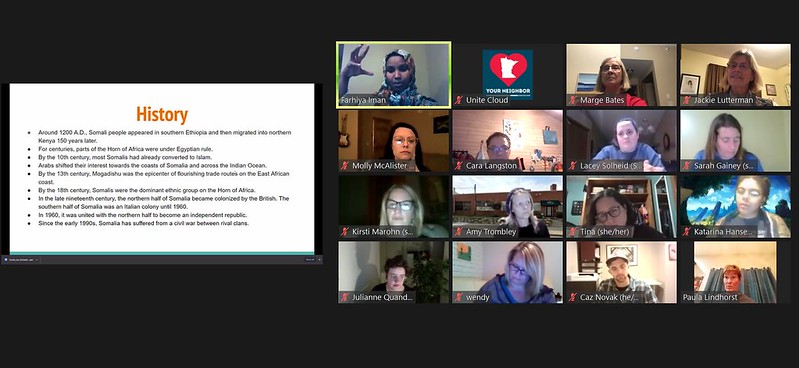 But just as insidious misinformation spreads fast, so can goodwill, Iman said. When the small groups who participated in online cohorts go home to Thanksgiving or a summer picnic or to visit their parents, they come bearing their positive experience and knowledge from the online sessions to counteract rumors and mistrust.
"If we're able to change one person's mind, maybe they change five or 10 other minds. They have the right information to educate," Iman said. "I definitely do think we've spread some good. We had teachers and nurses. Those are the professionals who have direct contact with immigrants."
Ringsmuth echoed the sentiment, pointing out how critical Iman's story is to counteracting prejudice.
"The things people remember is the personal stories," Ringsmuth said. "When negative things are said around the Thanksgiving dinner table or at church, they can say let me tell you about my friend Farhiya."
Plans in 2019 for a summer picnic were scuttled by the pandemic, but they're back on for June 2022. Iman plans to move back to St. Cloud in May and Unite St. Cloud plans to invite people from all past cohorts to break bread together at the picnic.
Ringsmuth said progress is possible – and happening.
"It's very slow work. It's individual, one by one, then one by one with the ripple effect. There are a lot of disheartening things, but the interesting thing is there used to be anti-refugee meetings at VFWs, churches, and other community spaces. Now there's only one church in town holding them. The rest have been pushed out to the outskirts where there aren't any refugees," she said.