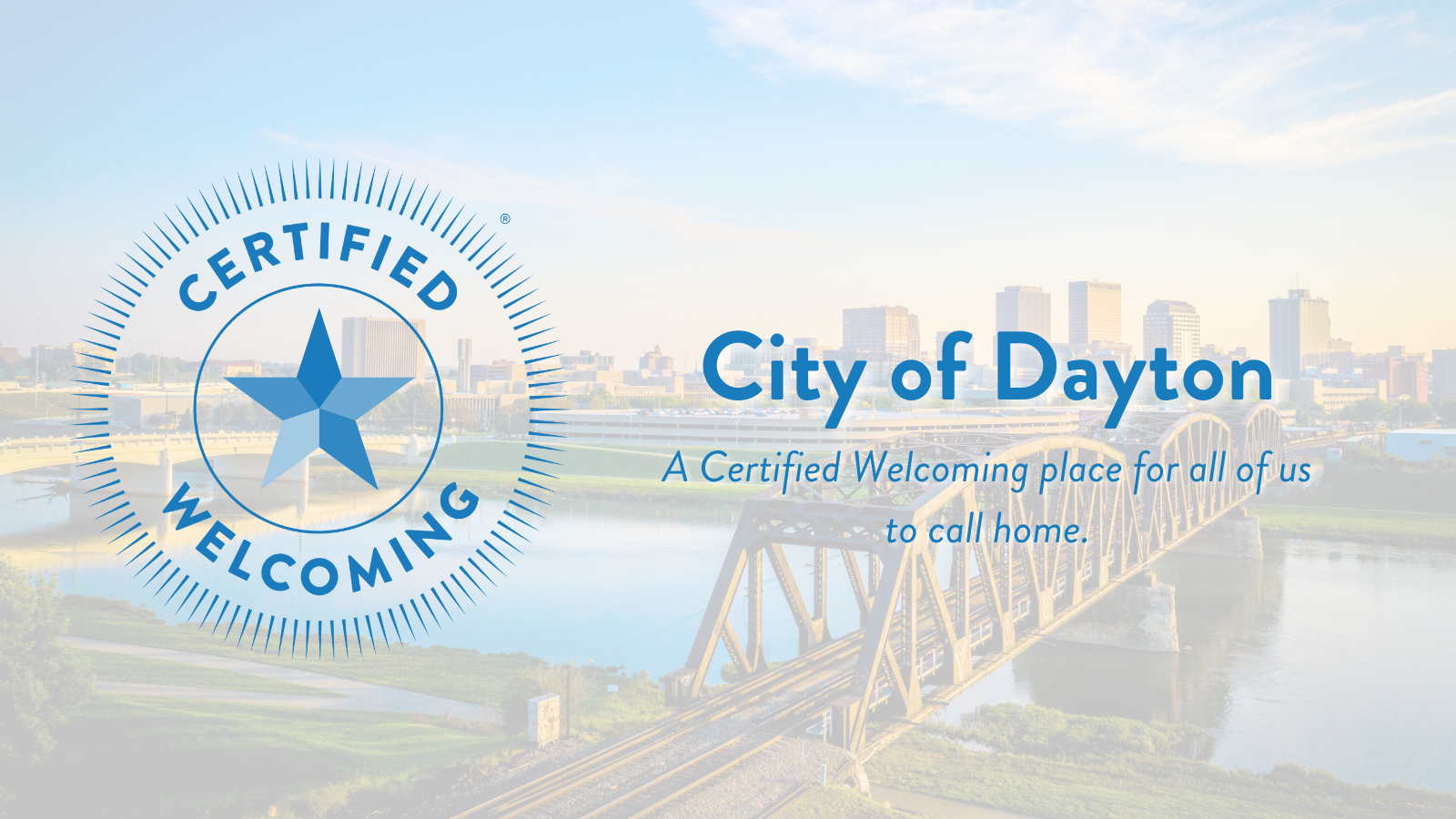 Dayton, Ohio: The first U.S. city to become Certified Welcoming achieves redesignation by Welcoming America
July 18, 2023 — Welcoming America, a national nonprofit organization, announces the redesignation of the City of Dayton in Ohio as a Certified Welcoming place. 
Rachel Perić, executive director of Welcoming America, said: "Welcoming America is thrilled to congratulate the City of Dayton for its redesignation as a Certified Welcoming city. As a pioneer in the welcoming movement, Dayton has shown what is possible when communities work together to bring neighbors together to create a place where all people, new and longtime, can thrive, belong and prosper together." 
Certified Welcoming is a formal designation by Welcoming America for cities and counties that have created policies and programs reflecting their values and commitment to immigrant inclusion. Since 2017, Certified Welcoming and its operating framework, the Welcoming Standard, have served as a roadmap for local governments seeking to build truly welcoming communities. 
As the first city to become Certified Welcoming in 2017, Dayton is now one of 18 places in the U.S. that carry the designation, including two others in the state of Ohio (Toledo and Lucas County). Certifications are valid for three years. After this, communities may choose to be reevaluated for how well their programs and policies continue to stand against the Welcoming Standard. Once all criteria are fulfilled, the community is redesignated as Certified Welcoming for another three years.
Jeffrey J. Mims, Jr., Mayor of Dayton, said: "It is commendable that Dayton has been recertified as a 'Certified Welcoming' city. This marks a significant milestone in our efforts to create a more welcoming city in Dayton. Our city is a great place to work, play, and raise a family, and we are committed to maintaining this welcoming environment."
Matt Joseph, Commissioner of the City of Dayton, said: "I am very proud that we've been recertified as a Certified Welcoming city by Welcoming America. We have worked hard to make Dayton a more welcoming place for all, and one in which everyone has a chance to live up to their potential and contribute to the community. This recertification is both an endorsement of our efforts so far, and a useful tool for the work ahead of us. I want to thank Welcoming America for their leadership, the Welcome Dayton Committee for their work, and Jeannette Horwitz, our Welcome Dayton Coordinator, and the rest of our city staff, for their dedication to making us a friendlier city for immigrants."
A formal announcement of the redesignation will be made on July 19 at an event hosted by  Welcome Dayton held at City Hall in Dayton at 5 p.m. This will precede the City Commissioners meeting at 6 p.m. which will include a brief presentation about Welcome Dayton and remarks by Melissa Bertolo, senior director of the Certified Welcoming program and a Dayton resident. The city commission meeting can be viewed live online at https://www.daytonohio.gov/govtv.
Shelley Dickstein, City Manager of City of Dayton, said: "In 2017, Dayton was recognized as the first [Certified] Welcoming city in the country. Our recertification reaffirms our commitment to ensure Dayton continues to be a welcoming place for anyone who visits or makes Dayton their home."
As of 2019, Dayton is home to 6,900 immigrants. Between 2014 and 2019, the total population in the City of Dayton decreased by 0.2% while the immigrant population increased by 25.9% during the same time period, according to a report published in 2022 by New American Economy. More recently, the city joined others across the U.S. in welcoming people fleeing conflict in Afghanistan and Ukraine.
While local governments are the lead entity on Certified Welcoming designations, they must work with a broad group of community based organizations to achieve certification. Laura Roesch, CEO of Catholic Social Services of the Miami Valley, said, "Congratulations to the City of Dayton for their continued excellence as a Certified Welcoming city. Visionary leadership sets a tone and expectation that guides our City to embrace immigrants as vibrant, contributing members of our community. We are grateful to be in partnership with so many organizations which collaborate to provide support and encouragement to help our newest neighbors achieve their greatest potential."
"We are proud of our city for all its efforts to welcome immigrants," said Jean de Dieu Mukunzi, Executive Director of Ebenezer Healthcare Access. "I can testify this as an immigrant who passed through all welcoming processes to get what I needed and at some point, be able to partner with the city, local community-based organizations, academic institutions, and health systems to address together social determinants of health within thousands of immigrants in Dayton. Congratulations to the City of Dayton for its recertification! Thank you for all you do to open doors and opportunities to us."
###
About Welcoming America
Welcoming America is a nonprofit, nonpartisan organization that leads a movement of inclusive communities becoming more prosperous by ensuring everyone belongs. We believe that all people, including immigrants, are valued contributors and vital to the success of our communities and shared future. Learn more
About Certified Welcoming 
Certified Welcoming is a formal designation for local governments that have created policies and programs reflecting their values and commitment to immigrant inclusion. This innovative program assesses local governments on their efforts to include and welcome immigrants in all areas of civic, social, and economic life in their communities. With a Certified Welcoming designation, communities distinguish their local efforts, build a competitive advantage, and gain access to opportunities to share their welcoming practices on a regional, national, and global stage. Learn more
About Welcome Dayton
Welcome Dayton, launched in 2011, supports integration of immigrants into the Dayton community by encouraging business and economic development, providing access to education, government, health and social services, ensuring equity in the justice system, and promoting arts and culture. The program is part of the Community Engagement Division with the Department of Planning, Neighborhoods and Development with the City of Dayton. Learn more