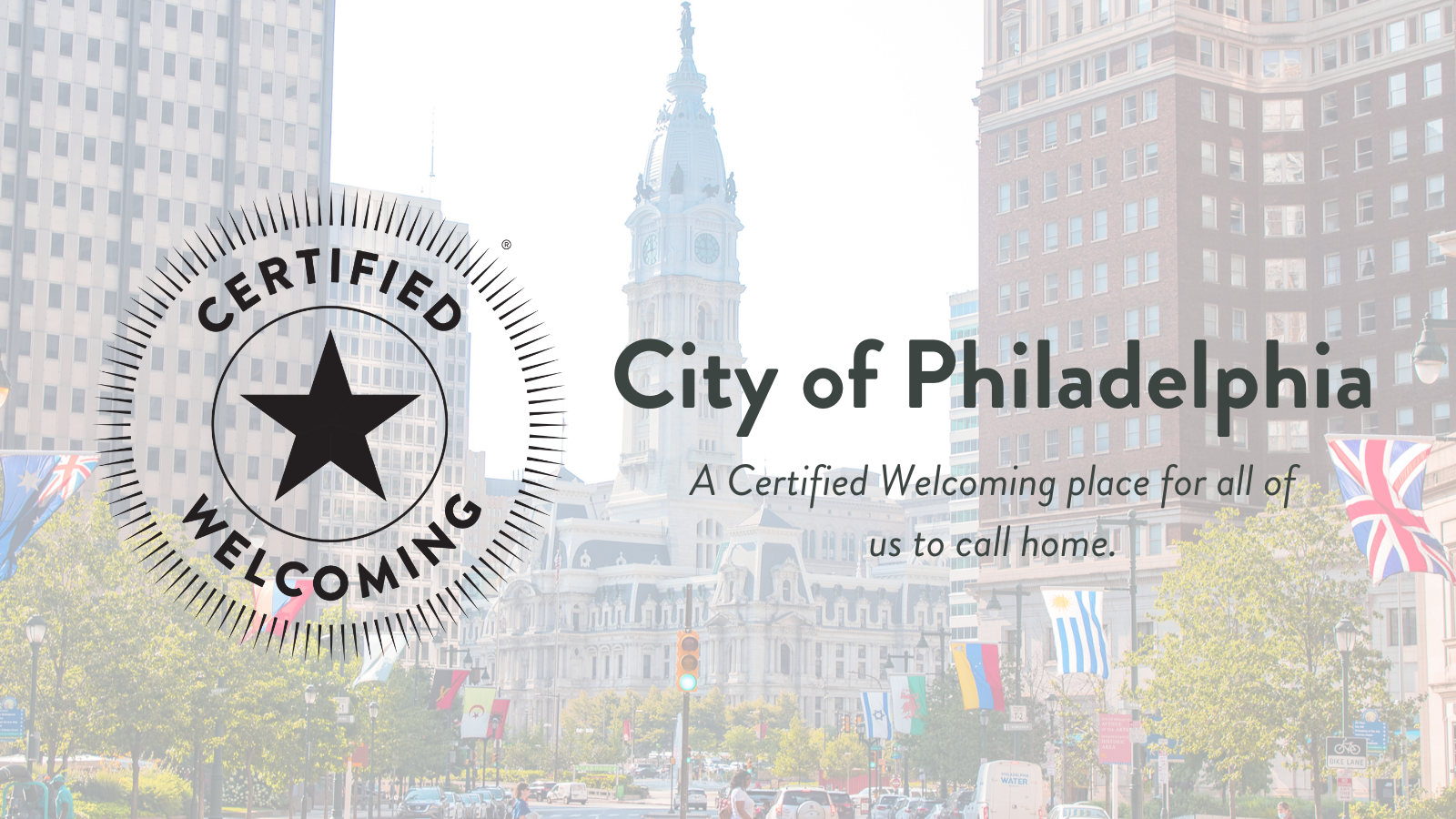 City of Philadelphia becomes largest U.S. city to gain Certified Welcoming designation by Welcoming America
Welcoming America, a national nonprofit organization, announces today the City of Philadelphia – the largest city and the fourth place in the Commonwealth of Pennsylvania – to achieve the Certified Welcoming designation.
Rachel Perić, Executive Director of Welcoming America, said: "Philadelphia's leadership as a Certified Welcoming city shows how a principled response to migration, driven by values of equity and inclusion, can strengthen communities for all people. By making the work of building a welcoming community everybody's business, Philadelphia continues its historic role in reaffirming an American democracy in which all people—regardless of birthplace—can thrive, belong, and prosper."
"It is an honor to be formally recognized as a Certified Welcoming city," said Mayor Jim Kenney. "Philadelphia has worked tirelessly to be a place where people—from all walks of life—feel a sense of belonging. Our greatest strength is our vibrant diversity and that is largely in part due to the tremendous and continuous contributions made by our immigrant communities. This special recognition is not the end of our efforts, but a true testament to the commitment and hard work of City departments and partner organizations."
Press event today at 3 p.m.
The formal announcement takes place today at 3 p.m. Eastern Time at a press conference held at Philadelphia City Hall. The event will feature remarks by Mayor Jim Kenney; Rachel Perić, Executive Director of Welcoming America; Jannie Blackwell, Chair, Mayor's Commission on African and Caribbean Immigrant Affairs and former Councilmember; and Andy Toy, Commissioner, Mayor's Commission on Asian Pacific American Affairs and Policy Director of the Philadelphia Association of Community Development Corporation.
The press conference will be followed by cultural performances, photo op, and a reception.
Welcoming immigrants despite current national challenges
At a time when cities are being challenged with welcoming migrants from Latin America, Ukraine, Afghanistan, and elsewhere, the City of Philadelphia leans into its commitment to being a welcoming city by achieving the Certified Welcoming designation, effectively putting its values and messages into concrete policies and actions.
Certified Welcoming is a formal designation by Welcoming America for cities and counties that have created policies and programs reflecting their values and commitment to immigrant inclusion. Since launching in 2017, Certified Welcoming and its operating framework, the Welcoming Standard, have served as a roadmap for local governments seeking to build truly welcoming communities. Currently, there are 18 Certified Welcoming places, including Philadelphia.
The process to become Certified Welcoming takes several years and requires a multisector effort involving the mayor's office, local organizations, law enforcement agencies, the education sector, and more.
What makes Philadelphia stand out
The City of Philadelphia's Office of Immigrant Affairs, which led the Certified Welcoming process in partnership with a broad range of community partners, stands out for accomplishing the following:
Clear investment into language access, particularly through efforts that improve data transparency around departmental usage of language services, holding city departments accountable for providing interpretation and translation.
Commitment to creating a more equitable and navigable justice system evident through the work of the immigration counsel at the District Attorney's office to avoid unjust immigration outcomes, as well as the joint work with the Pennsylvania Immigrant Family Unity Project to create pathways for representation for immigration cases, and the Right to Counsel's work on housing cases.
Launching or advancing other immigrant-inclusive citywide initiatives such as the Domestic Worker Bill of Rights and other worker protections out of the Philadelphia Department of Labor; the Pay Equity Ordinance; education programs through the Office of Children and Families and the School District; community engagement strategies implemented by Philly Counts, Language Access Philly, and many other programs that improve access to city services and resources for immigrant communities.
The Certified Welcoming designation also included the support of the Mayor's Commission on African and Caribbean Immigrant Affairs, the Mayor's Commission on Asian Pacific American Affairs, and other community partners. Because of these partnerships, the City is able to respond effectively to a growing city that, as of the 2020 census, is 14% composed of residents born in another country, with nearly a quarter who speak a language other than English at home.
###
About Welcoming America
Welcoming America is a nonprofit, nonpartisan organization that leads a movement of inclusive communities becoming more prosperous by ensuring everyone belongs. We believe that all people, including immigrants, are valued contributors and vital to the success of our communities and shared future. Learn more at welcomingamerica.org.
About Certified Welcoming
The Certified Welcoming program launched in 2017 by Welcoming America to establish a formal designation for cities and counties that have taken action on their commitment to welcoming and met the high bar set by the Welcoming Standard. Certified Welcoming communities gain a competitive advantage by using their designation for attracting and retaining a global workforce and businesses whose values align with welcoming and inclusion. Participants complete a rigorous independent audit to evaluate their compliance with the Standard. Both Certified Welcoming and the Welcoming Standard were designed following standards set by ISEAL.
About the City of Philadelphia – Office of Immigrant Affairs
The mission of the Office of Immigrant Affairs (OIA) is to promote the well-being of Philadelphia's immigrant communities by recommending and developing policies and programs, which in turn provide opportunity and access to services.
OIA helps facilitate the successful inclusion of immigrants into the civic, economic, and cultural life of the city, and the essential role that immigrants have played and continue to play in Philadelphia. Learn more about OIA.