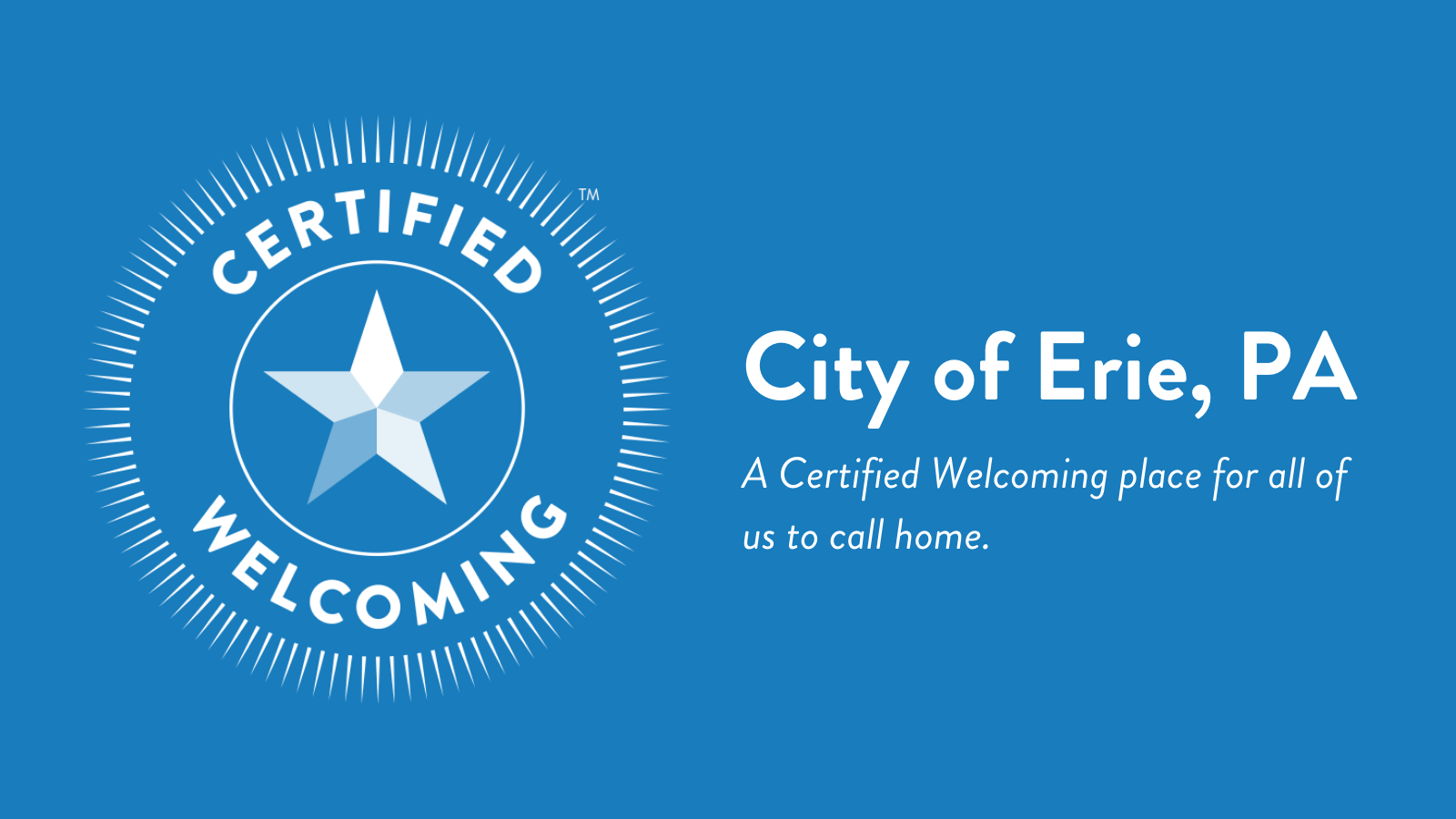 City of Erie, PA latest to join Certified Welcoming places in America
Welcoming America is pleased to announce the City of Erie's achievement in becoming Certified Welcoming, joining just 10 other communities in America that can call themselves truly welcoming places.
"Welcoming America applauds the City of Erie for its strong efforts to build a welcoming environment to fuel economic growth and upward mobility for all residents," said Rachel Peric, Executive Director of Welcoming America. "With the high attention garnered by Pennsylvania during the recent presidential election, Erie demonstrates how local leaders can now set the tone for an inclusive community that draws upon trust and cooperation among racially and ethnically diverse residents to build a better future for all."
The Certified Welcoming program is run and administered by Welcoming America, a national nonprofit organization that aims to build a nation of neighbors by fostering welcoming communities.
In the recent presidential election, Erie County, PA was among the municipalities that helped Democratic candidate Joe Biden win Pennsylvania's critical electoral college votes, after it had previously voted in favor of Donald Trump in 2016. Pennsylvania's votes ultimately led to Biden's victory.
"If I accomplished nothing else as a mayor, I want to eliminate racism and prejudice in Erie," says Mayor Joseph Schember. "So every member of the Erie community is welcomed and accepted. I believe in the talents and gifts that everyone possesses. If we accomplished that, we can not even imagine what an incredible city Erie would be."
"This certification means that we have achieved a goal but we also have new goals to achieve, including making sure that Erie is a welcoming place for all of our residents, including Black Americans, Latinos, and the next wave of newcomers who will bring their talents to Erie and carry forth this commitment to be a welcome place for all," says Councilwoman Liz Allen.
To become Certified Welcoming, the City of Erie completed an intensive evaluation led by the New American Liaison, Niken Astari Carpenter. Local policies and programs were compared to the comprehensive Welcoming Standard that covers community investments from education to economic development to policing.
"We look forward to partnering with the City in their efforts to grow a more vibrant and inclusive economy. This effort will give us critical information on our valuable human capital. It will also give us access to a global network of experts who can help us grow in our efforts to become a more welcoming economy," says Amy Murdock, Director of Government Affairs, Erie Regional Chamber and Growth Partnership. "At the Chamber, we are challenging ourselves to be more inclusive. To us, this means acknowledging minority business leaders for their talents and expertise first and foremost. Second to this, just as any business leader, is respectfully recognizing unique challenges to growth."
In Erie, and many communities with similar demographics, immigrants have made significant contributions to local economies and neighborhoods, with immigrant-owned businesses employing nearly six million workers nationally. Immigrants-owned businesses also play an outsize role in revitalizing neighborhoods through entrepreneurship, reversing population decline, and homeownership. According to research published by New American Economy, immigrants in Erie County, PA pay $61 million annually in taxes and have a spending power of $170 million.
"I am happy and excited that the City of Erie is now a Certified Welcoming city. I believe that everyone's voice needs to be heard. I have been an Erie resident for 15 years. Erie became my home, a place where I was able to get a job, buy a house, to raise my children, to give them a good education and medical care, and to be able to care for my elderly parents. Erie gave me the opportunity to give back to the community and be a proud citizen. I appreciate the opportunity to be a member of the New American Council and to share my experience as I continue to serve as an advocate for refugees and immigrants in the City of Erie," says Anna Tischenko.
Says Ammarah Asad, another Erie resident: "I believe representation matters. Serving on this platform and having access to the New American Council, I think of myself as a resource, linking my community and the city, and I feel that I am guaranteed an opportunity to give back. Having Erie certified as a welcoming city opens doors for diversity, equality, and a safer environment for the new Americans to live and raise their families in a welcoming atmosphere. I'm proud of my city and people behind this goal."
More Information
What is Certified Welcoming?
The Certified Welcoming program launched in 2017 by Welcoming America to establish a formal designation for cities and counties that have taken action on their commitment to welcoming and met the high bar set by the Welcoming Standard. Certified Welcoming communities gain a competitive advantage by using their designation for attracting and retaining a global workforce and businesses whose values align with welcoming and inclusion. Participants complete a rigorous independent audit to evaluate their compliance with the Standard. Both Certified Welcoming and the Welcoming Standard were designed following standards set by ISEAL.
What is Welcoming America?
Welcoming America is a nonpartisan, national nonprofit that leads a growing movement of inclusive communities becoming more prosperous by helping everyone know they belong. We provide a roadmap and support for places to reduce barriers to full participation and build bridges between immigrants and long-time residents through direct contact and dialogue.
###
Media Contacts
For City of Erie, PA: Frank Strumila, Media and Innovation Strategist, [email protected], 814-870-1202
For Welcoming America: Lola Pak, Director of Communications, [email protected], 470-236-0129