Celebrating 10 years of Welcoming Week with a new identity, announcing 2022 theme
This September, Welcoming America and its network of 300+ nonprofit and local government members — as well as a broader coalition of partner organizations — will ring in the 10th anniversary of Welcoming Week.
For the past decade, the annual celebration has taken place in communities through events, ceremonies, and other actions to commemorate the values that make places welcoming for all who live there. What started as just a handful of events in the U.S. has evolved into over 400 gatherings, webinars, and workshops in 2021, and is increasingly going abroad.
To commemorate the anniversary and more Welcoming Week celebrations to come, we are introducing a new logo and visual identity for Welcoming Week, plus share our theme for 2022:
Full color:

Single Color:
Download the Welcoming Week 2022 brand guide
To recognize the global appeal and practice of welcoming, the logo is available in four other languages: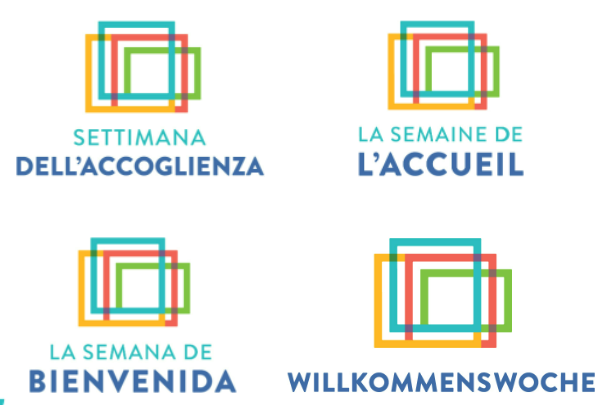 Logo image files and translated versions of the brand guide will be available in June with the release of the larger communications toolkit for Welcoming Week.
Highlights of the new logo
More inclusive: previous versions of the logo (see below) used U.S.-centric colors or the U.S. map as the primary features. The new logo uses a universally recognizable shape that is unique to Welcoming Week.
Continuity: The colors and fonts in the new logo match the most recent version of the logo, offering familiarity and continuity of the campaign.
Accessible: The logo was tested against web accessibility standards to appear vivid for most eyesights, and is now offered in multiple languages for those whose primary language is not English.
Transition year
We recognize that many organizations who regularly participate in Welcoming Week may have proceeded with designing collateral and other promotional materials for this year using the previous version of the logo. As this is a transitional year, organizations may choose to proceed with these materials, or adjust the logo as capacity allows.
2022 theme: Where We Belong
The theme for this year's Welcoming Week is "Where We Belong".
By focusing on the places and spaces that foster belonging (ie. cities, workplaces, neighborhoods, etc.), "Where We Belong" aims to go deeper and spark individual reflection on how and why belonging occurs, and ways we can break barriers so that places can foster belonging for all, including immigrants.
Additionally, each day of Welcoming Week will focus on the Welcoming Standard and its seven framework categories (government and community leadership, education, civic engagement, safe communities, connected communities, equitable access, economic development) as well as Citizenship Day (U.S.)
Under this theme and framework, cities, towns, counties, and nations — and the institutions within them — can lean into what makes their communities welcoming places and showcase how it helps foster belonging for all people, especially immigrants. By doing this, we demonstrate the scale and breadth of Welcoming Week spreading across the globe, leaning into the universal values of welcoming places and individuals by helping others belong and feel at home.
Next steps
More details about the theme, visual identity, and branding will come in June through toolkits, webinars, and other materials. To receive updates, sign up for our email list.
For any questions or concerns, contact [email protected].