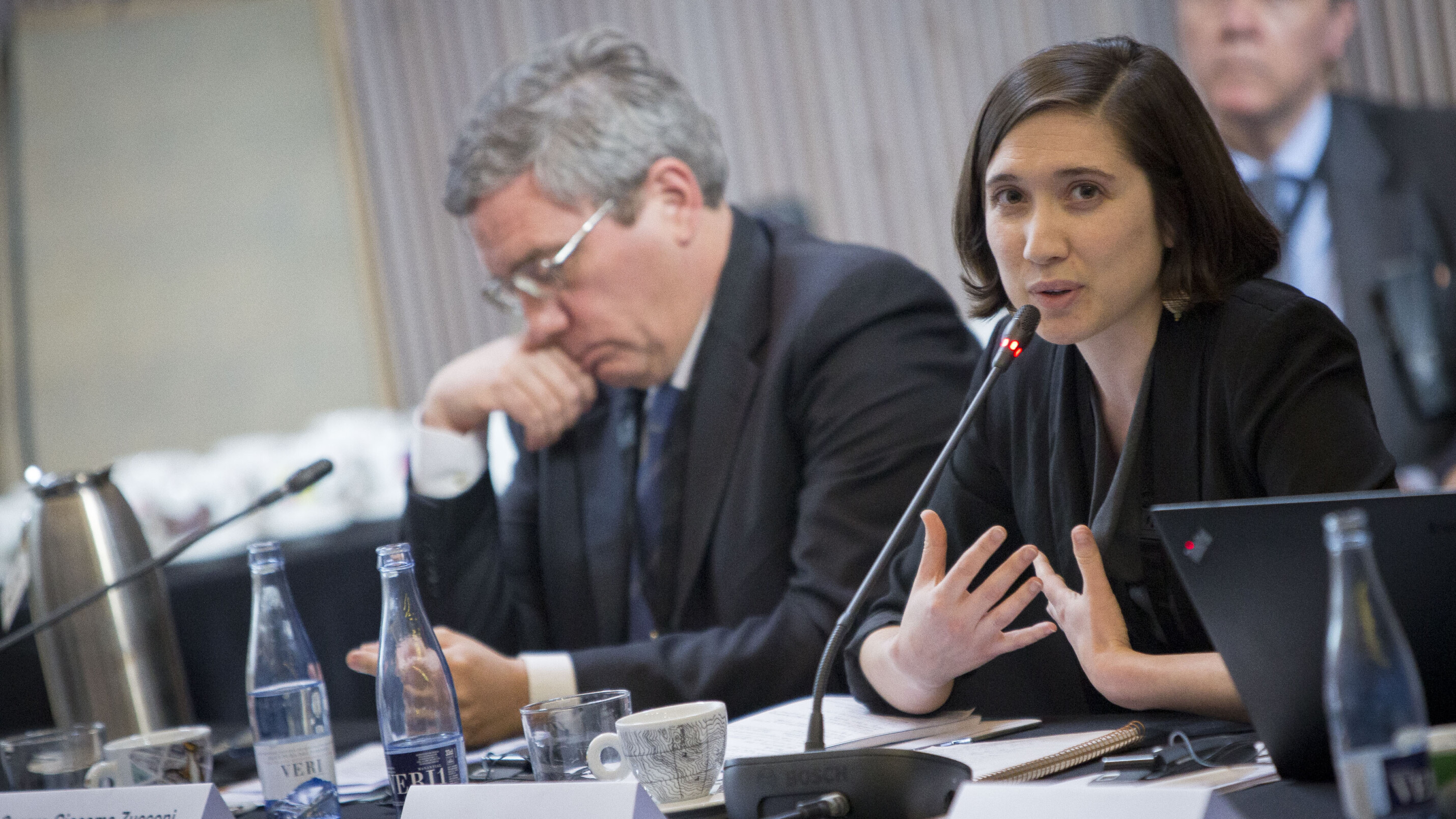 3 Strategies European Cities are Using to Welcome Newcomers
Christina recently spoke on behalf of Welcoming America at the International Forum on Reception and Integration of Refugees in the European Union, hosted by the Public Diplomacy Council of Catalonia and the City of Barcelona.
This gathering of government and community leaders, practitioners, and policymakers was held to exchange ideas and best practices about integration, inclusion, and the role of local governments and NGOs in migration policy at a time when more people are displaced since World War II.
We heard from an impressive group of speakers who described an outpouring of support for those arriving from Syria through efforts undertaken by local governments, community institutions, and individuals.
Oriol Amorós, Catalonia's Secretary General for Equality, Immigration, and Citizenship, stressed that reception and integration happen at the local level – a familiar theme to those working locally in the United States.
Indeed, the day was filled with examples of European cities that have laid out the welcome mat, creating initiatives large and small to address the immediate needs of newcomers and help them integrate within their new communities.
I was honored to join an NGO best-practice panel, where I was floored by the scope of efforts of projects such as Mediterranean Hope, which among other services, simply provides internet access so asylum-seekers can speak with their families in Syria for the first time after journeying to the island of Lampedusa, Italy.
Many cities are engaging receiving communities (those residents who have lived in a community for some time) to ensure that newcomers are arriving to fertile soil– that is, to fight discrimination and help build mutual understanding and respect between long-term residents and new neighbors as demographic change occurs.
Here are three strategies guiding these receiving community efforts in Europe:
Contact Building: At the Danish Centre for Gender, Equality, and Diversity, Beatriz Hernández de Fuhr coordinates a mentor network that pairs women with mutual interests who create a set of goals to work toward together—an excellent tool for the first of three strategies often used among our membership network: meaningful contact building.
Positive Communications: Lola López, Barcelona City Council Commissioner for Immigration, shared a powerful example of the second strategy often used, positive communications. Barcelona's model "Anti-Rumor" public service campaign dispels misconceptions that some locals had about immigrants. The campaign has been replicated in more than 15 cities that use trained anti-rumor "agents" such as street theater, media campaigns, and more.
Engaging Supportive Leaders: I was inspired to learn about the multi-sector plan underway in Leipzig, Germany, where supportive leaders like Deputy Mayor Thomas Fabian have championed immigrant inclusion. He and others within Leipzig city government have been able to send powerful signals to their community that changing demographics bring opportunity and that becoming a welcoming city is the task at hand. I was especially impressed with Fabian's emphasis on communicating with residents in neighborhoods where newcomers are settling, showing a positive attitude, and striving to move from immigrant-specific services to "all services accessible for all."
Leipzig is in good company; from Paris, France to Helsinki, Finland to Wadowice, Poland, local government officials have shown extraordinary leadership across Europe in the midst of an ever-changing situation filled with both opportunities and challenges that are testing European values. According to the Mayor of Barcelona, Ada Colau, current migration flows present an opportunity to return to Europe's foundational values, and, "if Europe doesn't return to its founding principles on this issue, then it will be definitively lost." Time and again, speakers returned to "core European values," identifying characteristics like freedom, equity, and human rights. Barcelona's own identity as a city intertwines with migration – government leaders referenced how more than 200,000 people fled Catalonia due to fascism, and these leaders now feel a moral responsibility to welcome refugees.
I was reminded of elected officials across the U.S. who have set the tone for their communities by grounding statements in their cities' history and identity, such as Atlanta Mayor Kasim Reed: "As the birthplace of the Civil Rights Movement, being inclusive is a fundamental part of who we are as Atlantans […] It is incumbent upon all of us to find strength in our differences and comfort in our common identity as Atlantans to ensure that Atlanta will once again be on the right side of history as a community that is tolerant, supportive and inclusive of all its neighbors."
This common thread – one of many I noted between inclusion efforts in the U.S. and in Europe –was a reminder of the value of transatlantic opportunities to exchange ideas and best practices, whether at the Welcoming Interactive in Atlanta or this forum in Barcelona.
I return to the United States feeling grateful for champions of immigrant inclusion worldwide, as well as for our vibrant Welcoming America network which shares best practices, builds capacity, and inspires change.
Learn more about Welcoming America's global efforts
Learn how your community can join our network